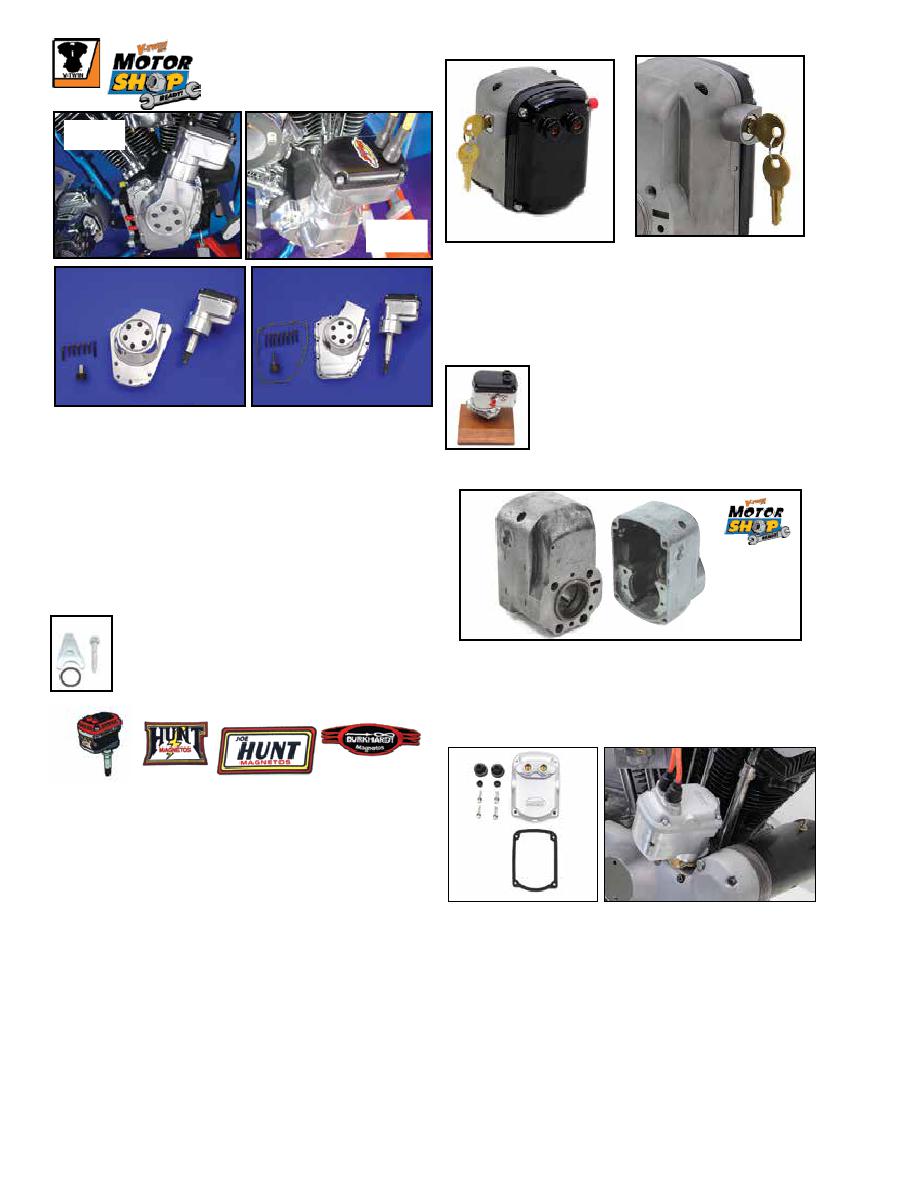 1304
Joe Hunt H-4 Automatic Advance Vertical Magnetos for
Big Twins features include H4 automatic advance for easier
starting and hotter spark, aluminum cam cover in either natural
or polished finish (no frame, pipe, or-brake pedal modification
are required) and rare Earth magnets that never need to be
recharged.
VT No.
Fits
Finish
32-1296 1970-92
32-1250 1970-92
32-1299 TC-88 Carburetor Models Only Natural
32-1275 1993-99
32-1679 Advance Assembly
32-1296
32-1299
32-1299
Installed
Magnetos
1966-69 Big Twin Distributor Mount Clamp Kit
includes zinc plated clamp, stud, O-ring and nyloc nut.
VT No.
Item
32-0169 Kit
12-0547
32-0169
Magneto Rebuilds. Our Motor Shop will completely rebuild
Joe Hunt, Fairbanks Morse or Morris Magnetos. We stock the
most complete selection of replacement components.
VT No. 60-1957
Got a Good Body with Good Magnets...
Cloth Patches available. Sold as a pair.
VT No. Item
48-2292 Vertical Magneto
48-1772 Vintage Logo
48-0472 Rectangular Logo
48-1603 Buckhardt Logo
Magneto Rebuilds
32-1299
Installed
48-1772
48-2292
48-0472
48-1603
Magneto Assembly with right hand rotation features internal fe-
male hex drive on rotors to fit all Joe Hunt, Morris and Fairbanks
Morse drive units.
VT No. Type
32-1311 Without key lock
32-1309 With key lock
32-1154 Drive Assembly
Fairbanks 1/2 Scale Magneto Model. Pewter
construction.
VT No. 48-1675
Forged Aluminum Magneto Cap features a recessed design to
hold gasket in place and features a natural finish with Burkhardt
logo.
VT No. 32-0284
32-1309
32-1309