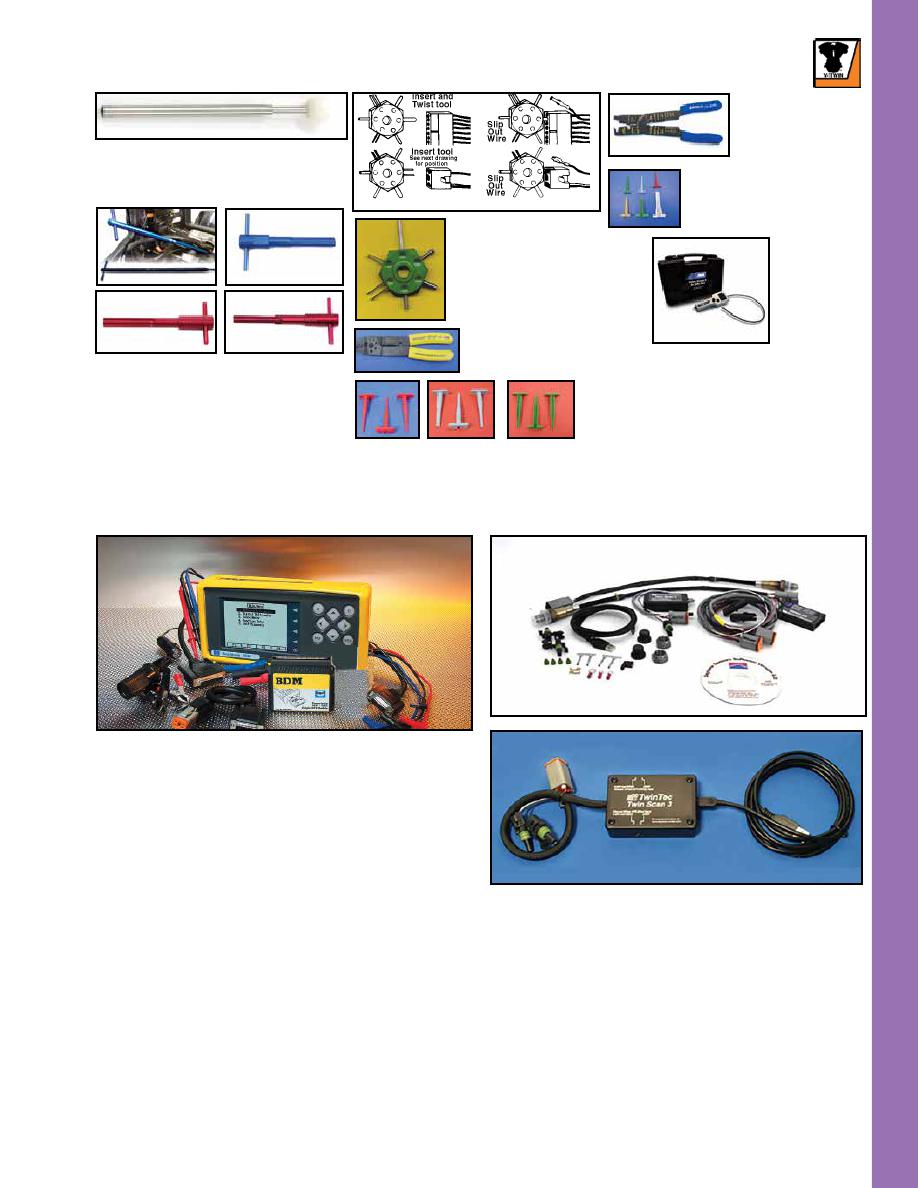 1297
TOOLS
Wiring Tools
Spark Plug Wire Tool
strips 7 and 8 mm ignition
wire, crimps spark plug and
distributor terminals.
VT No. 16-0514
Wire Terminal Tool crimps
factory style wire end.
VT No. 16-0710
Wire Terminal Tool replaces
97362-71, depresses terminal
lock tabs in disassembly of factory
wiring harness.
VT No. 16-0959
Pin and Receptacle Extractor for Molex style con-
nectors.
VT No.
Type
N/A Pin
16-1259 Receptacle
Removal Tool Set for Deutsch
HD10, HD20, HD30 Connectors.
VT No. 16-0090
16-1258
Ignition Switch Housing Tool will align the ignition
switch housing as the retaining screws are being
torqued. Use for proper alignment of switch knob with
housing. Use on all 2003-13 FLT models and 2002-up
V-Rods.
VT No. Year
Type
16-0319 2003-up
16-0017 2003-13
16-0003 2003-13
16-1265 2014-up
Deutsch Pin Tools.
VT No.
Size Color
16-0087 20 Red
16-0088 16 Blue
16-0089 14 Green
16-0087
16-0088
16-0089
Computer Diagnostic Service Tool. This tool is capable of diagnosing trouble
codes for all 1994-99 computer controlled Big Twins. Available as a standard tool
that includes scan tool, software cables, adapters, A/C power adapter and instruc-
tion manual. For USA 110v 60 cycles application.
VT No. 16-5000
Service Scan Tool
Daytona Twin Tec Twin Scan Tool for all 2001-up fuel injected models and
2003-06 carbureted models with 12 pin ignition modules reads and cleans diag-
nostic trouble codes from engine control unit, turn signal/security module, speed-
ometer and tachometer. The Twin Scan is especially useful for diagnosing hard to
find intermittent trouble codes. The motorcycle can be operated while the unit is
installed under normal condition (no trouble codes) the unit will store data of the
last hour of operation. If a trouble code is set the unit automatically stop logging
data 30 minutes after the code is set. This allows you examine data before and
after the code was set. Twin Scan II+ includes WEGO IID dual channel wide ban
exhaust gas oxygen sensor interface for logging AFR date along with engine date.
VT No.
Item
Fits
16-0378
16-0379
VO Scope Tool allow the technician the ability to
inside mot any hole that is larger than a ¹⁄₄". This is
a live remote video with the following features high
resolution, auto focus, color camera and 2¹⁄₂" full color
viewing monitor. Equipped with a sealed, fluid proof,
flexible 24" long 6mm diameter cable, high output LED
illumination with dimming control. A mirror used to see
90 degrees and a magnet for picking up steel parts
weighing less than ¹⁄₄ lb. Used for checking inside cyl-
inders, cylinder heads, etc.
VT No 16-0385
16-1137
16-0017
16-0003
16-1265
32-0919
16-0378
16-0379