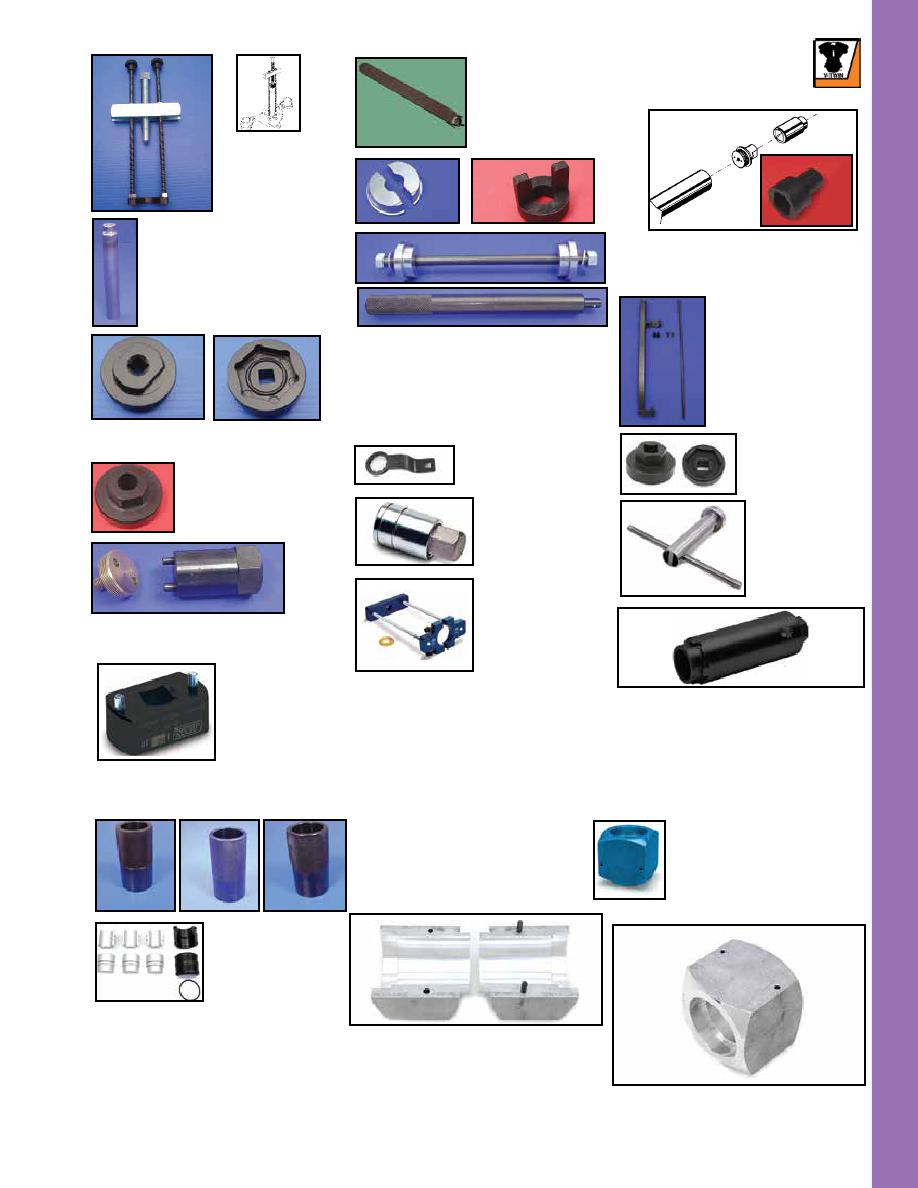 1295
TOOLS
FXSTS Fork Stem Bearing
End Play Setup Wrench.
Offset Handle allows for
proper clearance of fuel tank
and other accessories.
VT No. 16-0444
Fork
Steering Head Bearing Tools fit 1988-up FXST,
1982-up XL, 1992-up FXDB-FLT to remove or install
races.
VT No.
Item
16-1768 Remover
16-1766 Installer
16-1196 Installer 2014-up FLT
16-0065 Driver Handle for A
16-0895 Driver Handle Adapter, 1992-up FLT-FXD
Fork Tube Plug Tool has a special socket which fits
1948-up Glide Fork Plug, 1/2" drive.
VT No.
Brand
16-0630 V-Twin
16-1008
16-1768
16-0895
16-1766
16-0065
Hex Top Fork Nut Socket has ³⁄₈" drive, rubber pro-
tector on inside for Glide Forks, 35mm. By Jims.
VT No. 16-0670
Lower Neck Bearing
Puller Set includes cross
arm puller, rods and lower
puller claw. Simply remove
roller from old bearing,
install claw and turn puller.
VT No. 16-0073
Fork Bearing Installer Tool fits over 1"
stem allowing bearing to be "driven" on.
VT No. 16-0724
Fork Tube Spring Retainers and Pin Wrench Kit
includes 2 retainers for 1952-72 XL and pin wrench
for installation removal of retainers.
VT No. 7700-3
Socket Wrench is designed for
easy removal and installation of
stock 1³⁄₈ hex flat top fork tube
plugs. Installed O-Ring eliminates
damage to top of plug. Black oxide.
VT No. 2317-1
Adjustable Split Fork Seal
Driver Set use on all 35mm,
39mm and 41mm forks.
Includes seal drive and three
seal guides.
VT No. 16-0074
49mm Fork Seal and Dust Shield
Installer Tool installs the lower leg
49mm fork seal squarely into the bore
with no damage to the lip seal sur-
face. Also installs dust shield cover.
It is a two-price design to aid in some
assembly applications.
VT No. 16-1369
Fork Seal Drivers
Fork Seal Installer. Installs bushing and seal with-
out damaging components.
VT No. OEM
Use
16-0055 34190
16-0056 34634
16-0964 36583 1987-up FXR-FXRS, 88-up XL
16-0964
16-0055
16-0056
Fork Stem Nut Wrench fits
FLT.
VT No. 16-1977
Fork Spring Compressor Tool
puts pressure on top fork plug
to compress spring to ease in
assembly.
VT No.
Type
16-1009 Jims
16-1025* Jims
*Note: Use with 16-1009 for
extended length fork tubes.
16-1009
Fork Cap Wrench.
VT No. 16-1034
Duo-Glide Nut Double
Ended Wrench used for
removing and installing
crenulated nuts and
dust covers with internal
thread.
VT No. 16-1344
49 mm Fork Seal and Dust Shield Installer Tool
installs the lower leg 49mm fork seal squarely into the
bore with no damage to the lip seal surface. Provides
accurate alignment fr seal replacement, factory style
tool.
VT No. 16-0191
16-0191
16-0191
Jims Castlenut Socket is for use with FXST inverted
forks. The 2017-up Softail models requires the fork
nut (Castlenut) to secure and compress the fork
spring. This one piece solid steel socket is designed
to secure the joint rod prior to final assembly.
VT No. 16-1061
Fork Pre-Load Assembly
Tool allows pre-load to be
set on 41mm forks during
assembly.
VT No 16-1197
Jims Ignition Switch and
Fork Lock Tool used to
make installing or removing
the ignition switch and fork
lock a easy process.
VT No. 16-1179
Jims Fork Cap Installation
Tool allows the installation
of the fork tube caps on the
motorcycle without removing
other parts.
VT No 16-1198