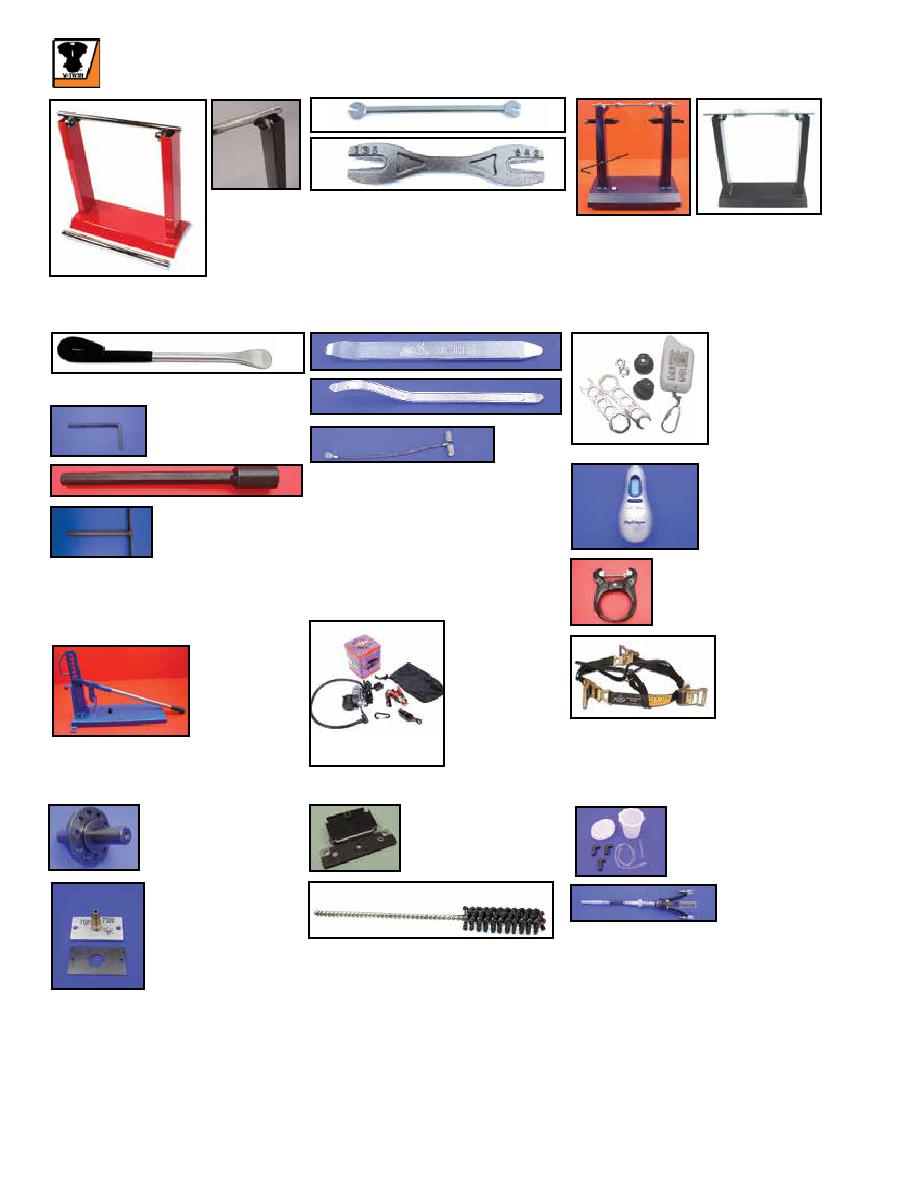 1294
Tire Changing Tools. Breezer Tools makes tire
changing a breeze by its patented design which lifts
the bead without bending the rim. Instructions includ-
ed, use in conjunction with the breezer iron. Valve
fishing tool combines core driver and deflating pin with
full length cable to facilitate working valve through rim
hole.
VT No.
Item
16-0163
16-1764
16-0973
16-0066
Digital Tire Gauge.
0-150 PSI.
VT No. 16-0997
16-0163
16-1764
16-0066
Wheel Truing
Stand includes
³⁄₄
shafts.
VT No. 16-1525
Bead Breaker is made of heavy
duty cast iron.
VT No. 16-1778
Tire Tool
Wheel Truing/Balancing Stand includes tapered
adapters and hub arbors.
VT No.
Type
16-0867
16-1272
Wheel Truing
Spoke Wrenches. Available as multi-fit 6 jaw type or
8 gauge forged.
VT No.
Type
16-0164
16-0200
16-0164
16-0200
Tire Pressure and
Temperature Monitor.
The tire pressure and
temperature monitor
tool requires a pressure
range of 10-70 PSI and
a temperature range
of -22 degrees to 185
degrees F.
VT No.16-9725
16-1272
¹¹⁄₁₆
" Master Cylinder Flex Hone Tool.
VT No. 16-0786
Brake Caliper Piston Remover
Tool to aid in removal of piston
from 2000-up front and rear cali-
per assembly. Replaces 43293A.
VT No. 16-0541
One Man Brake Bleeder
includes tubing and canister and
complete instructions.
VT No. 16-1784
Brake Cylinder Hone.
³⁄₄
VT No. 16-0613
Front Low Pressure Master
Cylinder Bleeder Covers will
allow one person to bleed brake
lines or to check system for leaks
and can drain the entire system
to replace brake fluid.
VT No.
Year
16-7320 1982-95
16-7322 1996-98
16-0613
Brake Drum Turning Arbor
for all 5-bolt Big Twin brake
drums. Replaces 97280-60A.
VT No. 16-0122
Brake
Tire Bead Starter is
a safe way to start
and seat beads on
all tire sizes. The
linked straps apply
even seating pres-
sure to tire beads
without compressed air. Tool is portable for on the go
use and is simple and effective for even mounting a
new 300 Series tire.
VT No. 16-9016
VT No.
Item
16-1730
16-1789
FLT Wheel Lug Wrench is a ³⁄₈" hex key shaft which
fits all 1982-up FLT models. Sold each.
VT No. 16-0996
Wheel Lug Allen Wrench fits
all front and rear wheels 1935-
72 FL models 7/16".
VT No. 16-0102
Spoon Style Tire Iron. 10¹⁄₂" long.
VT No. 16-0694
16-0102
16-1789
Mini Air Compressor
powered by cigarette
lighter socket or
connects to battery
with cables included.
Features compact
design to fit inside a
saddlebag.
VT No. 16-1634
16-0867
16-1730
Bead Breaker will
depress bead on mag
or spoked wheels.
VT No. 16-0570