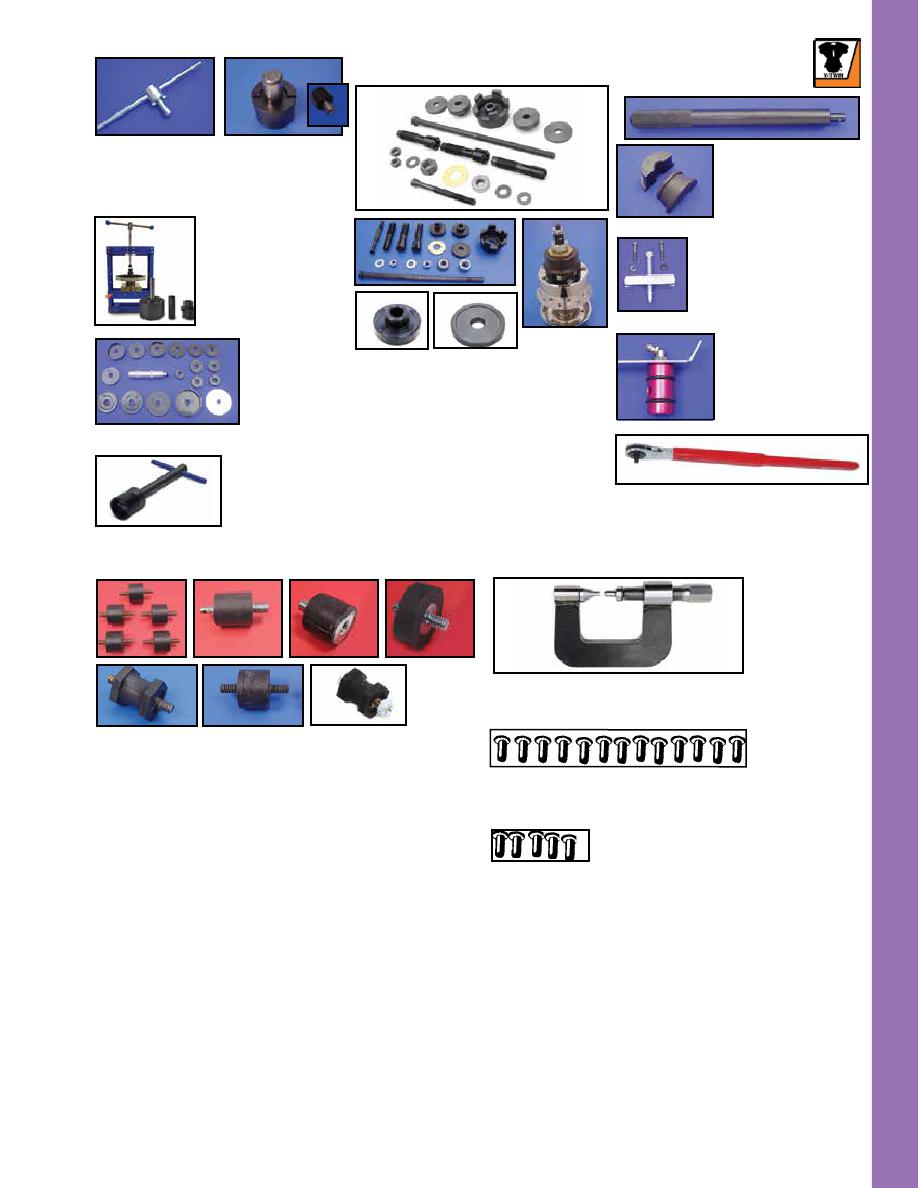 1293
TOOLS
Wheel Bearing & Seal Tools
Cross Arm Puller is 1" square
bar 4³⁄₄" long slotted, with ³⁄₈" - 16
bolts, use any size bolt to pull gears
and sprockets that have 2 tapped
holes, or use with bearing separator
16-0602.
VT No. 16-0499
2000-up Wheel Bearing Puller and Installer Tools.
Use on all 2000-up Twins. 16-0561 includes arbor to
pull ³⁄₄", 1" and 25mm sealed bearings.
VT No.
Item
Fits
16-0561
16-0558
Puller and Installer 2000-up
16-1371* Installer
16-1641
16-0584
1" wheel bearing removal head kit
16-0583
25mm wheel bearing removal head kit
16-0582
3/4" wheel bearing removal head kit
*Note: Requires 16-0732 tool also for use.
16-0558 Shown
in use
Wheel Bearing Wrench removes the slotted lock nut
on spoke wheels. Sportster and 1967-72 Big Twins.
Replaces 94630-67.
VT No. Type
16-0155 V-Twin with Handle
16-0657 Jims with ½" Drive
16-0657
16-0155
Jims Rear Wheel
Compensator Bearing
Remover/Installer Tool used
to remove or install the ball
bearing in rear pulley on all
2008-up FLT models. Tool will
center and guide the bearing
for proper installation.
VT No. 16-0315
Wheel Race Puller. Replaces
service tool 33071, for hubs
with tapered races 1973-99.
All models.
VT No.
Item
16-0425 Puller and Installer
16-0065 Driver
Wheel Bearing Greaser. Fitting
and spigot greases 1973-99
tapered bearings without remov-
ing seals, use existing seal spac-
er or purchase separately.
VT No.
Item
16-0803 Tool
44-0303 Collar
16-0558
16-0561
16-1641
16-1371
Saddlebag Tool
Saddlebag Latch Rivet Tool gives secure fastening of rivets while
providing a clean factory look.
VT No. 16-1610
Clutch and Brake Brass Rivets.
VT No.
OEM
Type
Use
37-8805 —
37-8806 41871-31 Long 4-5
*Note: For clutch hub friction disc.
16-1610
Fiberglass Saddlebag Rivets, 50 pack.
VT No.
OEM
Length
37-0566 90965-63 ⁵⁄₁₆"
37-0567 90966-63 ¹⁄₄"
37-0568 90967-64 ³⁄₈"
Seal Driver Kit quick-
ly installs seal without
damage, includes 16
adapters for seals up
to 3 3/8" diameter.
Includes special
adapters for "shield-
ed" seals.
VT No. 16-0069
Exhaust Bracket Wrench used to remove and install
front exhaust bracket bolts on all 1999-up TC-88
Dynaglide models.
VT No. 16-6538
Jims Seat Mounting
Screw Tool
VT No. 16-1178
A
B
C
D
28-0658
28-0636
A-1
A-2
28-0749
Iso Mounting Rubber Studs. All types UNC threads ¹⁄₄" used on XL battery box
and oil tank, 28-0619 used on FX dash.
VT No.
OEM
#
Size
Type
Qty
28-0749 Hex
28-0546 62563-65 A ¹⁄₄" Male-Male 5
28-0549 62563-65T A ¹⁄₄" Male-Male 5
28-0418 w/Spring
28-0636 Lord
28-0547 62563-66 B ⁵⁄₁₆" Male-Male Each
28-0402 62569-94 B ⁵⁄₁₆"x ¹⁄₄"
28-0619 50235-63 C ⁵⁄₁₆" Male-Female Each
28-2247 69125-65 D ⁵⁄₁₆"