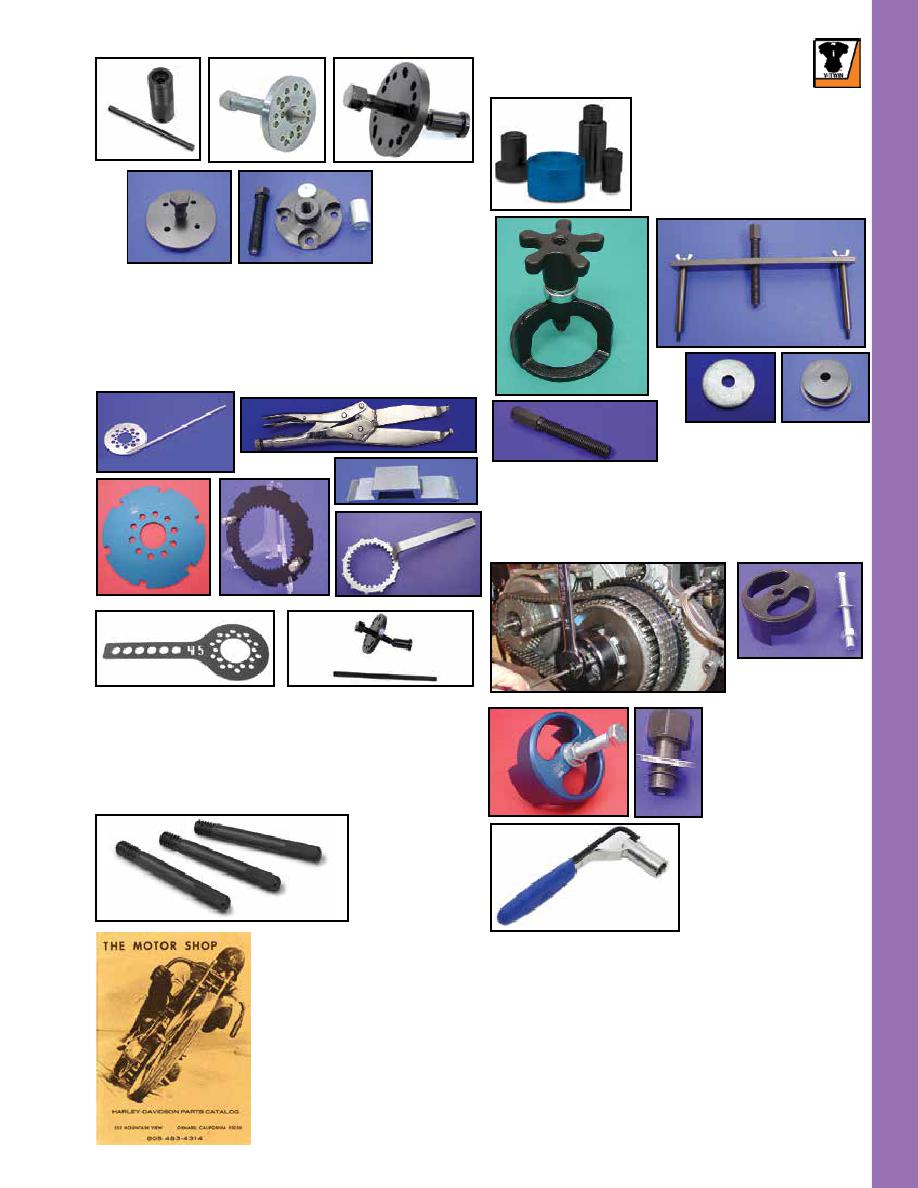 1291
TOOLS
Clutch Tool
Clutch Assembly Service Tool will safely disas-
semble and assemble the clutch shell assembly
and also remove and install the clutch hub from
the bearing. Safe removal and installation of
clutch shell ball bearing (OEM# 37906-90) with
no damage to new bearing. Use on 1990-17 Big
Twins.
VT No. 16-1366
Clutch Drum Locking Tools for removing clutch hub and motor nuts.
VT No. # Year
Model
16-0118 A 1941-84
16-0662 B 1941-84
16-0434
16-0192
16-1775 E 1984-89
16-0125 B 1952-70 XL
16-0159 D 1956-84 XL
16-0992 C 1971-84 XL
16-0118
A
C
D
E
16-0125
16-0662
B
16-1805
1990-17 Big Twin Clutch
Compressor Tool features access
windows to ease the removal and
installation of snap ring, by Jims.
VT No. Fits
16-1805 Big Twin
16-1849 Adapter to fit 1991-up XL
16-1849
16-1514
Clutch Compression Tool
fits 1990-17 Big Twin and
1991-up XL models.
VT No. 16-1514
Gasket Locator Tool (3
Pc Set) will align primary,
cam and transmission
end cover gaskets, to
prevent misalignment and
oil leaks.
VT No. 16-1362
16-0967
Clutch Compressor Tools allows disassembly of clutch pack.
VT No. Fits
16-0410 1941-84 Big Twin
16-0967 1990-17 FXST, FLST, 1990-up FLT, 1990-94 FXR, 1991-17 FXD
16-1769* 1991-up XL's (Screw)
16-0156 1971-84 XL's
16-0059 1985-90 XL's
*Note: Adapts 16-0967 to fit 1991-up XL.
16-0410
16-0059
16-1769
16-0156
B
Clutch Hub Pullers. 16-0113 pointed type pulls clutch hubs on 74" and 45", motor
sprockets on 74" and XL transmission sprocket on XL, also rotor assembly on 74"
and 80" Big Twin, 1970 and later. 16-0115 swivel style fits over clutch push rod on
1970-85 Big Twin so there is no need to remove the kick cover.
VT No. Fits
Type
2556-1T 1936-40
16-0113 1941-84 Point
16-0115 1941-84 Swivel
16-0961 1984-06 Wet Clutch Type
16-0310 Special Pro Clutch for Rivera or Primo
16-0115
16-0310
16-0961
Jims Clutch Adjusting Tool allows
mechanic to quickly and accurately
tighten the clutch adjusting screw jam
nut without having the screw change
position. Includes wrench and correct
hex key. Use on all 1985-17 Big Twins.
VT No. 16-1030
16-0113
"The Motorshop" is an original aftermarket
supplier, founded by Bill York in 1968. Bill said this was his favorite catalog
November 2017.
2556-1T
16-0434
The Motor Shop of Oxnard ran from 1968 to 1978 and got Jim's Machine into the business. We had bought a single tube frame
or 2 that were on the market in the early 70's (don't remember who made them) then used those as a bases to copy and made
our own variation - just cause we could. Ours had a one piece top - center tube. I think the blue bike on your web page is built
using one of our frames. True Radius Bending in Santa Barbara bent the pieces and a fireman named Bill Denny in Ventura
built the jig and did the welding when he was off duty. He was a builder of a number of hot rod cars. From 1974 - 1976 we
made less than 100 frames from my memory. Denny screwed me out of the frame jig and the last remaining frame so I never
even got a bike built using one of our own frames. We never put any serial number on them. The main bike you have featured
on your site is not using one of our frames cause of the back bone design.
16-0192