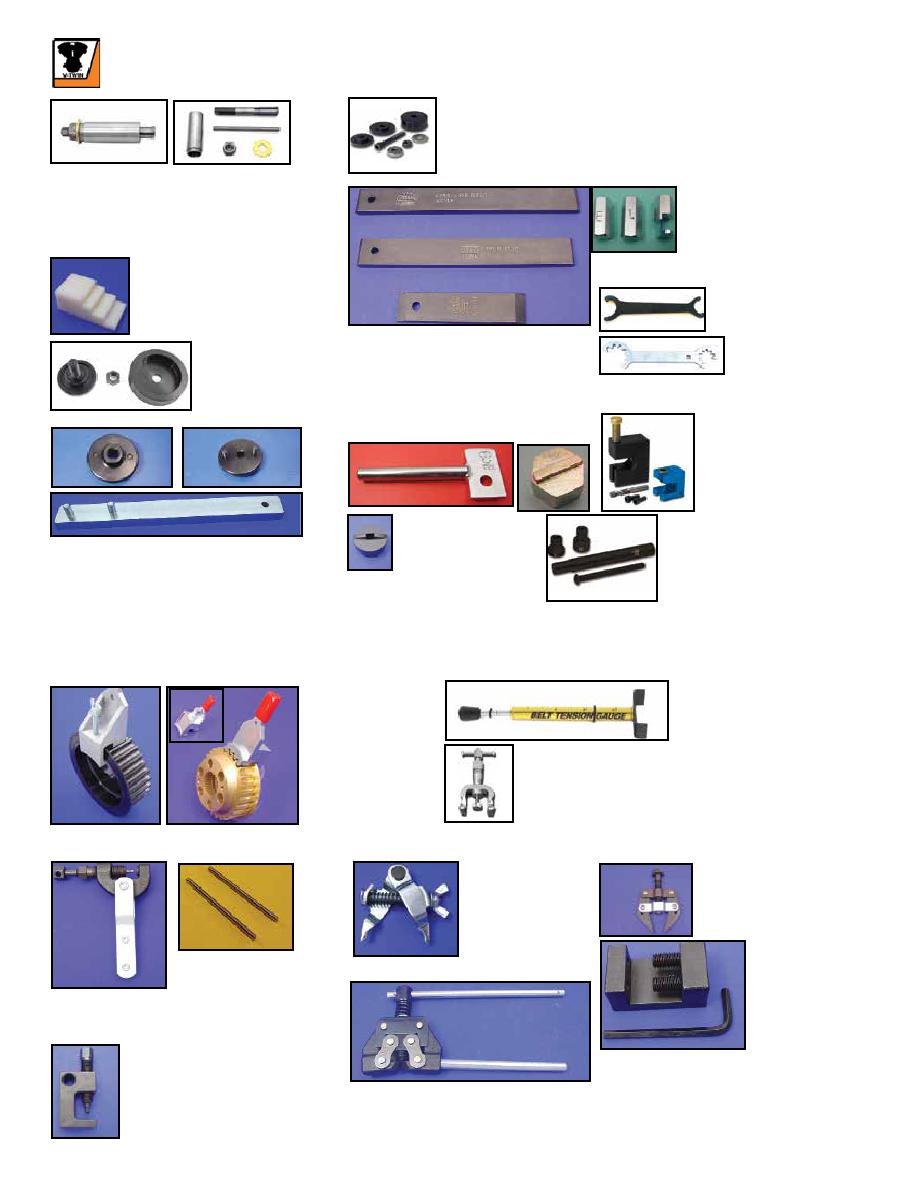 1290
Ratchet Plate Riveting Fixture
securely aligns plate to drum
while setting rivets on 1971-79
XL model clutch drum.
VT No. 16-0165
Primary Plug Wrenches for
VT No. OEM
Years
16-0158
16-0985* 33186 1971-84
8862-1
8862-1T Evolution
*Note: Uses 3/8 socket handle
16-0985
16-0158
8862-1
Chain Riveting Tool and Chain Breaker.
VT No.
Item
16-1740 Breaker
16-1741 Riveting Tool Set
Clutch Adjusting Gauges are
used to find the correct dis-
tance between the outer drive
plate and outer releasing disc
for 1971-83 Sportsters, 1936-
67 early and 1968-84 late Big
Twins. Set of 3 tools.
VT No. 16-1807
Sifton Outer Primary Cover Starter Bearing Removal Tool
removes 9063 Torrington needle bearing for Big Twin and XL
covers.
Note: This tool will also remove the 35961-52 bearing
in countershaft gear (Late) 4 Speed Big Twin, and also the
4-Speed Sportster clutch gear. The shaft diameter, before the
flare, measures 0.674".
VT No. 16-1042
Primary Locking Bars use to lock primary for
servicing.
VT No.
Use
16-0680
4-Speed BT's and 5-Speed FXST
16-0681
16-0682
16-1202
16-1357
16-0327
16-0680
16-0681
16-0682
Primary
Big Twin Primary Drive Locking Tool is
used as a wedge type device to hold the
primary drive gear while the proper torque is
applied without damaging the primary gear.
Constructed of nylon, OEM# 41214.
VT No. 16-0650
Starter Pinion Gear
Holder Tool fits 9 and
10 tooth gears.
VT No. 16-0484
Small Chain Breaker replaces
12039X.
VT No. 16-0144
Link Press Tool presses the side plates on
all 530
O-Ring Chains.
VT No. 16-1729
16-1740
Diamond Chain Breaker is excellent for cutting
530 heavy chain.
VT No. 16-0255
Standard Chain Puller
eliminates the annoyances
of installing the master link
in rear chain. Conveniently
pulls chain halves together
without loosening at rear
wheel. Fits all sizes.
VT No. 16-0611
16-0255
16-0611
Chain Puller Tool.
VT No. 16-1615
16-1741
Chain
Belt Tension Gauge designed
to aid in properly adjusting belt
tension on models with a sec-
ondary drive belt.
VT No. 16-1765
Belt
Calibrated Belt Tension Gauge.
Accurately measures belt tension.
VT No. 16-0589
Final Drive Tool fits final
drive pulley, so the nut can
be properly set to torque
specifications.
VT No.
Type
16-0649
16-0588
16-0649
Starter Ring Gear Rivet
Fixture Tool removes
the starter ring gear riv-
ets from Big Twin clutch
shells. For 2006-07 Big
Twin except Dyna.
VT No. 16-1368
Inner Primary Cover Bearing and Seal Remover Installer Tool safely removes
and installs inner primary bearing (OEM# 9135) without damage to the new bear-
ing by pushing on the outer perimeter of the bearing. Removes and installs inner
primary and seal that the transmission mainshaft passes through (OEM#12052A).
For L1984-06 FXST/FLST; 85-up FLT/FLHT/FXR/FXD/FXDWG.
16-1367 1984-06
16-1027 2007-up
Jims FLT Inner Primary Shifter
Shaft Bushing Tool for all 1985-
up FLT models. This tool easily
removes both worn bushings and
quickly installs the new bushings
to the proper location at the same
time, without removing the inner
primary.
VT No. 16-1193
Compensating Sprocket Wrench to install or
remove compensating sprockets. Replaces 94557-55
for 1955-69.
VT No.
Item
16-0130
16-0883
16-0130
16-0883
Jack Shaft Lock Wrench is zinc plated.
This tool is used to hold starter gears on
1991-up Big Twins.
VT No. 16-1297
16-0588