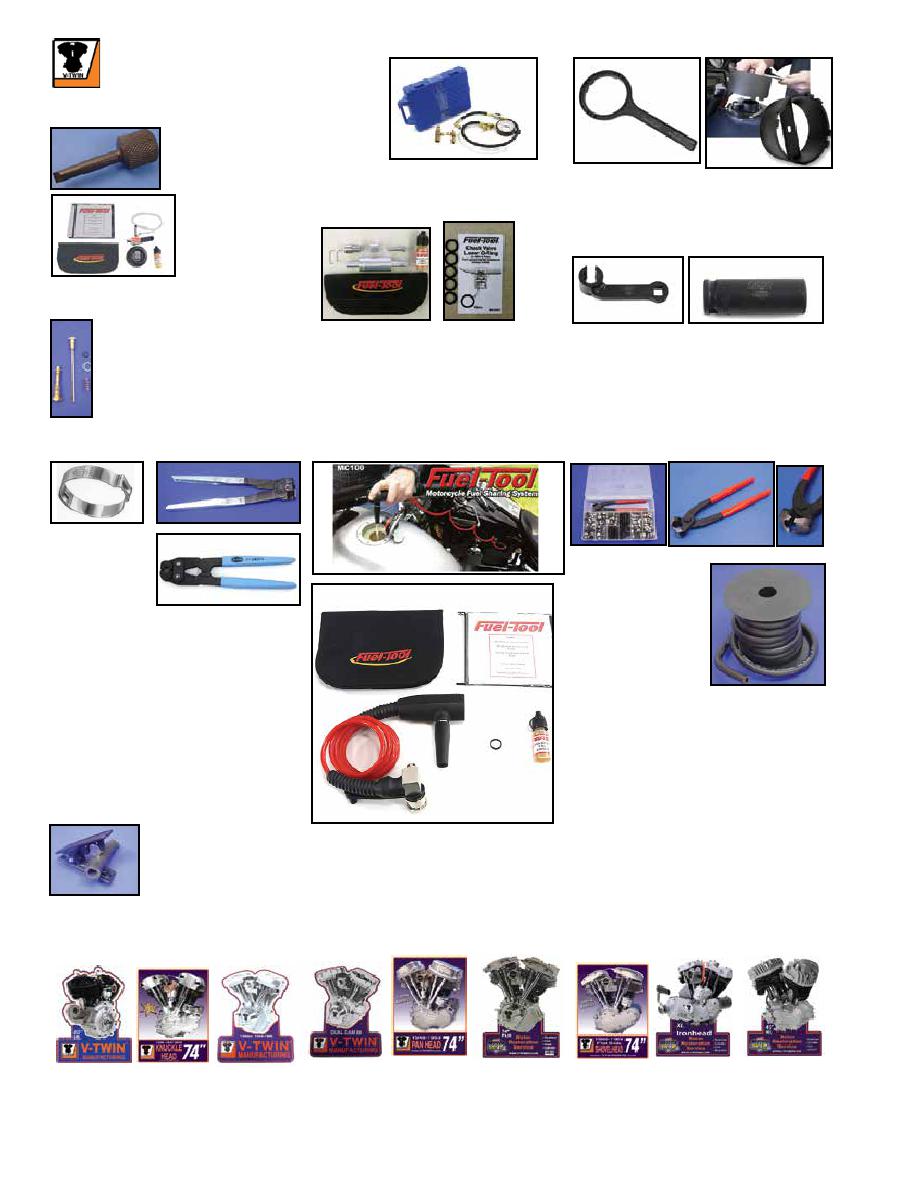 1286
Adjustable Main Jet Conversion Kit fits all
Bendix carburetors. Thumb screw adjustment
makes tuning a five minute cinch.
VT No.
Item
35-0202
16-0865
Some early carbs require drilling and tapping
for jet installation.
Slow Jet Screw Driver facil-
itates removal of Keihin slow
jets with no damage to jet.
VT No. 16-0546
Tool for
EFI & Carburetor
Hose Clamp and Tool. Stock type clamp closing tool
and clamps in bags in as sized (Inner Diameter (ID)).
VT No.
ID
Use/Fits
16-0053 ¹¹⁄₁₆"
16-0062 ¹⁷⁄₃₂"
16-0061 ⁷⁄₁₆"
16-0052 ¹³⁄₁₆"
16-0064 ⁴⁵⁄₆₄"
16-0082 ¹³⁄₁₆"
16-0063 ¹⁹⁄₃₂"
37-8933 ¹⁄₄"
16-0081 ¹⁄₂"
Cam Cover Fitting Oil Line
16-0050
16-0000
Oil Gas Line Clamp Assortment includes pliers.
VT No.
Oetiker No.
16-0080
16-0083
Hose
Snimp Hose Cutter is a hand
held device which quickly cuts any
size rubber or nylon hose up to ³⁄₄"
diameter. Leaves hose perfectly
clean and square.
VT No. 16-0049
16-0080
16-0050
Fuel-Oil Line are available in shop rolls in reinforced
black or clear for fuel use.
*Note: 40-1250 is 3' long.
Black Clear
Size Length
40-9999 —
40-0117 40-1250*
40-0118 —
40-0119 40-1252
40-0120 —
40-0253 —
40-0126 —
16-0083
Fuel Pump Retainer Remover Tool. Safely removes
the retaining ring holding the fuel pump inside gas
tank on all 2008-up FLT models. Use for quick and
easy service of fuel filter and other fuel related parts.
VT No.
Item
16-0316
16-0186 Wrench
Jims Fuel Pressure Test Gauge Tool includes all
the necessary hose connections and fittings to safely
perform a fuel pressure test on all 2002-up FLT,
2004-up FXD and 2001-up FXST with fuel injection.
VT No. 16-0317
Fuel Transfer Tool for all 2001-up EFI Twins (except
V-Rod). Attaches to the stock check valve and allows
fuel transfer from one bike to another or to use for
draining the fuel tank for seasonal storage. Transfer
of fuel is at roughly one quart every 20 seconds. No
modification required.
VT No. 16-0593
Fuel Pressure Check
Gauge Tool provides
simple, fast, and accurate
fuel pressure checks.
Includes 100psi gauge,
hose, and adapter. The
adapter features stainless
steel springs and a push button that releases all fuel
through the drain line. Fits all models with EFI.
VT No. 16-0591
EFI Check Valve Rebuild Kit for all EFI model Twin
eliminates the need to replace the check valve and
fuel line when only an o-ring is needed.
VT No. Item
35-0446 Rebuild Kit
14-0586 Check Valve O-Rings only
16-0592 Installation Tool
14-0586
16-0592
16-0186
16-0316
16-0000
48-0470
Knucklehead
48-0025
Panhead
48-0048
Shovelhead
48-0030
1340 cc
48-0044
Shovelhead
48-0498
80" UL
48-0372
XLCH 1971
48-1824
45"
48-0033
Dual Cam
Jims Oxygen Sensor Wrench.
VT No.
Fits
16-2755
2012-17 FXD front & rear, 2012-17 FXST
16-2756
16-2755
16-2756