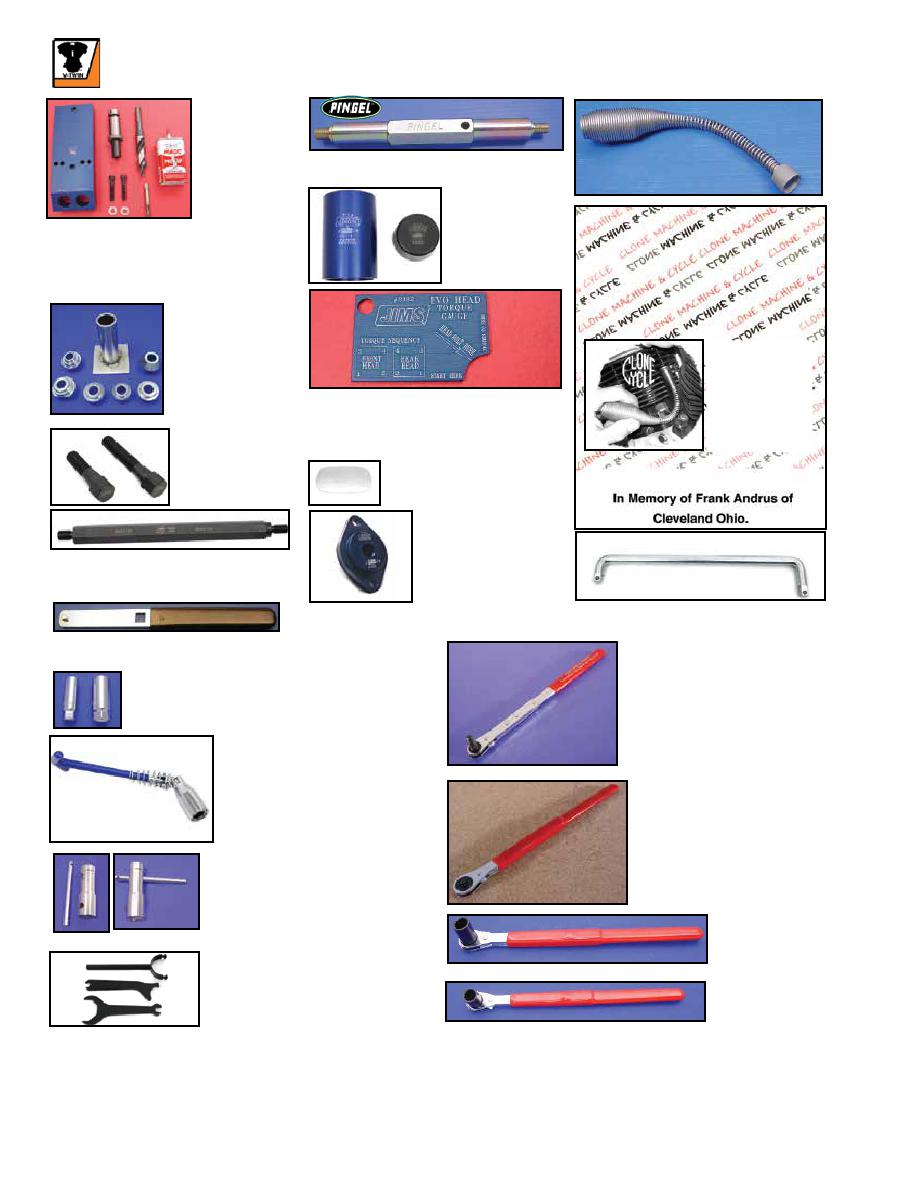 1284
Cylinder Head Support
Stand fits Evo, Shovelhead
and Ironhead Sportsters.
Adapters are to be used
with a bar press and the
stand included to push
guides in and out in a
straight line. Set includes
stand and 6 adapters.
VT No. 16-0651
Head Holder Tool by Pingel
to hold head through spark plug hole, by support in a
vise.
VT No. 16-1842
Cylinder Head
Exhaust Pipe Retaining
Ring Tool fits 1984-up
FXST, FLT,1986-up FLST,
XL.
VT No.
Brand
16-1675
16-1884
Jims Rocker Box
Alignment Tool Set. Fits
1999-17 FXST, FLST,
FLT, FXD
VT No. 16-1882
16-1884
Jims Compression
Release Valve Tool
use this tool for
machining all Twin
Cam heads 1999-17 for
compression releases.
Installs on front or rear
head, with or without
valves installed. Order
threaded tap tool and
compression releases separately.
VT No. Item
16-1169 Compression Release Tool
16-1170 Threaded Tapping Tool
16-1171 Compression Release Valve, pair
60-0132 Machine Head and Install Release Valves
Head Bolt Torque Gauge for all Evolutions. This
gauge allows the measuring of 90° when tightening
Evolution head bolts. Torquing sequence lasered on
gauge. Use on all 1984-98 Evolution models.
VT No. 16-0679
Cast Fin for Repair cut to fit and weld
in!
VT No. 11-1710
Jims M-8 Cylinder Head Holder is two sided, one
side threaded for Twin Cam heads, and the other
threaded for M-8 models.
VT No. 16-1188
Spark Plug Socket Set features ³⁄₈" drive to fit 12 and
14mm plugs.
VT No. 16-0202
Standard Spark Plug Wrench 14mm type with
bar handle fits under FL tanks.
VT No. 16-0825
Three Piece Upper and Lower Valve Cover
Wrench set fits hex and clip style covers.
VT No. 16-1864
16-1076
Evo Rocker Box Cover Ratcheting
Wrench features low profile to allow
clearance between frame and engine,
long handle for increases reach and
replaceable bit.
VT No. 16-6529
Evolution Rocker Box Cover Wrench is designed to reach ³⁄₁₆" allens on
Evolution Big Twins and Sportster models. Features a ³⁄₈" drive for use with
torque wrench and a vinyl covered handle.
VT No. 16-0220
Swivel Spark Plug Wrench for 16 and 21
mm plugs. 180° rotation.
VT No. 16-1076
Evo Ratcheting Intake Manifold
Wrench features ball end allen bit
end for flexibility in tight areas.
VT No. 16-5530
16-5530
16-6529
Lower Rocker Box Wrench for Evolution and Twin Cam Models is used to
install and remove lower rocker ⁷⁄₁₆" mounting bolts.
VT No. Fits
16-6531 Evolution
16-6532 Twin Cam
16-6531
16-6532
Head Bolt Socket Handle has 3/8" square ends to
hold head bolt socket. Use on Big twins 1936-84 and
Sportster 1957-85.
VT No. 16-0124
Jims Exhaust Gasket Installer
Tool will correctly install exhaust
port gaskets into cylinder heads,
minimizes gasket distortion.
Helps heads flow better.
VT No. 16-2112
Clone Speed
Wrench allows
removal of head bolts
on 1936-84 Overhead
Valve models, after
they are broken loose
with wrench.
VT No. 16-0953