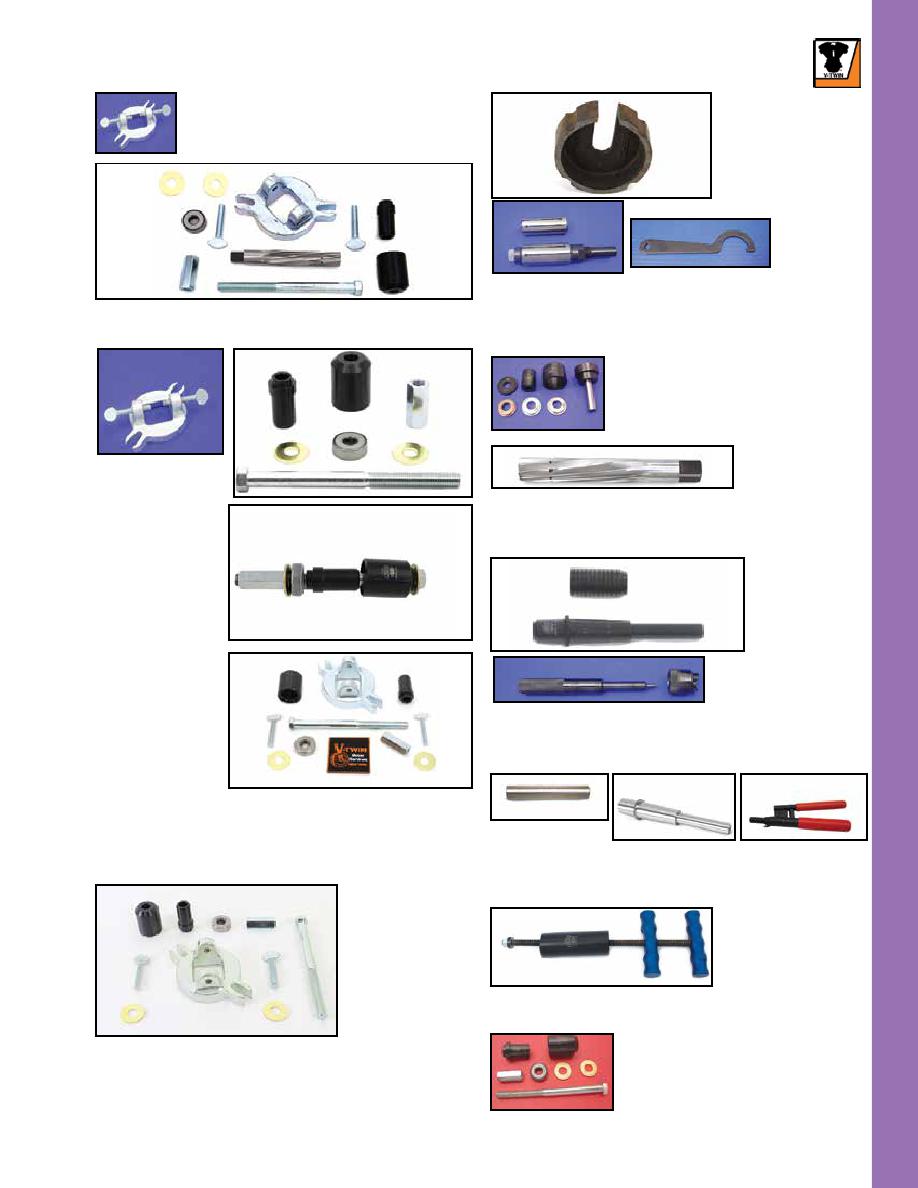 1283
TOOLS
Connecting Rod Tool
Wrist Pin Bushing Reamer.
VT No.
Fits
16-0216
16-0215
16-0727
16-0539
Rod Clamping Tool allows rod to be held for straightening or to replace wrist pin
bushing.
Bushing Piston Pin Tool will remove and install bronze bushing.
VT No. OEM
Tool
Brand
16-0029 95952-33 Clamping Tool V-Twin
16-0539 Set
16-0152 95970-32 Bushing Tool Jims
16-0181 —
16-0029
16-0181
16-0215
Sifton 3 Piece Factory Tool Set includes a connecting rod clamping tool, wrist
pin bushing reamer tool and installer, and the precision reamer. Fits 1957-1985
XL, 1936-1952 EL, 1941-1984 FL, 1985-1999 FL.
VT No. 16-0455
Jims Twin Cam Connecting Rod Bushing Tool
use to remove and replace wrist pin bushing without
removing connecting rods from crankcase.
VT No. 16-1051
Jims Wrist Pin Remover allows
easy removal of wrist pins on all
TC-88 and M-8.
VT No.
Item
16-1276
16-1187* M-8 Adapter
*Note: Required adapter will
allow use of 16-1276 tool on all
M-8 engines.
Rod Lapping Tool includes arbor assembly 1.500 lap for 45", Indian and some
case races, 1.625 lap for Big Twin, Sportster and K Model rods. For use 1936-98
Big Twins and 1959-03 XL.
VT No. Item
16-0027 Rod Tool
16-0012 Spanner Wrench
16-0012
16-0027
Rod Clamping Tool allows rod to be held for straightening or
to replace wrist pin bushing. 95952-33.
VT No. Item
16-0029 Early Tool
37-1045 Thumb Screw Only
Jims Rod Race Press Tool for easy installation or
extraction of rod races makes it easy to support with-
out bending rods for 1936-98 74's and Sportsters.
VT No. 16-1838
16-1831
Piston Pin Align Tool fits through wrist pin bushings.
VT No. Type
16-1747 Early
16-0075 Wire Type Wrist Pin Circlip
16-1888 Piston Ring Lock Tool
16-0075
16-0987
16-1747
16-1888
Piston Pin Lock Ring Installer Tools.
VT No. OEM
Type Years
Model
16-1831 96781-72 Spiral 1973-77 All Models
Installs Ring 22582-52 in piston with wrist pin of .535 I.D.
16-0987 34623A
Ring 1986-98 Evolution All
Wrist Pin Bushing Rod Clamp Tool Set.
Fits 1936-73.
VT No. 16-0776
Rod Alignment Plate fea-
tures a cast iron construction
with a parkerized finish, for
Big Twin engines.
VT No. 16-1063
16-0029
16-0152