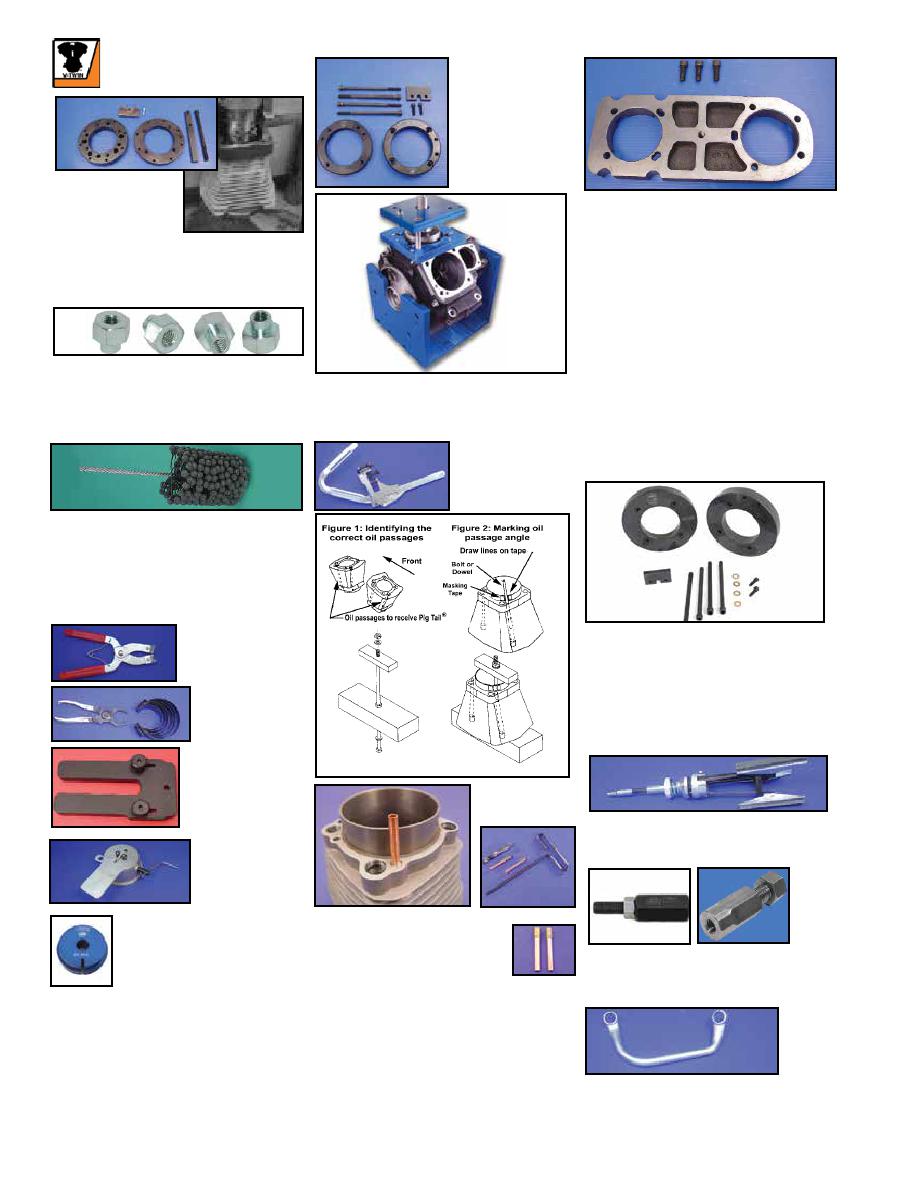 1282
Jim Piston Ring End Gap Tool makes
measuring ring end gap faster, more
accurate and eliminates guess work.
The flanged design that allows the
piston ring to fit squarely in the cylinder
bore every time. This is the first tool
that is designed to test oil ring gaps by
propriety cutout feature. Just install any
ring, top, 2nd, or oil control rails on the
tool. Install tool into a cylinder bore and
then view the ring end gap in the "Key
Slot". Use a feeler gauge to get your
end gap measurement. Each side of the
tool is made for checking standard size
piston rings. Fits Twin Cam standard
size pistons for 95", 103" or 110" with
3.875" or 4.00" bore.
VT No. 16-3200
Piston Ring Installer
Tool.
VT No. 16-0628
Cylinder
S&S Evolution Cylinder Torque Plate Kit simulates
stress conditions when boring and honing Evolution
Cylinders. Machined from chrome moly steel, fits all Big
Twin 1340 and Sportster 883-1100-1200 cylinder, and
3⁵⁄₈ S&S cylinder.
VT No. 16-0928
Piston Ring
Compressor Kit.
VT No. 16-0622
Cylinder Wall Flex Hone features silicone carbide
globules which allow the deglazing of cylinders 3" to
4¹⁄₄" when powered by a ³⁄₈" or larger drill,180 Grit.
VT No.
Bore
16-0574
16-0576 4"
16-0575
16-0616
16-0618
Cylinder Hold Down Nuts are used to hold down
cylinders during service. Allows motor to be turned
over with heads off. Use on all Twin Cam and
Evolution and M-8 Twins.
VT No.
Fits
16-0446
16-1186 M-8
Jims Piston Support
Plate provides a non-mar-
ring flat support to push
the bottom of the piston
as rings and cylinder are
installed over piston.
VT No. 16-1164
Jims Evolution Case Cylinder Spigot Bore Tool
allows boring of cylinder spigot hole, up to 3.8125" by
utilizing the stock cylinder stud holes. Use on all 1984-
99 style Evolution crankcases.
VT No. 16-1409
VT No.
16-0911
Tube Installed
VT No.
16-0912
Jims Twin Cam
Cylinder Torque Plates
lasered with correct
torquing sequence for
TC-88 and TC-96 OEM
cylinders.
VT No. 16-1287
Piston Ring Groove
Cleaner.
VT No. 16-0619
Cylinder Head and Crankcase Boring Fixture
designed to simplify and reduce the time required to
prepare the crankcase and cylinder heads for big bore
kit installations. The boring plate is made of cast iron
and is precision ground and machined with Panhead
and Shovelhead head bolt patterns in one end. The
other end has been finished with the cylinder base
patterns of Knuckleheads, Panheads, Shovelheads
and V2 Sportsters and Big Twins. When adapted
to boring bar it is possible to bolt the crankcases or
heads to the plate and perform the boring modifica-
tions necessary for 3⁵⁄₈" bore cylinders. V2s require
use of spacers because of the extreme length of the
cylinder and head spacer, part VT No. 16-1868. Big
Twin V2's with male style studs require on spacer VT
No. 16-1868 and one spacer VT No. 16-1869.
Note: Big Twins V2's with female type studs must be
changed to the male type of studs, when installing a
sidewinder.
VT No.
Item
16-1867
16-1868 3¹¹⁄₁₆" Spacer
16-1869
Jims M-8 Cylinder Torque Plates. Aluminum cyl-
inders cannot be accurately honed and measured
without the use of torque plates. The Jims Torque
Plate kit for use on Milwaukee-Eight ® cylinders will
simulate operating stress conditions when boring or
honing cylinders. These plates adapt easily to con-
ventional boring bars or Sunnen honing machine,
and do not require the removal of ring dowels. Use
on 2017-up Milwaukee Eight® engine
VT No. 16-1201
Piston Ring Grinder
Tool.
VT No. 16-0976
16-1846
Evolution Cylinder Tools allow installation of stud to
correct height or removal by locking to stud.
VT No.
Item
16-1845
16-1846
Cylinder De-Glazer feature spring action on the
stones keep the stones against the cylinder wall at
the correct pressure. Capacity 2" to 5¹⁄₂".
VT No. 16-0610
16-1845
16-1846
Evolution Cylinder Oil Passage Drain
Tubes for stock bore size cylinders
only. Each kit is supplied with tap, hex
wrench two drain tubes and instruc-
tions.
VT No. Item
16-0911 Kit
16-0912 Pair Replacement Tubes only
16-0107
Replica 5/8" Cylinder Base Wrench Tool
VT No. 16-0107