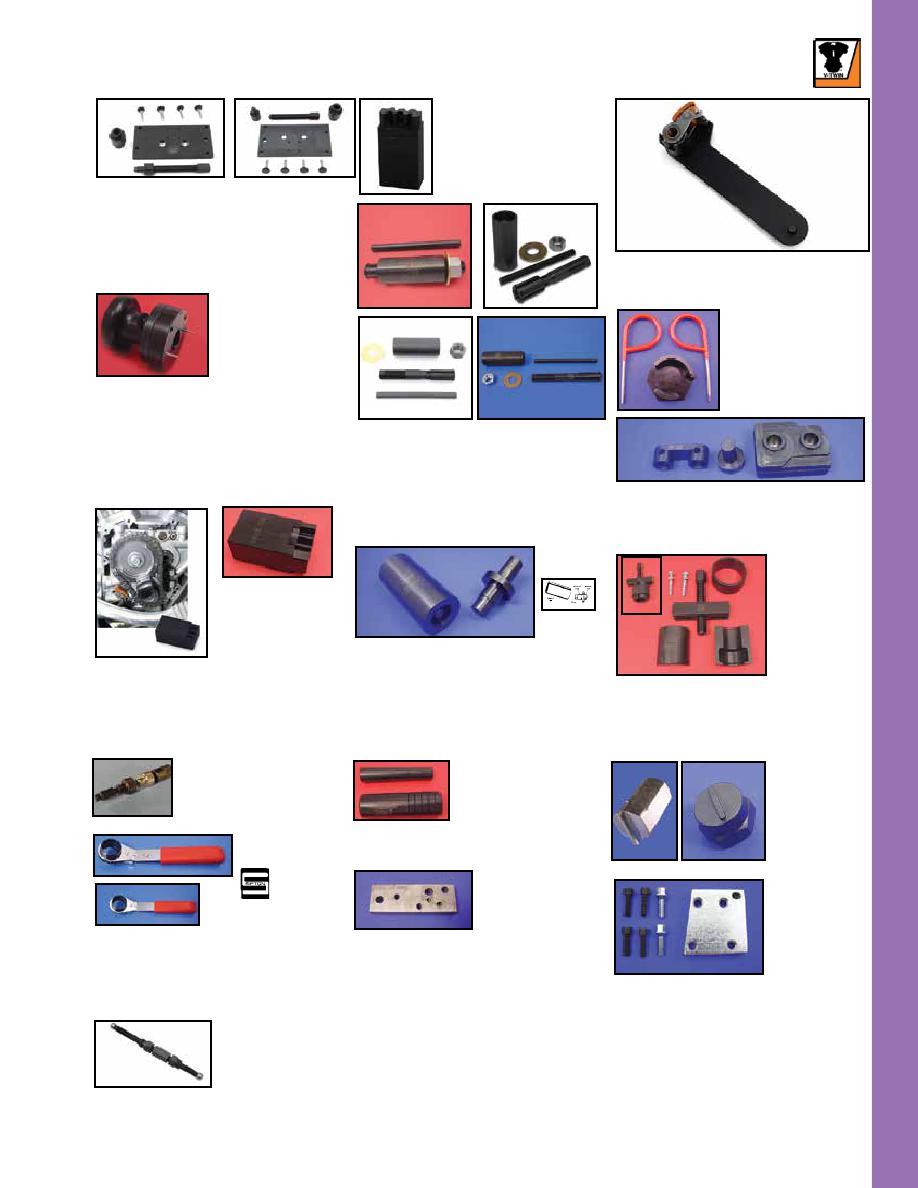 1281
TOOLS
Jims Cam Locking Tool allows
removal and torquing of cam
sprocket bolts by locking camshaft
and crankshaft sprockets. Use on
2006-17 Dynaglide and 2007-16
FXST-FLT models.
VT No. 16-1352
Jims Cam Gear Remover
and Alignment Tools. The
alignment tool is designed to
index the cam gears position
while removing on installing
the cam gear. This tool
will allow you to accurately
position and or reposition the cam gear from one
camshaft to another, as well as allowing you to retard
or advance the gear position by up to 10 degrees with
the accuracy of a ¹⁄₄ degree. The cam gear remover
tool is use to remove the cam gear from the camshaft.
This tool acts as stable base to keep the camshaft
perpendicular to the press. Use on all 1970-98 BT.
VT No.
Item
16-1282 Alignment Tool
16-1283 Remover Tool
16-1282
Jims Camshaft Remover and Installer Tool allows
removal and installation of cams in the Twin Cam
model engine. Tool is used in conjunction with VT
No. 16-0793 cam chain tensioner unloader.
VT No. 16-0792
Jims Twin Cam
Bearing Puller used
to remove bearing
from camshaft, this
tool is designed to
remove the bearing
straight with no slip-
ping or binding. Use
on all Twin Cam.
VT No. 16-1280
Jims Camshaft/Crankshaft
Locking Tool will lock the
gear teeth on the Twin Cam
model engine. Instructions
included.
VT No. 16-0790
Jims Cam Chain Tensioner
Unloader will hold the tension
of the primary cam chain on
the Twin Cam model engine.
Instruction included.
VT No. 16-0793
16-0790
16-0793
16-1280
16-0792
Twin Cam Inner Cam Bearing Tool. This tool will
safely install the inner cam bearing in all 1999-06
FXST-FLST and Dynaglide models. Installs bearings
to the proper depth in case without damaging bear-
ings.
VT No.
Brand
16-1384 Jims
16-1390
16-1351
16-1279
Inner Cam Bearing Remover Tool allows removal
of needle bearing and will also keep needles and
rollers from falling into engine.
VT No Jims
Year
16-1271 16-1821 1958-98 Big Twin
16-1392 16-1840 1957-90 XL
16-0190 16-1279 1999-06 FXST, FLST

16-1391 16-1351 2006-17 FXST, FLST, FXD

16-1271
Cam Tensioner Removal and Installation Tool to
remove and replace the spring loaded cam chain ten-
sioners. Fits 2000-06 FXST, FLST and 1999-06 FLT.
VT No. 16-0188
16-1390
Cam Tool
16-1840
Oil Pump
Oil Pump Drill Fixture
allows drilling of cases to
accept late model stock or
S&S oil pumps.
VT No. 16-0986
Oil Pump Drill Jig
replaces 94461-81
for installation of
factory type updat-
ed pump VT No.
12-9900 on 1973-
78 crank cases.
VT No. 16-1843
Oil Pump Snap Ring Installer
makes it easy to install outer
snap ring on oil pump shaft,
without stretching the ring. Just
apply oil to ring expander, holder
up to the big end of ring expand-
er, hold up to the end of the shaft, then push ring onto
the shaft with sleeve. Use on Big Twin oil pumps.
VT No. 16-0889
Oil Pressure Sending Unit Wrenches. These
reversible ratcheting wrenches are used to install and
remove oil pressure indicator lamp or gauge sending
unit on all FL Touring models 1999-up.
VT No.
Year
16-9723
16-9724
16-9723
16-9724
Ball Burnish Tool will
facilitate ball burnishing of
the relief valve seat on cast
iron pumps.
VT No. 16-1033
Sifton Oil Pump Check Ball
Reseater will recut the seat to allow
the ball to sit properly to prevent
sumping for Big Twin and XL alumi-
num and cast iron pumps.
VT No. 16-0519
Tappet Oil Screen
Plug Tool. Wide
slot type to remove
stock slotted plug
without removing
exhaust pipes.
VT No.
Brand
16-0875 V-Twin
16-0665 Jims
16-0665
16-0875
Jims Crankshaft Bushing Remover/Installer will
facilitate removal and installation of bushing in cam
support plate on TC-88 model engines.
VT No. 16-0791
16-1384