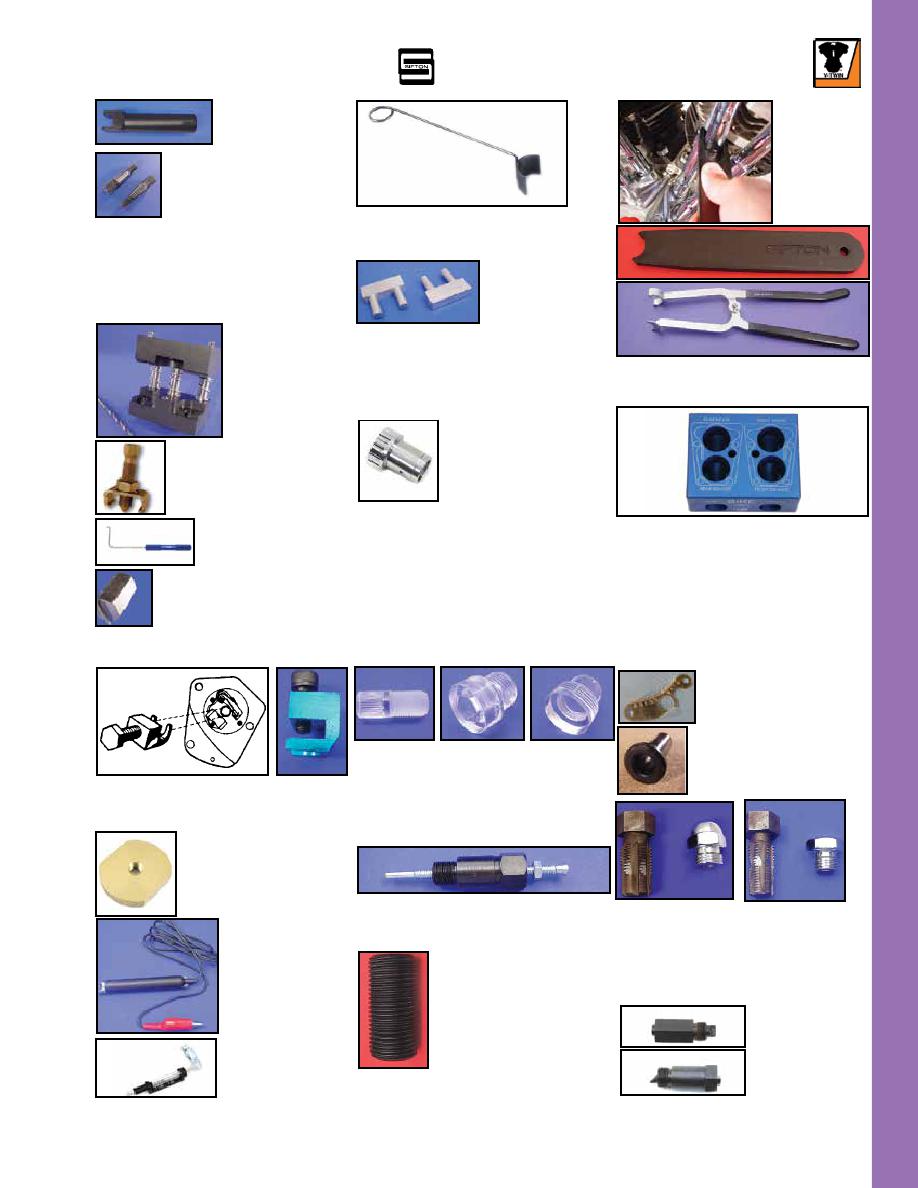 1279
TOOLS
Tappet Tool
Sifton Tappet Roller
Installation Tool positions
and holds roller and tappet
for removal and reassembly
for all Big Twins including
Evolution. Instructions are
included. Punch and drill not
supplied.
VT No. 16-0874
Pushrod Cover Compressor Tool pushes against
top rocker box to allow one hand operation. Use on
1936-98 Big Twin and 1957-03 XL.
VT No. 16-1052
Sifton Tappet Guide/Oil Pump Installation Tool.
Use to align tappet guide to engine case on all
Evolution 1340 Big Twins and also aligns oil pump on
Twin Cam Big Twins. Also available in width ¼ x 24
threads for after market crankcase sets. Sold in pairs.
VT No.
Fits
16-0998 Evolution Tappet Guide/TC Oil Pump
16-0977 ¼" x 24
Sifton Magnetic Tappet
Lifter holds tappets up
while changing cam on
all Evolution or Twin Cam
engines.
VT No. 16-1035
Tappet Guide Puller Tool for 1957-
85 Sportster, replaces 95724-57.
VT No. 16-0157
16-1035
Sifton Pushrod
Cover
Compressor Tool
allows removal and
installation of push-
rod clip. Use on
1936-98 Big Twins
and 1957-03 XL.
VT No. 16-1728
16-1052
Pushrod Cover Removal
Tool fits Twin Cam.
VT No.
Brand
16-1024
16-0384
Jims Twin Cam Oversize Reamer. Designed to
ream the case to fit a +.010 oversize Twin Cam tap-
pet. Includes reamer and two flex hones. Tappet sold
separate.
VT No.
Item
16-2789 Tool
16-1811 Tappet
16-0993
Jims Tappet Test Stand Adapter
for 1984-98 Twins.
Note: Adapter
for use with tester on Evolution
Style tappets that bleed down.
VT No. 16-1863
Jims Tappet Adjuster Hand Tool
verifies proper adjustment on most
hydraulic tappets for Evo and Twin
Cam models.
VT No. 16-1886
Jims Tappet Position Holding Tool for all 1991-17
Twin Cam and 2000-up XL engines. This tool allows
the tappets and anti-rotation pins to be safely and
accurately stored for proper re-installation. Tappet
locations are clearly referenced on the tool, which
also serves to protect the tappets from damage when
removed from engine.
VT No. 16-1031
Sifton Pushrod Adjustment Gauge for use on Big
Twins 1953-84 with hydraulic lifter. Replaces 91438-
79. Complete with instructions.
VT No. 16-0993
16-0874
16-1728
16-1024
16-0875
Tappet Screen Plug Removal Tool use on
all Big Twins 1936-98.
VT No. 16-0875
Acu-Time Device locks advance mechanism on all
1970-78 models for accurate static timing. Includes
instructions.
VT No. 16-0161
Spark Plug Indexer fits 14mm plugs
allows electrode to be placed in proper
position.
VT No. Item
16-0623 Tool
16-0676 Index Washer 30 Assorted
Clear Timing Plugs available long optically clear type
or short standard version with or without the internal
hex.
VT No.
Type
U/M
16-1731 Long
16-0829 Hex
16-0099 Hex
16-0160 Standard Each
Timing
Flywheel Locking Tool screws into
timing hole and allows holding of the
crank for top dead center. It has a
hollow center to allow view of timing
mark.
VT No. 16-1851
TDC Indicator is a 14mm tool that locates top dead
center of piston with heads on engine, when degree-
ing camshaft.
VT No. 16-0047
Spark Plug Firing
Indicator. Captive type
spark plug firing indica-
tor. No need to puncture
cable. Reads flashes from
neon bulb to indicate plug
firing.
VT No. 16-0624
16-0161
Timer Device bolts inside primary
cover on 1970-98 Big Twin models.
After installation, only inspection
oval of outer primary has to be
removed for accurate timing.
VT No. 16-1736
7502-2
Clean Time pushes into timing hole
and wipes flywheel clean for strobe
timing.
VT No. 16-0715
7500-2
Oversize Plugs with Tap. Kit includes a tap and a
chrome dome head plug.
VT No.
Type
Includes
7502-2
7503-1
7500-2
7501-1
9407-1
Timing Tools
Screw into timing axle, and
VT No.
Type
16-7443 Slot
16-7444 Point
16-7443
16-7444
Spark Tester is adjustable
for all voltages, gauge back-
ground makes spark easy to
see for accurate measure.
VT No. 16-0991
16-0998
16-1731
16-0829
16-0160