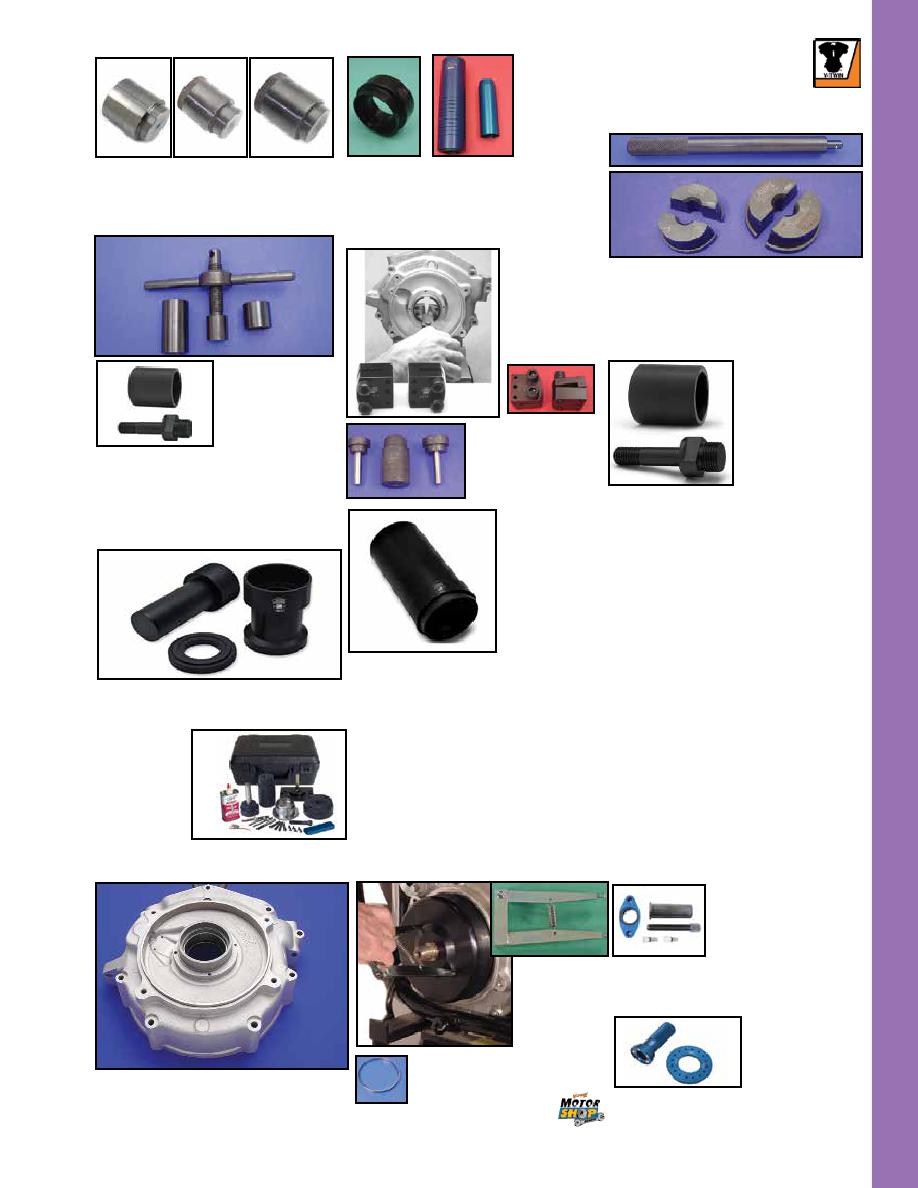 1277
TOOLS
Alternator Repair
Moto Shop Alternator Sealing Ring Replacement
Service. Ship in 1970-up left hand case with dam-
aged O-Ring lip and we will machine out and replace
with new steel sealing ring.
VT No. 60-0164
Big Twin
Alternator Rotor
Puller uses the
two threaded holes
in rotor to allow
removal of rotor.
VT No. 16-0693
Alternator Repair Ring Only.
VT No. 16-0692
Sprocket Shaft Seal Installer use this kit to install
sprocket shaft seal to proper depth, and for holding
the seal perfectly square, for a no leak fit. Driver sold
separately, order 16-0664.
VT No.
Use
16-0661
1995-up Sportster and Buell®
16-0664
16-0661
16-0664
Crankshaft
Installer
Sprocket Shaft Bearing Removal and Installation
Tool. Removes and installs engine sprocket shaft
bearings from crankcase. Use with 33416 driver han-
dle. Replaces 94547-80. 2 part set, 4 halves. Use on
1955-98 Big Twins and 1957-03 XL.
VT No.
Item
16-0058
16-0065 Driver
16-0065
16-0058
Sprocket Shaft Bearing
& Seal Installation Tool
Adapter upgrades Jims
bearing installer tool (VT
No. 16-1353) for work on
fine-splined Twin Cam
sprocket shafts. Allows
for installation of Timken
bearing (OEM# 8028) &
roller bearing race assembly
(OEM#24004-03) onto the
sprocket shaft. For 2007 all
2007-16 Big Twin.
VT No. 16-1364
1990-98 Big
Twin Snap Ring
Remover will
remove the Timken
Bearing outer race
snap ring without
damage to the
case.
VT No. 16-0705
Sprocket Shaft Timken Bearing Installer Tool.
VT No. Jims
OEM
Year/Model
16-0140 16-1836 97225-55 1955-up Big Twin
—
16-1837 97081-54 1954-76 XL
16-1760* 2.500 Long 1977-03 XL
16-1761* 2.060 Long 1977-03 XL
*Note: Sold separately for 1977-up use with 16-0149
and 16-1837.
16-0140
Bearing Race Press Plug is used to remove and
install Timken bearing outer race.
VT No. Fits
16-0138 1955-98 Big Twin, (97194-57)
16-0045 1957-76 XL
16-0046 1977-03 XL
16-0046
16-0045
16-1836
Twin Cam Timken® Case Bearing Conversion Tool is a must for the big cubic inch late model Twin Cam 88" or 96" engine.
Utilizing the special Jims precision insert, it is designed to easily and accurately convert the left side crank roller bearing (OEM#
24604-00D) to the more durable Timken Bearing (OEM# 9028). This insert is manufactured from aerospace quality steel that is
several times stronger than the aluminum case material the standard bearing rides in. The tool includes:
• A new steel bearing insert held under .002" TIR (total indicator reading).
• A press plate that will hold the bearing insert in line with the case bearing bore at the time it is being pressed into case.
• All the necessary drill bits to drill oil feed and return holes, hardware and detailed instructions.
This job can be performed with normal hand tools , a hand drill and a 2 ton press.
Use on Twin Cam engines 2003 to the 2016. Must also use existing Jims Tool (16-0668) for race installation. Order bearing
inserts and Timken bearings separately.
VT No.
Item
16-1375
60-0181
Motor Shop Service to Machining Crankcase for above Insert requires work order number contact service dept
16-1375
Jims Timken Bearing
Race Installer is used to
press race in straight in
left crank case for 1969-98
Big Twin,1977-03 XL's.
VT No. 16-0668
16-0138
Jims Main Bearing Remover and Installer for 2017-up M-8
Big Twins removes left or right main bearing without damaging
the case. Also provides correct alignment and depth during
assembly. Fits 2017-up FLT, 2018-up FLST, FXST.
VT No. 16-1182
Jims M-8 Left Main Seal Removal Tool. The
Milwaukee Eight has a new crankshaft oil seal
that is difficult to remove without potentially
damaging the crankcase bore. The tool is
designed to do the job with no chance of dam-
age to the case. Simply insert the removal fin-
gers over the engine output shaft, and then slide
the lock collar over the fingers. Once assem-
bled, you can easily remove the seal square to
the core by simply turning the wrench. Use on
the new Milwaukee Eight engine, 2017-up.
VT No. 16-1200
16-0692
Left Side Case Repair Ring for Twin Cam
engines at inner primary.
VT No. 16-0562
Jims M-8 Alternator Rotor Remover and Installer
for M-8 engines 2017-up FLT, 2018-up FLST, FXST.
This tool will easily remove the high output rotor without
damage to the magnets.
VT No. 16-1183
Big Twin Alternator Rotor Puller
uses the sprocket shaft end to
center and the two threaded holes
in rotor to allow removal of rotor.
For use on all 1997-06 FLT with 45
amp charging system. Can also be
used on 1997-06 FXST, FLST and
FXD that have been graded to 45
amp charging system
.
VT No. 16-1054