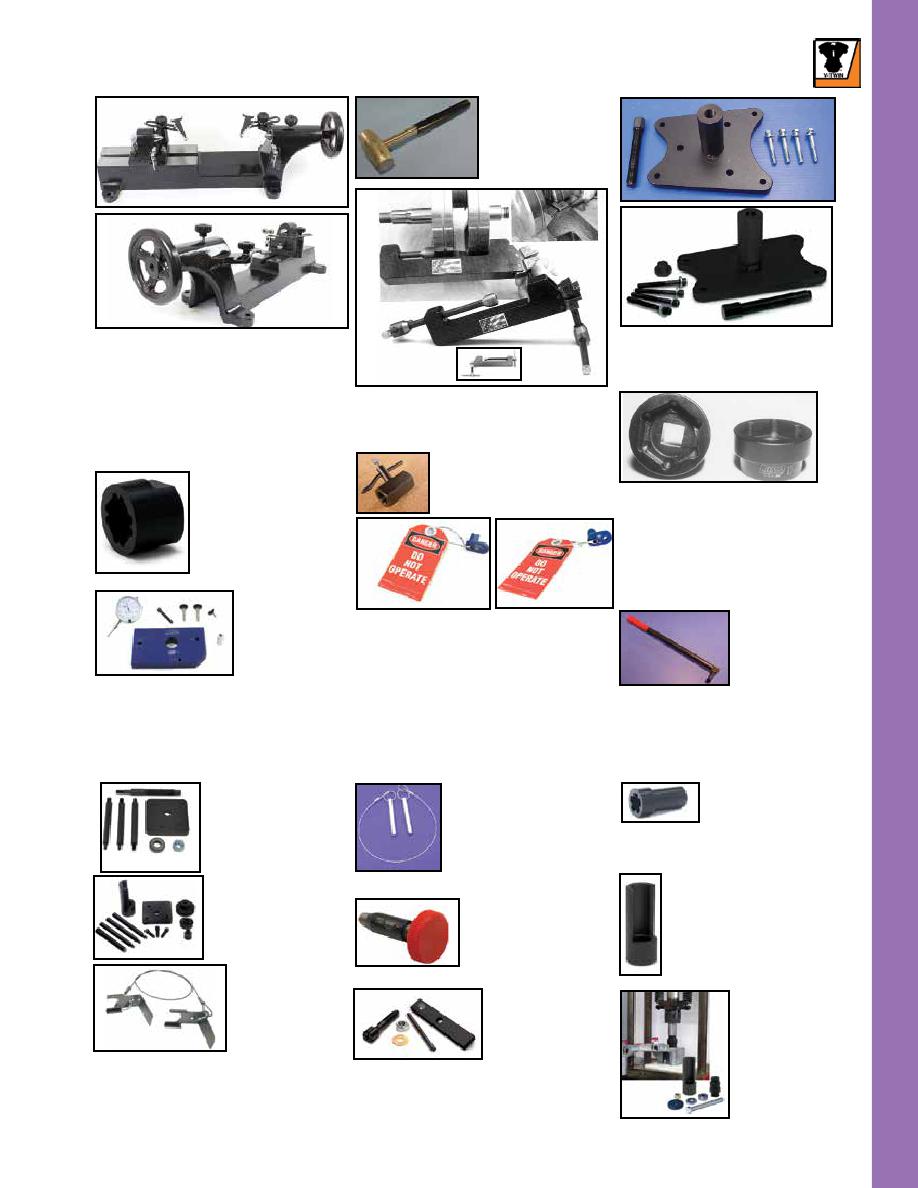 1275
TOOLS
Factory Type Crank Truing Machine features cast
iron construction. Designed to true stock style fly-
wheels. 10" swing right side, 6" swing left side, 18"
maximum center to center. Weighs over 80 pounds.
Shipped truck only. Order 16-0071 roller stanchions
separately. For fork tubes straightness check roller
stanchions.
VT No. Item
16-0586 Machine
16-0071 Roller Stanchions
16-1703 Hand Wheel
Crank Assembly Removal Tool is used to press
flywheels from cases, press cases apart and break
sealant bond, for 1955-up Big Twin, by Jims.
VT No. 16-1839 1955-05
VT No. 16-1354 2006-17
Flywheel Nut Sockets feature a low profile of 1" tall
to give 100% nut contact, machined flat at nut receiv-
ing end to eliminate rounding off the nut, by Jims.
VT No.
Nut OEM Fits
Drive
Crank
16-1809 23966-54A 1954-81 Big Twin 1/2"
16-1810 23969-83 1983-up Big Twin 1/2"
16-1813 23901-81 1981-up XL
Sprocket
16-1812 24017-80 1972-up Big Twin 3/4"
Flywheel Tool
Sprocket Shaft/Flywheel
Holder used to hold flywheel
assembly in vise with or without
left case attached. Can also be
used to check case clearance
on stroker flywheels. Use on all
TC-88, 2006-17 FXD, 2007-16
FLT and 2007-17 FXST.
VT No. 16-0326
Flywheel Truing Tool to fine tune flywheel assemblies
when truing. This tool features both a flywheel expand-
er, and contractor in one easy to use package. Use on
all tapered shaft flywheel assemblies.
VT No. 16-0325
Flywheel Spreader Tool
spreads wheels while truing
for Big Twins and XL's.
VT No. 16-0517
Flywheel Truing Hammer
is a three pound lead/steel
that lasts longer than a lead
hammer and is still soft
enough so that it will not
mar flywheels.
VT No. 16-1020
1930-54 Big Twin Flywheel End
Play Gauge.
VT No. 16-0131
Jims Flywheel
Runout Inspection
Gauge allows engine
builder to check fly-
wheel runout of the
pinion shaft while
assembled in engine
case. Also allows the checking of gear lash on gear
driven cams on Twin Cam engines. Gauge fits 1970-
84 FL, 1971-84 FX, 1984-up FXST, 1986-up FLST,
1991-up FXD, 1979-up FLT, 1982-94 FXR.
VT No. 16-0383
Outer Balancer Bearing Installer
and Remover Tool removes and
installs the outboard balancer
bearing on the 96" and 110" "B"
Softail engines 2000-17 chain guide
support plate.
VT No. 16-1376
Balancer Shaft Removal Tool
designed to remove both front
and rear counter-balancer shaft
bearing assembly, from the left
engine case on the 96" and
110" Beta engines, 2007-17.
VT No. 16-1374
Balancing Shaft and Bearing
Installer Tool designed to align
and safely install a new balancer
bearing and counter balancer shaft
into the Twin Cam 96" or 110" "B"
Softail engine case 2000-17. For
removal of balancer shaft from the
engine case use Jims tool No. 960.
VT No. 16-1377
Balancer Shaft Retention Pin use this
tool to secure the engine balancers on
Twin Cam engines when servicing fly-
wheel assembly. This tool locks into the
balancers sprocket pin holes to prevent
the balancer from turning out of sync with
flywheel. Use on 2000-17.
VT No. 16-1163
Balance Tool
Jims Balancer Scissor Gear
Alignment Screw holds the
two halves of the spring bal-
ancer gear in alignment before
removal for easy installation.
Use on 2017-up M-8 engines.
VT No. 16-1181
Jims Beta Engine
Hydraulic Balancer
Retainer Tool use these
retainers to hold the
hydraulic tensioners in
place when repairing
all Beta engines. The
hydraulic tensioners are
used to keep constant chain tension on the counter
balancer system. Without the use of these retaining
tools you will not be able to remove or install the
balancing system. Use on all Beta Twin Cam engines
2000-17.
VT No. 16-1858
Balancer Shaft Bearing
Service Tool use to remove
and install bearing fits 2000-
17 Twin Cam Engines.
VT No. 16-1915
Jims Flywheel Locking and Decommissioned Tool
locks the flywheel in place making service procedures
easier. This tool is very visible and useful to designate
a bike as decommissioned. The bike will not start and
clutch must be engaged in order to move bike when
this tool is installed. Use on all Twin Cams 1999-up
and 2017-up M-8 models.
VT No.
Fits
16-2753
16-1203
16-1203
16-2753
Jims Outer Balancer
Bearing Installer and
Remover Tool. This tool
removes and installs the
outboard balancer bearing
on 96" and 110" "B" Softail
engines 2007-17.
VT No. 16-0324
Jims M-8 Balancer Bearing Remover Tool is for
use on 2017-up FLT and 2018-up FXST models. The
M-8 engine design incorporates balancers to reduce
engine vibration. This tool can remove the balancer
bearings both Touring and Softail models without
damage to the crankcase.
VT No. 16-5832
16-5832
16-1839
16-1354