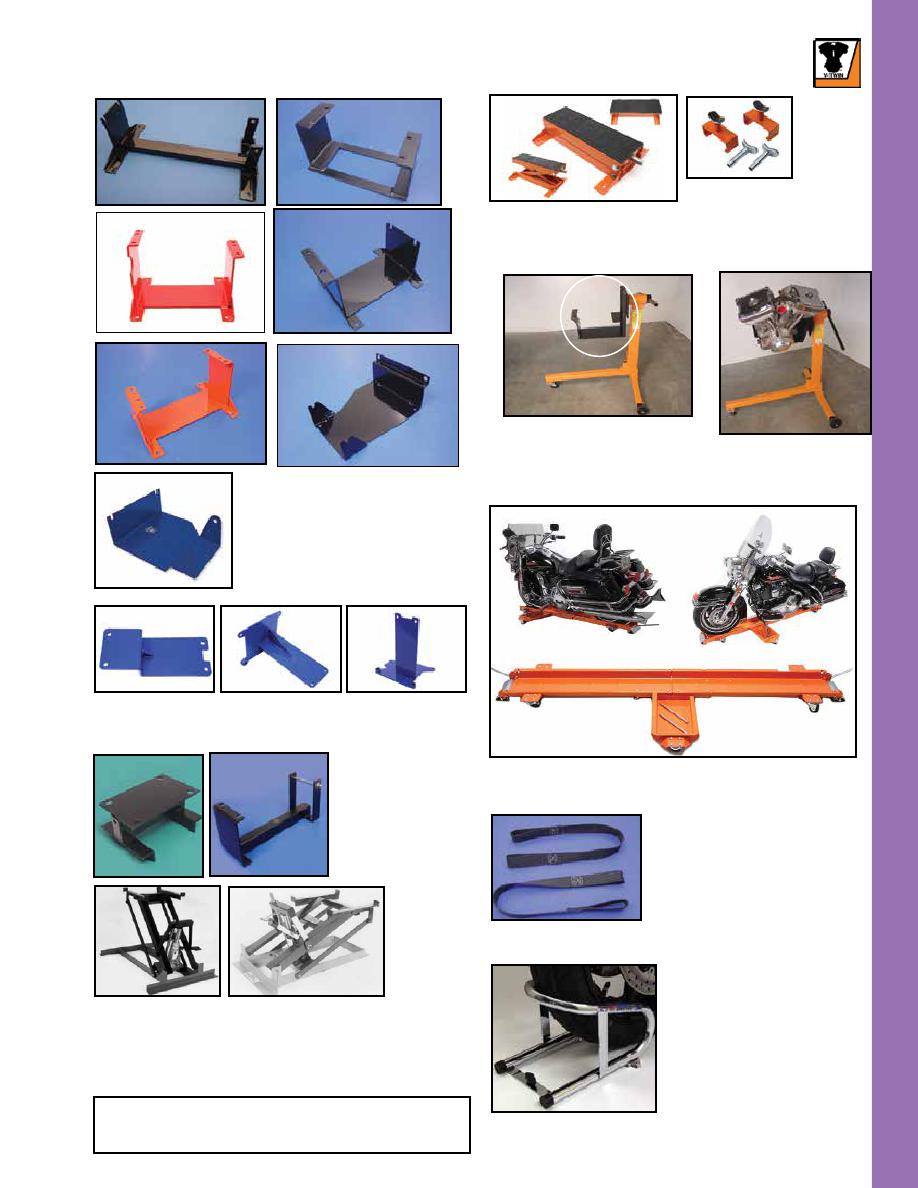 1273
TOOLS
Motor and Transmission Work Stand
Transmission Stands are
welded steel for shop use.
VT No.
Type
16-0506 4 Speed Trans,

16-0504 5-Speed Rubber
Mount
16-0526
16-0507
16-0509
16-0501
16-0506
16-0504
Note: Motor installed.
Motor Stands
VT No.
Type
16-0507
16-0509
Big Twin Engine, Heavy, 1936-98
16-0501
Big Twin Engine, Standard, 1936-98
16-0526
16-1273
16-1199
16-1204
16-1285
16-1285
Jims Rolling Buddy Engine Dummy Plate
VT No.
Fits
16-1134
16-1136
Pingel® Wheel Chock features quick
mounting and removal by sliding in and out
of slotted mount pads. Chock is a chrome
steel tube. Mounting kit also available sep-
arately. The appearance of the Wheel
Chock including the cross brace is a trade-
mark of Pingel Enterprises. The brackets
used in the Wheel Chock are patented.
VT No.
Item
16-1501 Chock with mounts, 16", 18" or

16-1503 Chock with mounts, 21" wheel
Wheel Chock
Motor Stand with motor base fits 1936-99 Big Twin and 1999-up TC-88 solid
mount engines. Will mount to most universal engine dollys which are available
at most automotive outlets. Auto engine stand not included.
VT No. 16-0543
16-1907
Roller Dolly facilitates mounting your motorcycle on the kickstand for placement
in your garage. Motorcycle dolly lift holds up to 1250 lbs.
VT No. 16-1026
16-1134
16-1135
16-1136
Mini-Lift use with table lift to raise bike while on table with 3" to 12" range
600lbs.
VT No.
Item
16-1907
16-0529
16-0529
16-1907
16-1273
16-1199
Tie Downs are 1" x 5'6" in length, 1600 lb
strength, 2 per set. Tie downs assist is pair
of 12" black nylon straps which acts as cinch
around part of the cycle first, then hook tie
down to the other end of the loop, to prevent
scratching.
VT No.
Item
Brand
48-0180 Tie Downs
48-0650 Tie Down Assist
Jack Replacement.
16-2006
All C-G lifts are manufactured in the USA using structural steels that exceed the lifting require-
ments. The lift mechanism keeps the motorcycle in a vertical position relative to the lifting
platform during the entire lifting range. For the safe operation of the lifts, the manufacturer
recommends the use of tie downs on all models equipped with eyebolts and installation of
hairpin cotter as supplied in safety bar when lift is in use.
Standard V-Lifts include a jack which features a foot operated pump and release
mechanism. Both units include a stay bar to keep lift in full up position when in use.
Units are 4¹⁄₂" in their unextended height. Lift top is compatible with 1936-99 Big Twin
frames FXST-FLT-FLST-FLH. The FXR, Sportster and Dyna models require adapters
as noted.
VT No.
Height
Jack
16-1993
16-2008
V-Lift
16"
16-2008
16-1993
24"