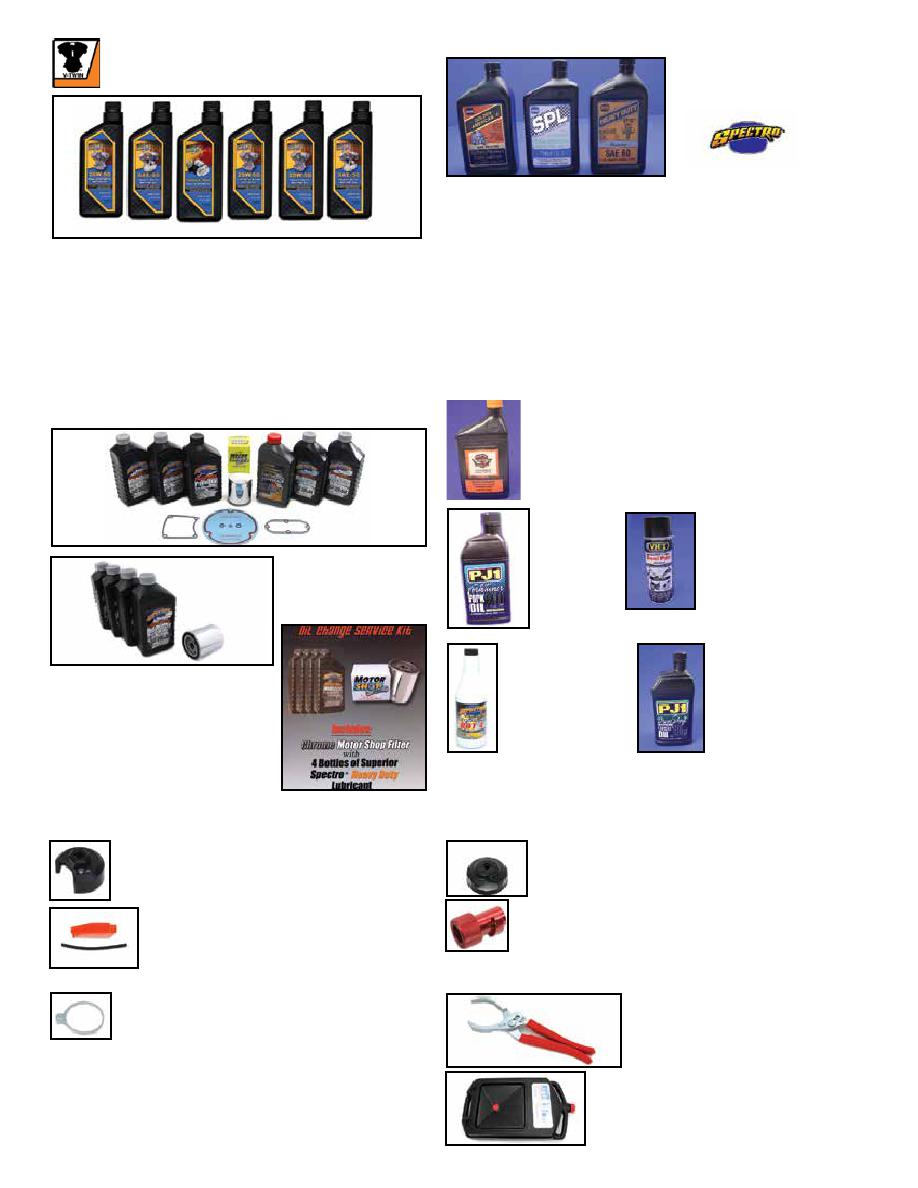 1272
Spectro Oils. Special Blend in
Premium or Golden synthetic
blends, sold in quarts by case
which is 12 or as each.
VT No. Type
Blend
U/M
41-0108 70 wt
41-0114 60 wt
41-0115 50 wt
41-0109 20-50 wt
41-0155 20-50 wt
41-0189 20-50 wt
41-0156 Primary
41-0160 Synthetic Trans 75W-140 GL-1
41-0186 85W140
Premium Transmission Lube
41-0193 75W140
Platinum 6-Speed Transmission Lube
41-0195 75W140 GL-1 Sportster Trans/Primary Lube Platinum STL 1
41-0157 20 wt Fork Oil Type E
41-0158 40 wt Fork Oil Heavy
41-0194 DOT 5
Gear Oil SAE 90 Heavy
Duty Gear Lube. Non-
foaming oil specially
formulated for transmis-
sions. Sold each.
VT No. 41-0130
Oil
16 oz. Fork Oil.
VT No. Weight
41-0148 10W
41-0136 20W
41-0116 30W
Brake Fluid in DOT 4 for
disc or drum, or DOT 5 for
special requirements. Sold
each.
VT No. Size Type
41-0142 12 oz. DOT 4
41-0194 12 oz. DOT 5
Tools for Oil Changes
Black Oxide Oil Filter Wrench fits all spin on filters. 3/8"
drive. Fits all models and TC-88.
VT No. 16-0743
Works Best!
Oil Change Service Kits.
VT No.
Fits
41-0050
1984-88 FXST, 1980-98 FLT,
41-0051
41-0052
1999-up All TC-88 Big Twins
Complete Oil Change Kits
41-0053
41-0054
1999-06 FXST, FLST, FLT, FXD
41-0055
2007-up FXST, FLST, FLT, FXD
Oil Drain Reservoir. 2.5 gallon. Low profile fits
under frames on Softail and FLT models.
VT No. 16-0585
41-0162
41-0050
Jims Engine Dipstick Socket for FLT or FXD models. Allows easy
removal of to hot exhaust pipe. Features 3/8" ratchet drive hole, 7/8"
hex for wrench fitment and a cutout for clearance around exhaust
piper. Use on all 2007-16 FLT models and 2006-up FXD models.
VT No. 16-2759
Oil Filter Wrench Pliers fits all 60-90mm
diameter filter. Features rubber coated
handles and serrated jaws for better grip-
ping. Removes stuck on oil filters easily.
VT No. 16-1125
Oil Catcher Pan is used when removing oil filter to avoid spill-
ing oil onto engine cases. 12" tube directs oil flow into oil drain
pan.
VT No. Fits
16-0094 2009-17 FXD, 2004-up XL, 2009-16 FLT
16-0256 2017-up FLT
Oil Drain Spigot fits 2009-up FLT. Tool has a red anodized finish
keeps the fluid off of the frame. This tool channels the transmission
fluid from the bottom of your transmission case into the drain pan
instead of onto your frame. The tool has a helical design that locks
the tool into the frame cross member and around the drain plug.
This allows you to remove the drain plug through the center of the
tool. Tool is not heat treated.
VT No. 16-0096
Slim Design Oil Filter Wrench features a slim 14 flute design to fit
most filters, and 3/8 ratchet drive hole and slim design that allows
more clearance for oil filter removal especially oil coolers and crank
position sensors.
VT No. 16-1941
Synthetic Transmission Lube OE type, including semi-syn-
thetic transmissions lube for 4 and 5-Speed Big Twin FL-FXR-
FXST models. Each. OEM # 99892-84.
VT No. 41-0162
41-0991 41-0992 41-0993
41-0996
Motor Shop Ready Transmission/Primary Formulated Lube is a synthetic
blend lube to provide excellent lubricity for the anti-wear requires of transmission
gears and primary components. Adds protection between moving parts and out
performs conventional oils. Use in all Big Twin transmissions and primary chain
case 1984-up Sportster transmission and primary case 1971-up.
VT No. 41-0993
Motor Shop Oil. All are sold in case of six in quart size bottles.
VT No. Type
Weight
41-0991 Synthetic Gold
41-0992 Heavy Duty
41-0993 Synthetic Gear Lube
41-0994 Synthetic Clean
41-0995 Heavy Duty
41-0996 Heavy Duty/Synthetic
41-0053
Linkert Carb Black
Paint. VT No. 41-0144
41-0994
41-0995