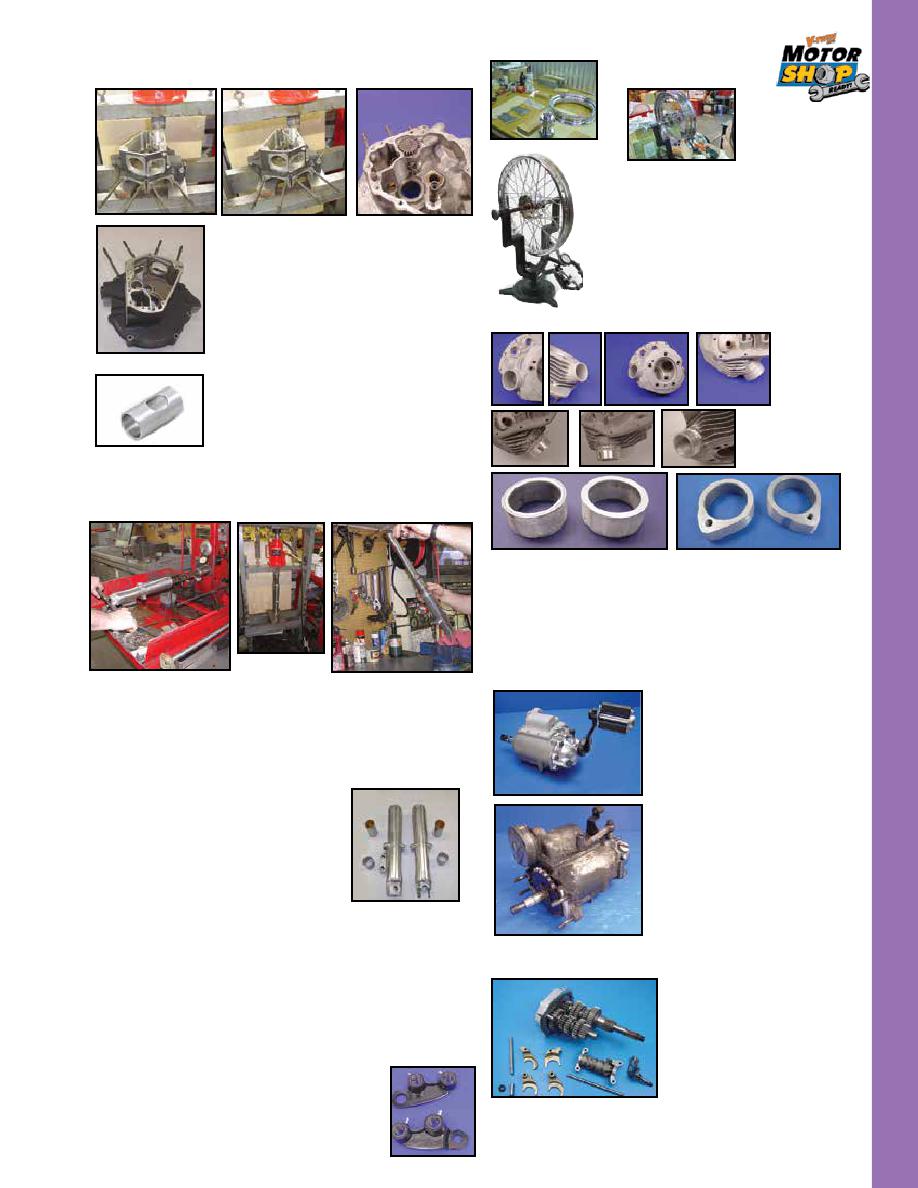 1265
TOOLS
Exhaust Port Replacement Service. Available for both Pan
and Shovelhead applications. Ship in old disassembled cyl-
inder heads and the broken or stripped exhaust ports will be
replaced with new factory style exhaust ports. Service includes
VT No. Replacement Service
60-0162 Panhead
60-0163 Shovelhead
Panhead
Shovelhead
Since 1969! Wheel Building Service
Select any of our hubs, a set of spokes
including stainless steel, chrome, twirled or
diamond spokes and rim. We will lace and
true in our plant. The finished wheel can be
shipped in 24 hours. Complete wheel will be
billed as follows: Rim, spokes, hub and labor.
Service limited to components in stock.
VT No. 60-0125
Motor Shop Ready Breather Valve Machining
Service can be performed on any 1936-99
Big Twin right hand case. Breather hole will be
honed out and fitted with a +.030 steel breath-
er valve. If Breather Hole will not clean up
with oversize machining process we also offer
sleeving service requires boring of breather hole
and then fitting with sleeve. We will then final
hone and fit with standard size breather valve.
Ship in your right hand case and we will return
to you by UPS with a turn around time of 15
working days.
O/S Service Sleeving Service Fits
60-0156
60-0159
60-0157
60-0160
60-0158
60-0161
10-1289
Breather Valve Service
Fork Bushing Service
Motor Shop Ready Big Twin
Transmission Remanufacturing
Service. Ship in your fully assembled
transmission and we will disassemble
and glass bead case, replace main-
shaft, countershaft, thrustwashers,
bearings and reassemble with new
hardware. All gears will be reused
unless they are damaged and then
customer will be advised of added
cost early transmission (1936-76) will
be fitted with new main drive race and
sized for correct roller. Call shop ser-
vice for RA# prior to return.
VT No. Year
Type
60-0174 1936-76 4-Speed Big Twin
60-0175 1977-84 4-Speed Big Twin
60-0183 1986-99 5-Speed Big Twin
60-0260 1929-73 3-Speed 45"
Transmission Remanufacturing
Exhaust Port
Wheel Truing
5 To 6 Speed Conversions
1994-2005. Ship in your 5 Speed
Transmission and we will glass
bead and install a complete 6
speed conversion kit. This service
will be performed in house by our
highly experienced machinist.
Transmission will be shipped back
to you fully assembly and tested
ready to "bolt in." All you do is add
VT No. 60-0184
5/6 Speed
Conversion
Early Spring Fork Rebuilds. Send us your early springer fork
(pre1958) any model and we will rebuild completely. Includes
new bushings, studs, bearings, locks and washers. Rockers and
powder coating available at additional cost spring inspection
assessment done replaceable at additional cost.
VT No. Item
60-0190 Complete Spring Fork Rebuild
60-0191 As Above with New Rockers
60-0192 As Above with Powder Coating
(Black Only) Strip/Phosphorize/Coat
60-0193 As Above with Powder Coating and
Fork Leg Bushing Service. We will remove old bushings,
install and size new bushings to correct inner diameter for
fork tubes. Service includes new bushings and labor. Service
requires customer to send in lower legs and purchase new
V-Twin fork tubes that will be used for assembly of fork legs.
Bushing service should be donw prior to chrome plating or pow-
der coating of lower legs.
VT No.
Years
Model
60-0150
60-0155 1984-up FXST-FLT
FX Models
60-0151 1952-72 FX
60-0152 1984-87 FX
60-0153 1988-up FX
XL Models
60-0151 1952-72 XL
60-0152 1984-87 XL
60-0153 1988-up XL
Leg Assembly Service. We install internals and lower leg on to
VT No. 60-0166
10-1289