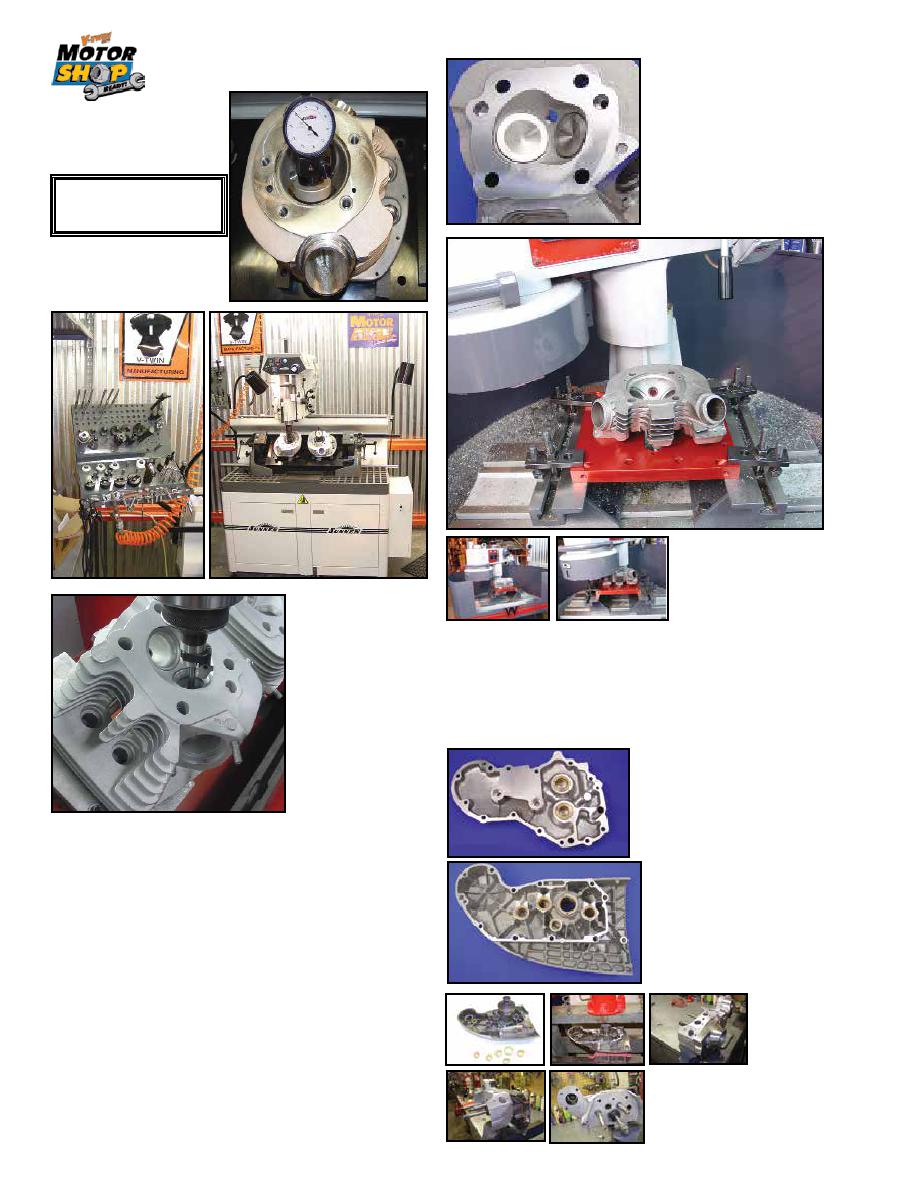 1264
Motor Shop Ready!
Ship Heads to V-Twin with turn
around time of 15 working days. We
Head Service
Motor Shop
Ready Head
Remanufacturing
Service. Available
as a valve job only or
as a valve seat/valve
job remanufacturing
service. We will glass
bead heads, install
new cast iron guides,
nitrated coated valves,
spring, collars and
keepers for both ser-
vices. For valve seat
service all of the above will be done with the addition of install-
ing new no-lead valve seats. Heads must be in rebuildable con-
dition and will be done in sets only. Service will be performed
on a Sunnen Valve Machine that will insure correct valve stem
to seat alignment.
For stock lift cams.
Valve Job
Valve Seat/
Item
Service
Job Service
60-0036
60-0037
60-0036
60-0038
60-0034
60-0039
60-0033
60-0042
1986-up Evolution Big Twin
60-0032
60-0040
60-0031
60-0044
60-0030
60-0041
60-0029
60-0043
Service Performed on Sunnen VGS20
Shop Services Procedure:
• Call for Return Goods Authorization (RGA)#
• Obtain RGA # and return to
Motor Shop Service
9 Scobie Drive
Newburgh, New York 12550
• Finished work order will be returned by UPS
Head Resurfacing
Service is performed on
a Winnona machine for
accuracy and surface
flatness .
VT No. 60-0172
Spark Plug Hole Service.
Motor Shop will HeliCoil
spark plug hole on head
set that utilize 14 mm spark
plugs. 15 day turn around
time. Chose HeliCoil only or
Weld-Up and HeliCoil.
VT No.
Type
60-0168
60-0170 Weld/HeliCoil
Motor Shop Cam Bushing
Service will replace bushings in
Big Twin cam cover for 1936-up
models.
VT No. 60-0133
Motor Shop Cam Cover
Bushing Service will install
new bushings in cam cover for
1957-up XL models.
VT No. 60-0131
Cam Bushing