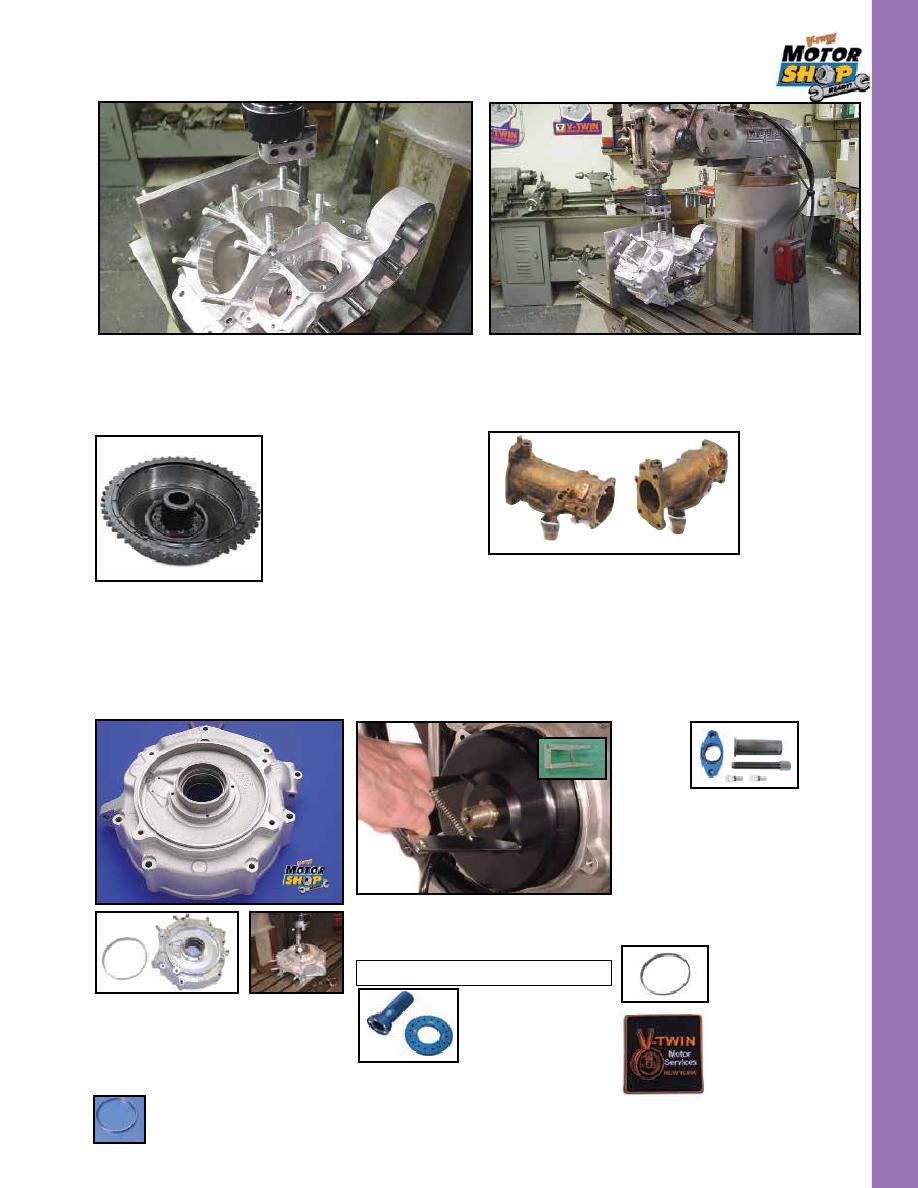 1263
TOOLS
Precision Case Boring Service.
• V-Twin Motor Shop will use a vertical mill to enlarge the cylinder hole or head chamber to accept Big Bore Spigot barrels.
• Ship cases to V-Twin with a turn around time of 15 days.
VT No. Type
60-0165 Case
60-0171 Heads
Case Boring
Brake Drum Sprocket
Replacement Service for 1930-
72 Big Twins, 1952-78 Sportster
and 1935-52 45" Solo models.
Send in your old brake drum
and we will install new sprocket,
splash or dust ring correctly with
hot riveting as original. All drums
inspected for suitability and cus-
tomer notified if not serviceable.
Work order number required
before sending in. Contact Motor
Shop Service Department prior to
shipping your drum in.
VT No. 60-0259
Alternator Sealing Ring Service
Motor Shop Alternator Sealing Ring
Replacement Service. Ship in 1970-up
left hand case with damaged O-Ring lip
and we will machine out and replace with
new steel sealing ring.
VT No. 60-0164
Big Twin Alternator Rotor Puller uses
the two threaded holes in rotor to allow
removal of rotor.
VT No. 16-0693
Alternator Repair Ring Only.
VT No. 16-0692
16-0692
60-0345
Left Side Case Repair
Ring for Twin Cam
engines at inner primary.
VT No. 16-0562
Jims M-8 Alternator Rotor Remover
and Installer for M-8 engines 2017-up
FLT, 2018-up FLST, FXST. This tool will
easily remove the high output rotor with-
out damage to the magnets.
VT No. 16-1183
Use on 1971-84 FL, FX, 1979-96 FLT, 1984-94 FXR,
1984-06 FXST, 1986-06 FLST, 1991-06 FXD
Linkert Machining Services. Machine shop services done on
Linkert carb bodies. Float bowl restoration.
VT No. 60-0195
Throttle Bore Truing
allows installation of
oversize throttle door.
Body will be machined
to fit correct oversize
door.
VT No. 60-0345
Throttle Bore Honing Service removes minor imperfections
for a smooth carb bore.
VT No. 60-0122
Big Twin Alternator Rotor Puller uses
the sprocket shaft end to center and
the two threaded holes in rotor to allow
removal of rotor.For use on all 1997-06
FLT with 45 amp charging system. Can
also be used on 1997-06 FXST, FLST
and FXD that have been graded to 45
amp charging system
.
VT No. 16-1054
V-Twin Motor Service
Patch Set.
VT No. 48-1889