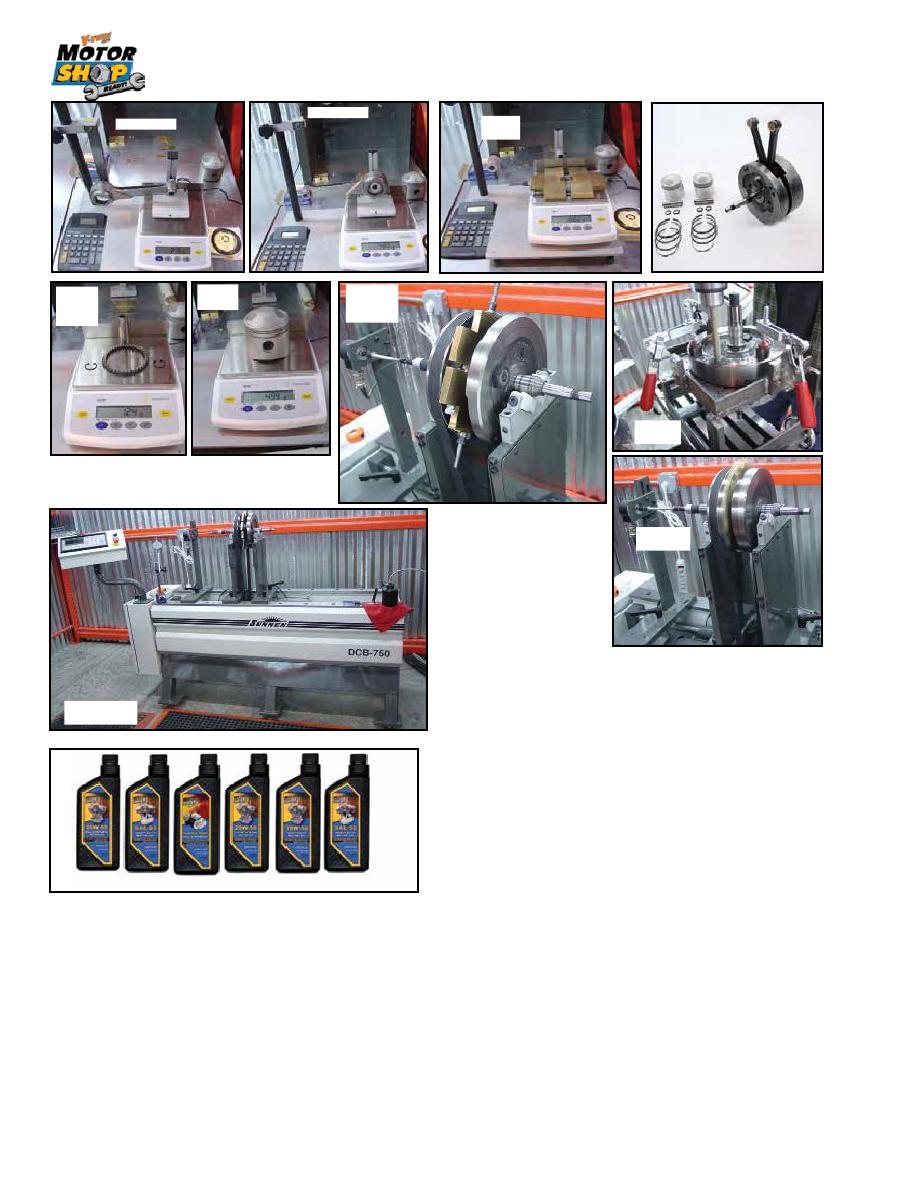 1262
Dynamic Flywheel Balancing. We use the latest in Sunnen
Technology to balance flywheels and rods with appropriate
piston.
VT No. Service
60-0169 True/Balance
60-0173 Case Installing 1958-up
60-0180 Case Installing 1936-57
Flywheel Balancing
Rod Weight
Rod Weight
Ring
and Pin
Weight
Piston
Weight
Weight
Removal
Balancing
Machine
Bob
Weight
Flywheel
with Bob
Weight
Spinning
Assembly
60-0169
The V-Twin Motor Shop has the components in stock, at the Motor Shop,
No Excuses for Parts Availability!
We have the machines, machinists and components to facilitate your rebuild!
Motor Shop Oil. All are sold in case of six in quart size bottles.
VT No. Type
Weight
41-0991 SynGold
41-0992 Heavy Duty
41-0993 Synthetic Gear Lube
41-0994 Synthetic Clean
41-0995 Heavy Duty
41-0996 Heavy Duty/Synthetic
41-0991
41-0992 41-0993 41-0994
41-0995
41-0996
Motor Shop Ready Transmission/Primary Formulated Lube is a synthetic
blend lube to provide excellent lubricity for the anti-wear requires of transmission
gears and primary components. Adds protection between moving parts and out
performs conventional oils. Use in all Big Twin transmissions and primary chain
case 1984-up Sportster transmission and primary case 1971-up.
VT No. 41-0993
Motor Shop Ready Oil is available in heavy duty, synthetic
blend and full synthetic weights.
Heavy Duty Oil is designed and licensed to meet API service
category SN specification. Meets SAE specifications and war-
ranty requirements for gasoline engines.
Synclean Synthetic Blend type extends engine life signifi-
cantly reduces engine wear, resists thermal breakdown and out
performs conventional oils in engine cleanliness, fuel economy
and protection between moving parts.
SynGold Full Synthetic Oil is uniquely designed to help pro-
vide outstanding levels of fuel economy performance, cleaning
power and engine protection even during longer oil change
intervals. SynGold is proven to significantly reduce wear and
viscosity breakdown because of its advancements in oil tech-
nology.
All are sold in case of six. Our quart bottles designed for easy
pouring and storage.