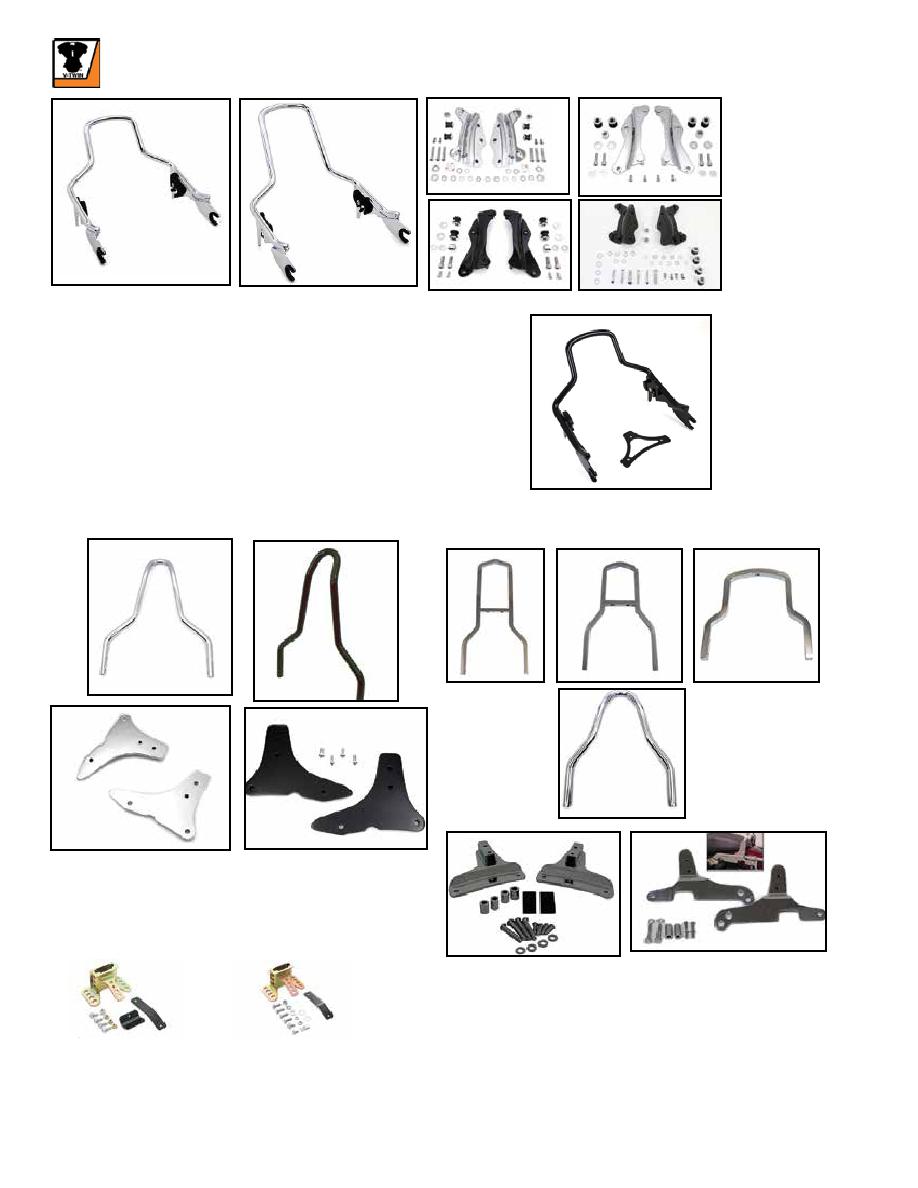 Sissy Bar Straps and Backs
• For 1997-13 FLT
• Order top and straps separately.
Fitment
Side Strap
16" Back
11" Back
Sissy Bar
Handrail
Width
50-1556
50-0811
50-0815
50-0819
50-0322*
50-1557
50-0811
50-0815
50-0819
50-1694
50-1224
50-1229
50-1225
Black Finish
*Note: 9/16" diameter round bar
50-0819
50-0811
50-0322
50-0032
31-9901
31-9902
Backrest Hardware Kit
VT No. Item
31-9901 Driver Backrest Mounting Kit
31-9902 Driver Backrest Mounting Kit
50-0815
1256
For FLT models
Sissy OEM
Finish
Type
Side
Fits
Bar
50-0032 52610-09A Chrome
50-2007 2009-up FLT
50-0033
50-1694 54248-09A Gloss Black Detachable
50-1695 2009-up FLT
50-0034
50-0049 As Above
50-0031 52627-09A Chrome
50-2007 2009-up FLT
50-0033
50-0050 52247-09A Gloss Black Detachable
50-1695 2009-up FLT
One Piece Sissy Bars are available in black or chrome finish and
either detachable on Rigid Mount types as noted. Detachable type will
require separate purchase of correct docking hardware and direction
relocation if noted.
Sissy Bar for Touring
Sissy Bar Side Straps and Backs for 2014-18 FLT. Accept
11" wide sissy bar top, non-detachable type. Fit 2014-18
FLHR, FLHRSE, FLHX, FLTRX, FLTRXS.
Sissy Strap
Back
Finish
50-1561
50-1574 Black
50-1565
50-1575 Chrome
50-1574
50-1561
50-1565
50-1575
50-1556
50-1557
50-0031
50-0033
50-2007
50-0034
• For 2014-18 FLT
• Accept 11" wide sissy bar top
• Non-detachable type
• Fits 2014-18 FLHR, FLHRSE, FLHX, FLTRX, FLTRXS
50-1695
50-0049