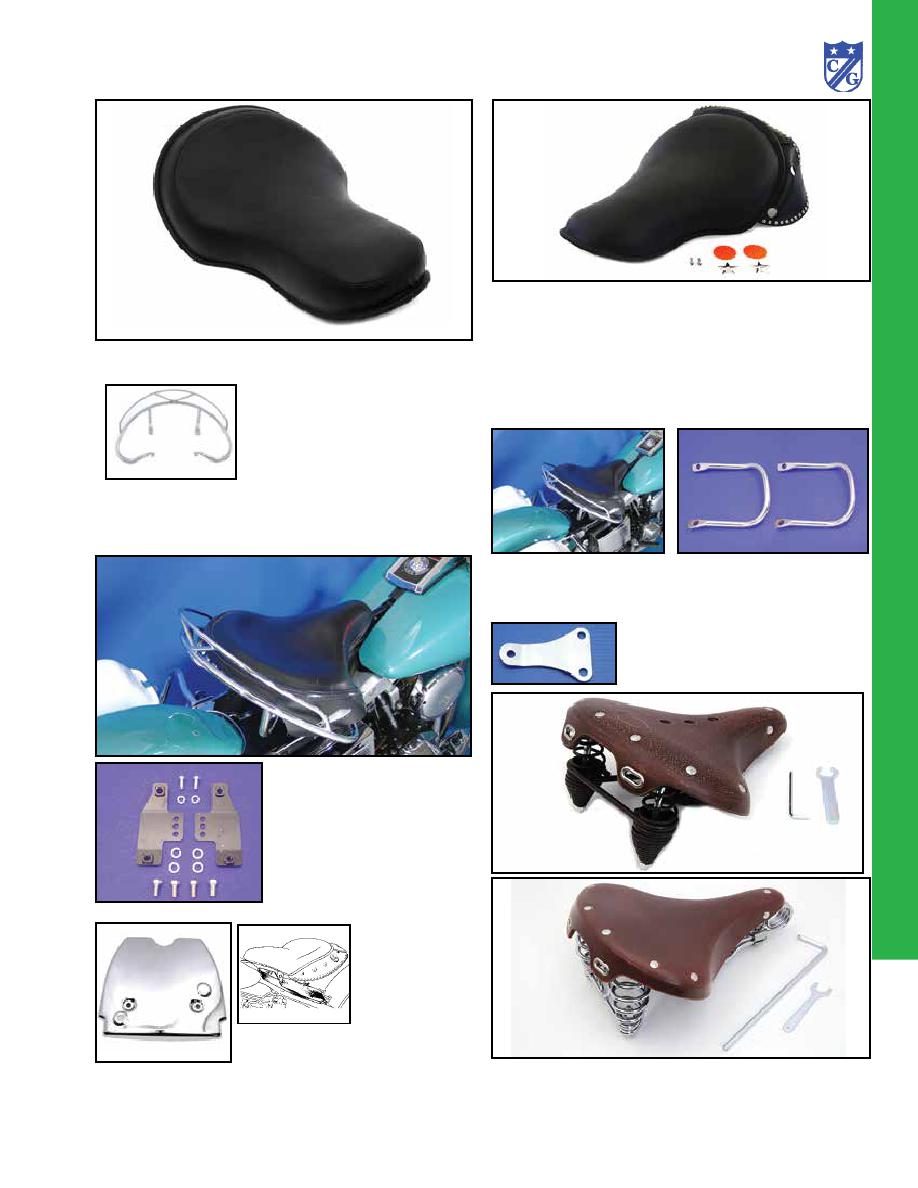 1249
MULTI FIT/CHOPPER
Buddy Seat
Original Buddy Seat is in genuine leather as illustrated with
3 piece leather skirt with orange rosettes. Skirt has 2 holes on
each side which accepts VT No. 49-0151 handle set as shown.
Replica metal baseplate features original rib design with riveted
rear cross bracket.
VT No.
Item
47-0524 Black leather with three piece skirt
49-0151 Handle Set
31-0177 Front nose bracket
Front Nose Bracket required to mount
all Buddy Seats to stock seat tee's. Order
separately.
VT No. 31-0177
Chrome Seat Handles available as bolt on or buddy seats.
VT No. Type
31-0507 Rail
49-0151 Handles
49-0151
31-0507
Seat Rail Mount Kit allows
attachment of our rail 31-0507 to
seat T's, 31-0511 or replica type,
31-0415, when fitted with police
style solo saddles with or without
skirts.
VT No. Item
31-0461 Black Mount Kit Only
31-0507 Seat Handrail, shown
31-0507 Installed with 31-0461 on bike
31-0461
Replica Battery
and Oil Tank Cover
made of stainless to
cover battery and oil
tank. Can easily be
removed for filling
oil tank or battery.
Fits 1958-64 swing
arm frames.
VT No. 42-1375
1960's Style Seat features formed
steel baseplate, 3¹⁄₂
" molded foam
and naugahyde cover. Sewn pleated
insert. Accomplished by riveting a
leather strip to seat pan, then fitting
the leather cover in place, finally
sewing the cover to the leather strip.
Seats can be mounted by use of our
seat Tee's or seat Tee kits.
VT No. Color
47-0538 Black, Smooth
31-0507 Chrome Handrail
47-0538
31-0507
Antique Leather Solo Seats with chrome carriage suspension.
VT No.
Finish
47-0610 Black
47-0608 Brown
47-0609 Brown
47-0611 Honey Brown
47-0608
47-0609