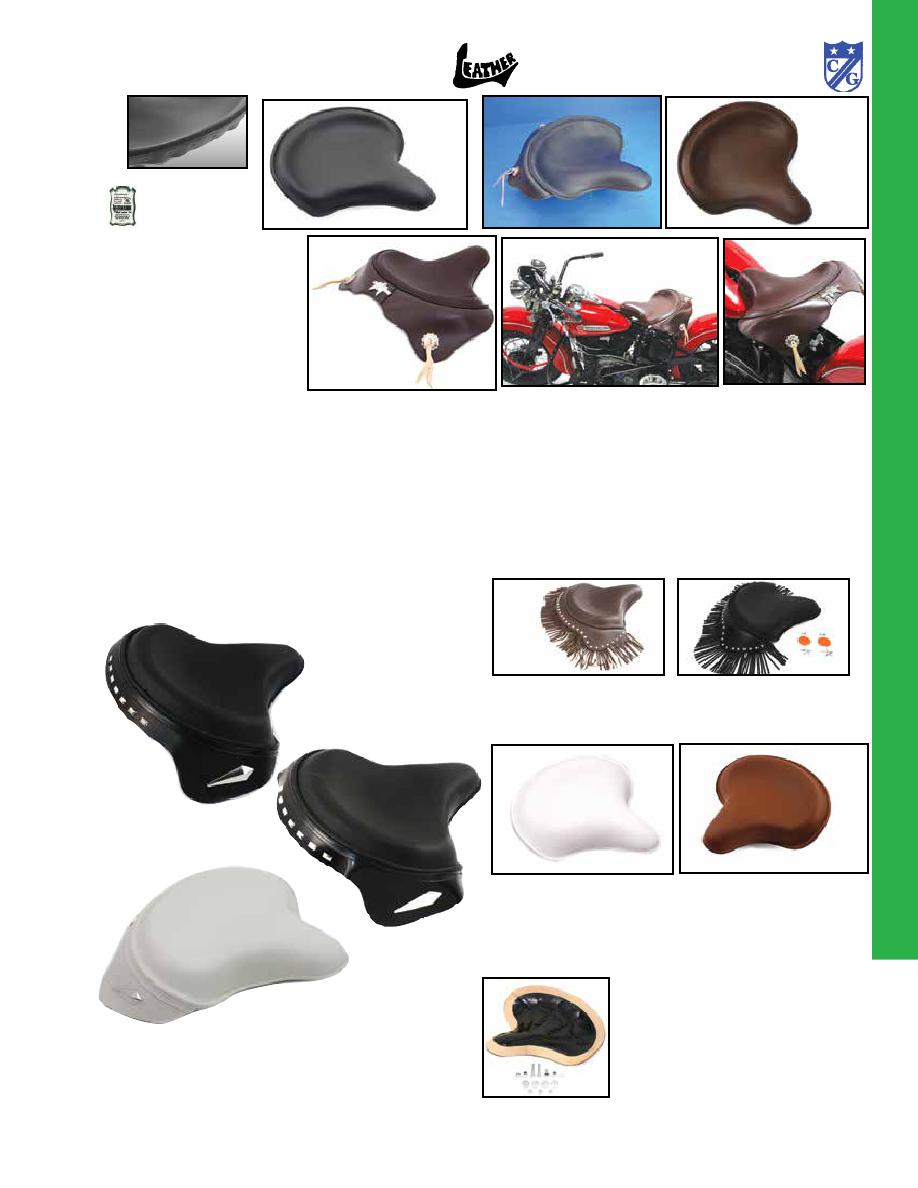 1245
MULTI FIT/CHOPPER
Black
VT No
Edge
Detail
47-0431
47-0531
Leather Early Style with rosettes
Replica
TM
Early Leather Solo Rolled Seats by Corbin-Gentry are constructed using genuine drum dyed leather cover with pad-
ding on an accurate steel formed and ribbed baseplate with brackets riveted in place as original. Authentic style seams are accom-
plished by first riveting a leather strip to the seat pan and then form fitting the leather cover to the saddle, and finally sewing the
cover to the strip. Edge is the "Rolled Edge" where the leather is covering the seam between the cover and fastening strip.
Hermann Oak
Leather used in
seat construction.
Rolled Edge
Brown
47-0509
Note: this is dark brown
47-0535
Leather Early Style with rosettes
Over 25,000
sold since
1977!
Leather Deluxe and Fringed Solo
Thick Solo Seats feature foam padding and full leather cover
and mount strips.
VT No. Color
47-0510 White
47-0516 Brown
47-0552 Black
47-0516
47-0510
Deluxe Solo Saddle with diamond spears complete as shown
of genuine leather on factory steel ribbed baseplate.
VT No
Color
Skirt
47-0775
47-0787
47-0264
47-0787
47-0775
Replica
TM
Solo Seat
47-0535
47-0509
47-0431
47-0531
47-0264
Solo Seats.
VT No. Color
47-0749 Brown
47-0450 Black w/orange rosettes
47-0749
47-0450
Early Solo Seat Pan without air holes fea-
tures natural leather, with metal pan and nick-
el plated rivets. Seat pan is steel formed and
features a welded on nose bracket as original
and natural leather strips riveted to the top
and bottom, ready for your choice of covering!
Exact replica for 1936-40 EL and 1937-40 UL
models. Fits 1936-1940 EL, 1941-1984 FL,
1929-1952 WL, 1930-1936 VL, 1937-1948 UL,
1937-1972 G.
VT No. 47-1939
47-0535
47-0535