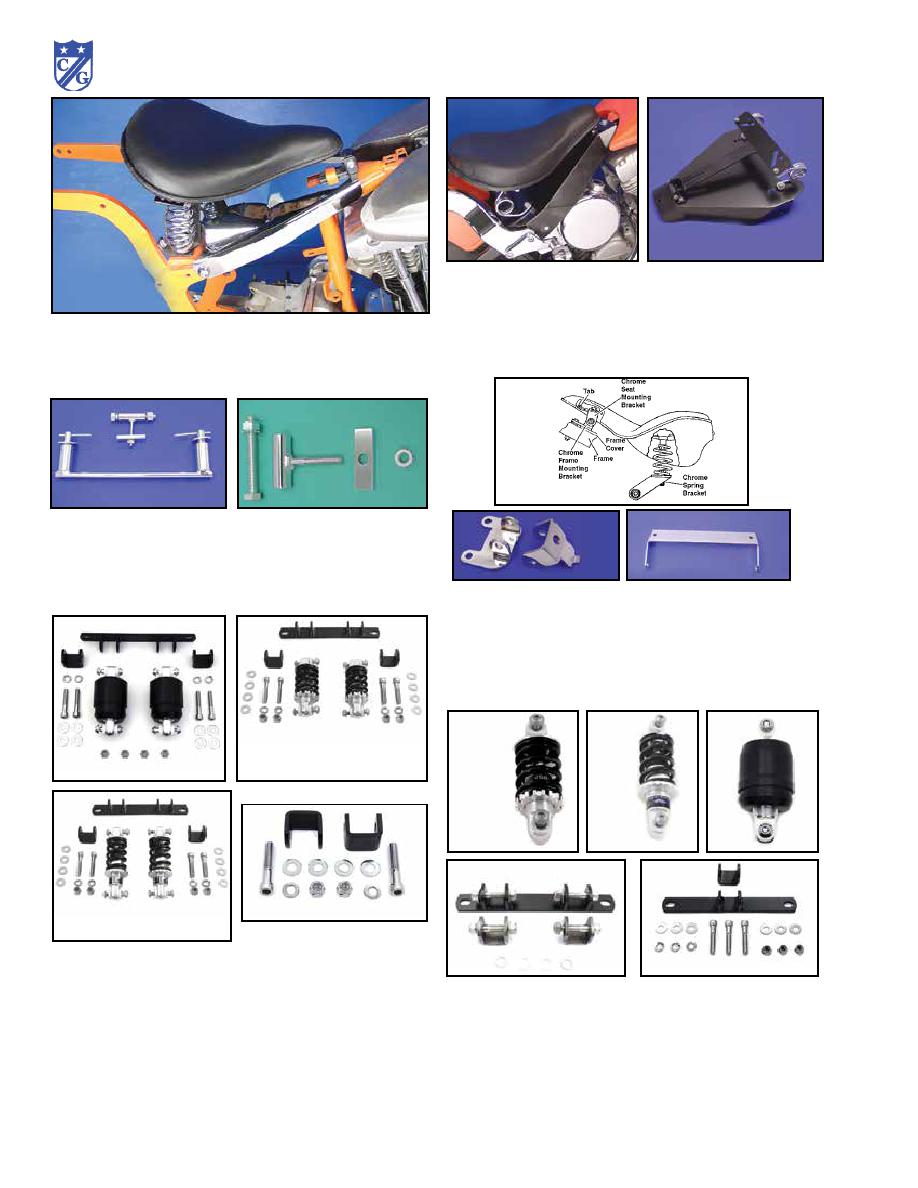 1242
FXST Solo Seat Bracket Kit is used to mount solo seats on
the 1984-99 FXST models. Note: Front 'Tee' can be used for a
universal front seat mount on any frame.
VT No.
Item
31-1984 A and B Complete Kit
31-1985 B Front 'Tee'
FX-FLST Solo Seat Kit includes mount kit with 5" springs,
frame cover and leather solo seat.
VT No.
Year
47-0548
47-0549
31-1984
31-1985
Solo Seat Kit includes brackets and hardware to fit 2000-
17 Softail models. Use with solo seat styles such as VT No.
47-0110, 47-0158. Lower mount bracket includes integral frame
cover. 4" seat springs supplied.
VT No. Item
31-0942 Mount Kit Only
47-0793 Seat Kit
47-0793
Chrome Solo Seat Bracket mounts all Police size Solo sad-
dles on 1986-93 FXST and FLST models direct to the frame
without the use of a seat 'Tee' bracket. Kit includes all nec-
essary hardware, including chrome 4" springs and 2 chrome
brackets.
VT No.
Item
31-0825 Front Bracket
31-0440 Spring Cross Support Only
31-0825
31-0440
31-0942
Mini Shock Mount Kits for Rigid Frame. Order shock or shock
separately.
VT No. Item
Type
31-0845 Shock Mount
31-0846 Shock Mount
54-0655 Shock 4"
54-0656 Shock 5"
54-0950 Shock 4"
31-1645 Bracket
31-0845
31-0846
54-0655
54-0656
Complete Kits.
VT No. Dual Shock
31-1313 4"
Note: Weight capacity for under 200 lbs.
31-1308 4"
31-1309 5"
31-0823 Black Shock Mount Bracket Set
31-1309
31-1308
Seat Mount
47-0548 Installed
54-0950
31-0823
31-1313