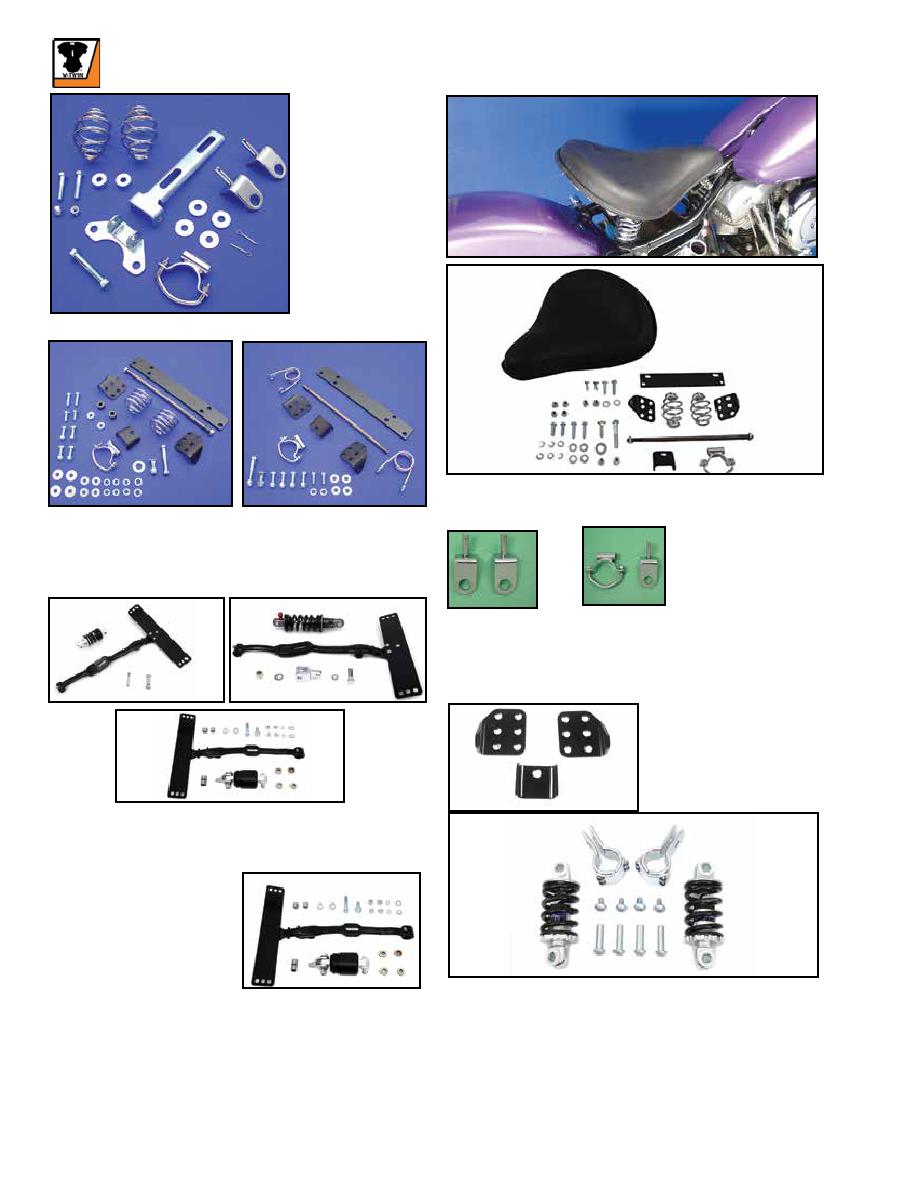 1236
Black Seat Tee with Shock Kit
31-1761 1941-80 FL
31-1765 1941-80 FL
31-1781 1936-52 W
31-1761
31-1765
31-1781
Solo Seat Mount Kit 1958-84 Big Twin
Police Type Solo Seat Mounting Kits for 1958-84 Big Twin.
Include nose bracket, chrome springs and rear mount
VT No.
Spring Type
31-0580
31-0606
31-0606
Solo Seat Mount Kits
for 1936-84 Big Twin
include nose bracket,
chrome springs and
rear brackets to mount
small type solos only
such as 47-0089. To
mount larger Police
seats purchase cross
bar separately VT No.
31-0473. To mount
K-model type solo
order 31-0478 cross
bar. Fits 1973-84 FX.
VT No. 31-4010
31-4010
Solo Seat Kit includes leather seat and mount kit for 1965-84
FL-FXE
.
VT No. 47-0120
A
Chrome Spring Mount Kit includes mounts for spring perch
which attach to top shock studs and front clamp for nose
bracket. Fits 1958-84 FX-FL.
VT No.
Type
31-0502 A and B Complete Kit
31-0174 B Front U Clamp Only
B
Black Seat Mount Kit fits
1958-84 Big Twin nose of
sold seat. Includes seat
bracket, right and left brack-
ets.
VT No. 31-4059
Note: When installing wide solo seats, use 31-0473 in con-
junction with solo seat "Tee" kits to extend rear strap on "Tee".
Dual Shock Solo Seat Mount Kit fits Rigid and Swingarm
frames.
VT No.
Size
31-1745 4"
31-1746 5"
47-0120
31-0580
Seat T and Shock Piston Set.
VT No. Finish
31-1781 Black
54-0057 Bushing
31-1781