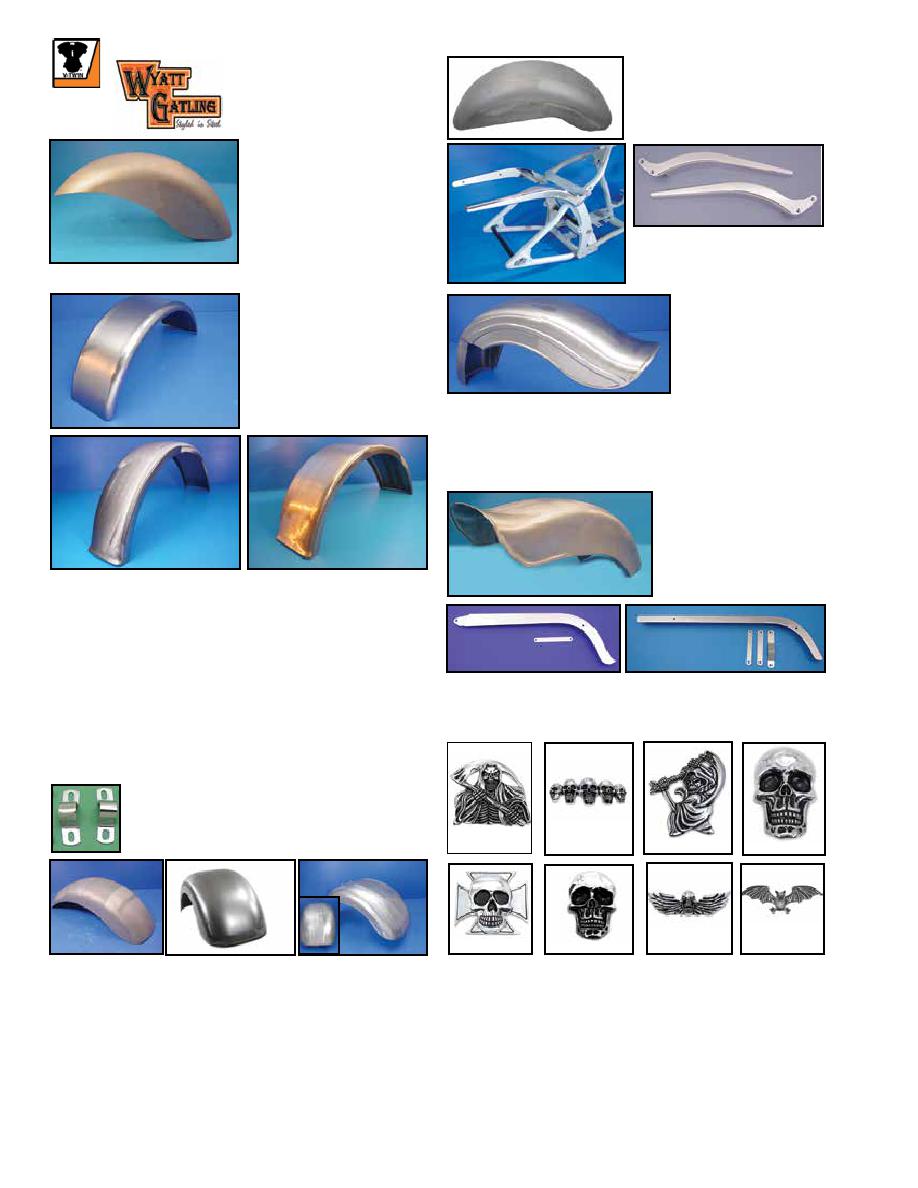 1226
50-2044
11.5" Custom Round Profile
Fender made of raw steel.
VT No. 50-2044
Rear
Fender
Pro Stretch Fender is 11" wide
constructed of 2mm steel.
VT No. 50-2045
8.5" thru 12" fend-
ers spacing may be
required!
Curved Strut Set fit 11" fend-
ers on Softail models.
VT No. 50-0583
50-0583
Installed
Rigid Bobbed Left Rear Fender for is 7¹⁄₄ wide by 5¹⁄₂" deep
with raw finish, with left cutout, 50-0928 includes bracket to
accept tail lamp plate.
VT No. Item
50-0152 Plain
50-0928 With bracket
9" Wide Steel Rear
Fender Bobbed Style fits
FXST struts when used on
1986-99 wide style frames
for 200 series tire, sold
without holes.
VT No. 50-0112
Chrome Chain Guard with bracket fit Big Twin custom rigids.
VT No. Type
27-0111 Original
27-0100 Universal
27-0111
27-0100
Unfinished Heavy Duty Flat Fenders are rolled of 16 gauge
steel, available in 5", 6", 8", or 9" widths and may require
trimming and finishing for chain relief.
Note: The 5" and 6"
deep, the 7", 8", and 9" are 1⁷⁄₈"deep. Note:
End shape.
VT No.
#
Width
Finish
50-0160 A
50-0162 A
50-0161 A
50-0166 B
50-0208 B
50-0209 B
50-0243 B
50-0166
Plain
Bobbed
50-0209
Plain
Bobbed
8.5"
6"
Flat Fenders
Chrome Set U Clamp Set is used on Rigid mod-
els to secure rear fender to 1" frame cross tube.
VT No. 31-0190
B
50-0167
Plain End
A
8"
Rear Steel Fenders by Wyatt Gatling. Smooth formed and
undrilled for builders application. Length is tip to tip. End to end
is 27.5".
VT No. Width
Length
50-0213 10"
50-2052 12.75"
50-0244 13.5"
50-0213
50-2052
50-0244
Pewter Emblems with adhesive backing.
VT No. Size
Style
48-0490 4" x 3"
48-0491 3" x 1"
48-0492 2" x 3"
48-0493 1.5" x 2.5"
48-0494 2.5" x 2.5"
48-0495 1.5" x 1"
48-0496 3" x 1"
48-0497 5" x 2"
48-0490
48-0491
48-0492
48-0493
48-0494
48-0495
48-0496
48-0497