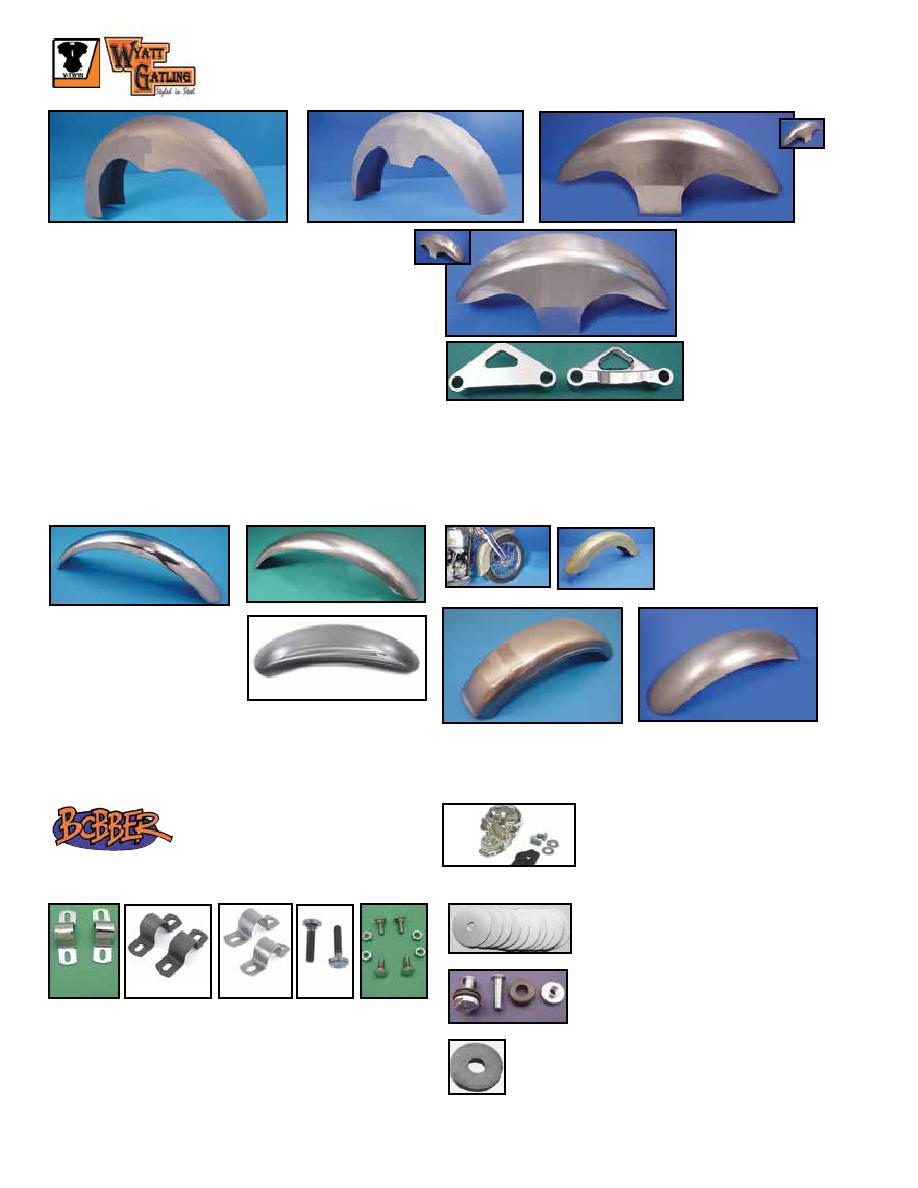 1224
Hardware
Flat Washers used for mounting fend-
ers and rails. Measures 1¹⁄₄" diameter
with a ⁵⁄₁₆ bolt hole, sold in 10 packs.
VT No. 40-0604
Rubber Washers are .200 thick for mounting
accessories to fenders.
VT No.
Size
37-8869
37-8870
Custom Fender Mount Kit includes
rubber bushings.
VT No. 31-0718
Front Fender
Wyatt Gatling Steel Front Fenders. Laser cut from full one
piece blanks. Spacers required for use on 41 mm glide forks
for 19" or 21" wheels.
Note: We suggest pre-fitting all fenders
Spring Style Front
Fender fits 18", 19", and
21" wheels. Brackets must
be fabricated.
VT No. 50-0780
Universal Front Fenders
Plain Front Fender is 6" wide, use brackets to mount FXWG
or FLH lower legs with 16" wheels less brackets.
VT No.
Type
50-0769
50-0883
Round without mount holes
50-0769
50-0883
VT No. Degree
Wheel
Outside Diameter Inside
Coverage Diameter of Bracket
Width of
Fender
50-0223 168°
50-0225 168°
50-0390 180°
50-0521 140°
50-0390
50-0521
All Fenders Require Determination of Hole Location and
Drilling to Mount
Chrome Fender Mounts are to mount custom fenders to
wide glide forks.
VT No. Thick
50-0579 .750"
50-2230 .375"
50-2231 .25"
50-0225
50-0223
50-0579
Universal Sport Style Front Fender is rolled on edge and in
front. Chrome and primer. The brackets are not included.
VT No.
Type
50-0133
50-0195 Plain
50-1141
50-0195
50-0133
50-1141
Note: All Items Shipped with a Raw Finish may
have some oxidation (rust on surface)!
Decorative Skull Emblem for fender.
VT No. 48-0250
Bobber Patch Set.
VT No. 48-1515
Fender U Clamp is used on 1936-57 Rigid models. Secures
rear fender to frame cross tube. Replaces 59800-36.
VT No. Finish
Note
31-0190 Chrome
Order chrome carriage bolts separately
31-0457 Parkerized Order chrome carriage bolts separately
31-0910 Raw
Order chrome carriage bolts separately
37-9204 Parkerized Bolt set, when using rear frame bar
37-1507 Chrome
31-0190
37-9204
31-0457
37-1507
31-0910