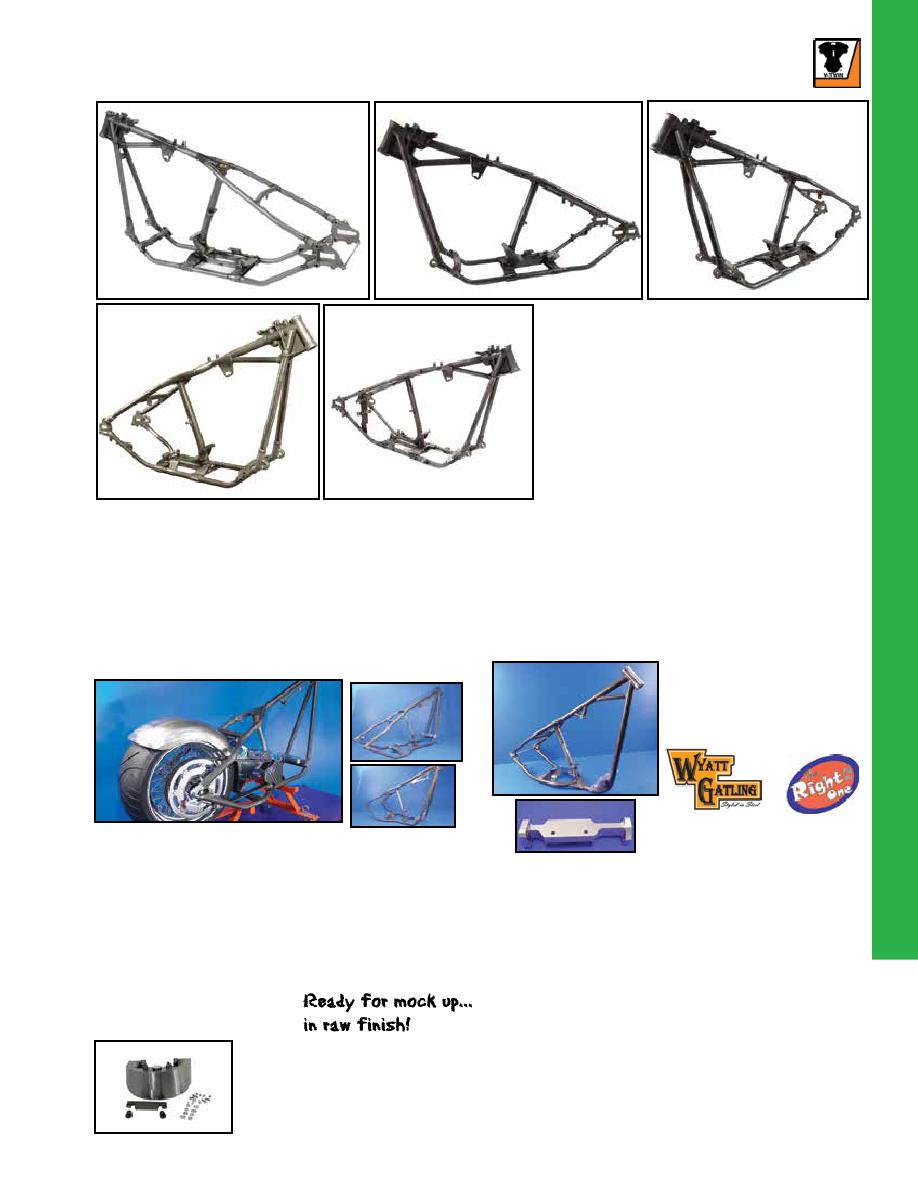 1221
MULTI FIT/CHOPPER
MULTI FIT/CHOPPER
Recommended Parts List.
VT No. Type
20-0586 Belt 1.125" 133T
44-0669 Adjuster, 2 piece
44-0676 Axle (300)
52-0682 Wheel (or 52-0684) (300)
17-0455 Transmission
27-1729 Kickstand Stop
27-1785 Weld On Kickstand
300 RSD Frame
Single Tube Chopper Frame features full rigid styling by
Wyatt Gatling. Frame will accept round oil tank, and up to 4"
stretch gas tanks. Neck is drilled for internal stop kit. Frame
has built in ³⁄₄" offset to accommodate the 200 tire. Order inner
primary or motor spacer plate with ³⁄₄" offset. Frame details
include: 1³⁄₈ tubing, billet rear axle plates, billet front motor
mount, accepts 200 series tires w/1.5" belt, 4" stretch in down-
tubes, 38° rake, 2" stretch (backbone). Axle included.
VT No. 51-3501
Order related components separately.
VT No. Item
44-0393 Rear Axle
20-0478 133T Belt (1.5")
20-0586 133T Belt (1.125")
19-0564 Alternator Flange Offset Plate
40-0476 Chrome Oil Tank
Frames include a one piece billet front mount which
bolts in.
Wyatt Gatling Wide Wrap Around
Oil Tank are 14" wide for custom
wide rigid. Available raw finish.
Feature top Iso mount design.
Mounting hardware included.
VT No. 40-0677
300 Right Side Drive Chopper Frame by Wyatt Gatling fea-
tures full rigid styling with double tube motor carriage. Frame
will accept round oil tank and up to 4" extended gas tank. Neck
is drilled for internal stop kit. Motor and transmission are in the
stock position an no offset is required when using the right side
drive transmission. 1" axle included. Features 1³⁄₈" tubing with
1¹⁄₂" backbone and 4" stretch in backbone and 6" in downtubes.
VT No. 51-3502
51-3501
51-1004
Tire Style
Type
51-1957
51-1948 Disc
51-0096 Mechanical
51-0097 Mechanical
Related Components
VT No.
Item
Note
17-0945
19-0399
Transmission Sprocket Only
19-0447
Transmission Sprocket Kit
19-0448
Transmission Sprocket Kit
Frame will accept:
• Flatside tanks
• Softail oil tank
• 230 rear tire with chain
• 200 rear tire with belt
• +2" raised neck
• Stock rake, 30°
• Order related parts separately.
31-0859 oil tank bracket
• 44-1942 axle
• 51-0625 TC-88/Evolution rear
engine mount adapter
• 44-1946 axle collars
Retro Rigid
51-1957
Replica Retro Rigid Frame features original style
construction including forged parts in neck, side car
mounts and rear axle areas. Order rear mount for
TC-88 models separately. This retro rigid frame can
be fitted with a Panhead or Shovelhead engine with
a 4-Speed transmission. A tin inner primary 42-0617
must be utilized for this application. Use of a ¹⁄₂" offset
transmission mount plate and ¹⁄₂" offset motor sprock-
et with splines will offer clearance to use a 200 or 140
rear tire with a chain rear drive. Additional clearance
can be achieved with the addition of a ¹⁄₄" offset trans-
mission sprocket.
*Note: For Evolution/TC/Shovelhead/Panhead
engines.
51-1948
51-1957
51-1948
200
51-0096
51-3502