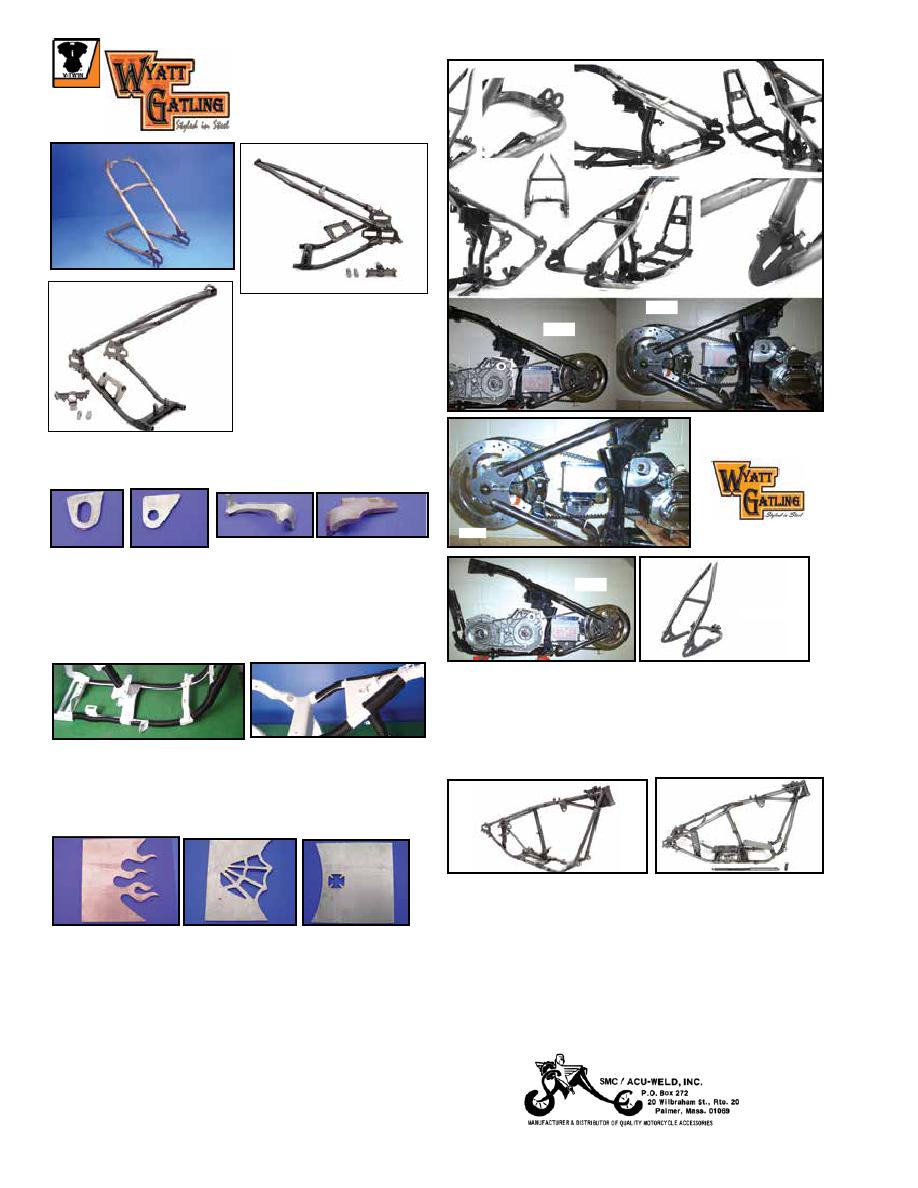 1220
Big Twin Weld-On Hardtails fit
to stock frames for 1936-85.
VT No. Drive Style Year
51-0920 Chain Drum 1958-84
51-0782 Belt
51-0457 Chain Drum 1958-84
51-0920
Bolt On Hard Tail Units to 1990-98 FXD-FXDWG models.
Use stock rear wheel or fit up to 200mm width. Order battery
box separately. Bottom attaches to swingarm pivot point to
aid in alignment.
VT No. 51-0786
Note: Attachment points, we recommend installation be com-
pleted by a qualified technician.
Hard
Tails
51-0786
51-0457
51-0786
FXD
Frame Inserts. Right angle design allows to be cut for neck or
rear axle plate reinforcements.
VT No.
Type
51-3542 Flame
51-3543 Web
51-5549 Maltese
51-5549
51-3543
51-3542
Weld On Mount Tabs fit Rigid Frames when mounting brake
units.
VT No. Type
Year
Axle
51-0511 Hydraulic Rear Back Plate
51-0512 Caliper Arm Tab
51-0513 22-0582 Caliper Mt Strap, Right Side 1987-99 ³⁄₄"
51-0845 22-0763 Caliper Mt Tab, Left Side
51-0513
51-0512
51-0845
Weld On Mounts
51-0511
Protective Sleeve Tubing will protect frame tubes from
damage when installing motor. 10 foot tube is sliced to fit
over frame tube.
VT No.
I.D.
51-0700 1¹⁄₈"
51-0701 1¹⁄₂"
Tedd Cycle, Inc. purchased company and inventory
51-0457
Retro Replica Rigid Frame are available with cross shaft
tube to accept stock mechanical brakes and star hub wheel.
Replica retro rigid frame original style is updated to accept
flat side tanks. Original forged parts include: neck, side car
mounts and rear axle area plates. For all Big Twin engines
with 4, 5 or 6 speed transmission. Features +2" raised neck
and 10.75 between the axle plates. Will fit mechanical brake
drum assembly with a 160 x 16" tire.
VT No. Style
51-0096 Straight Leg
51-0097 Wishbone
51-0096
51-0097