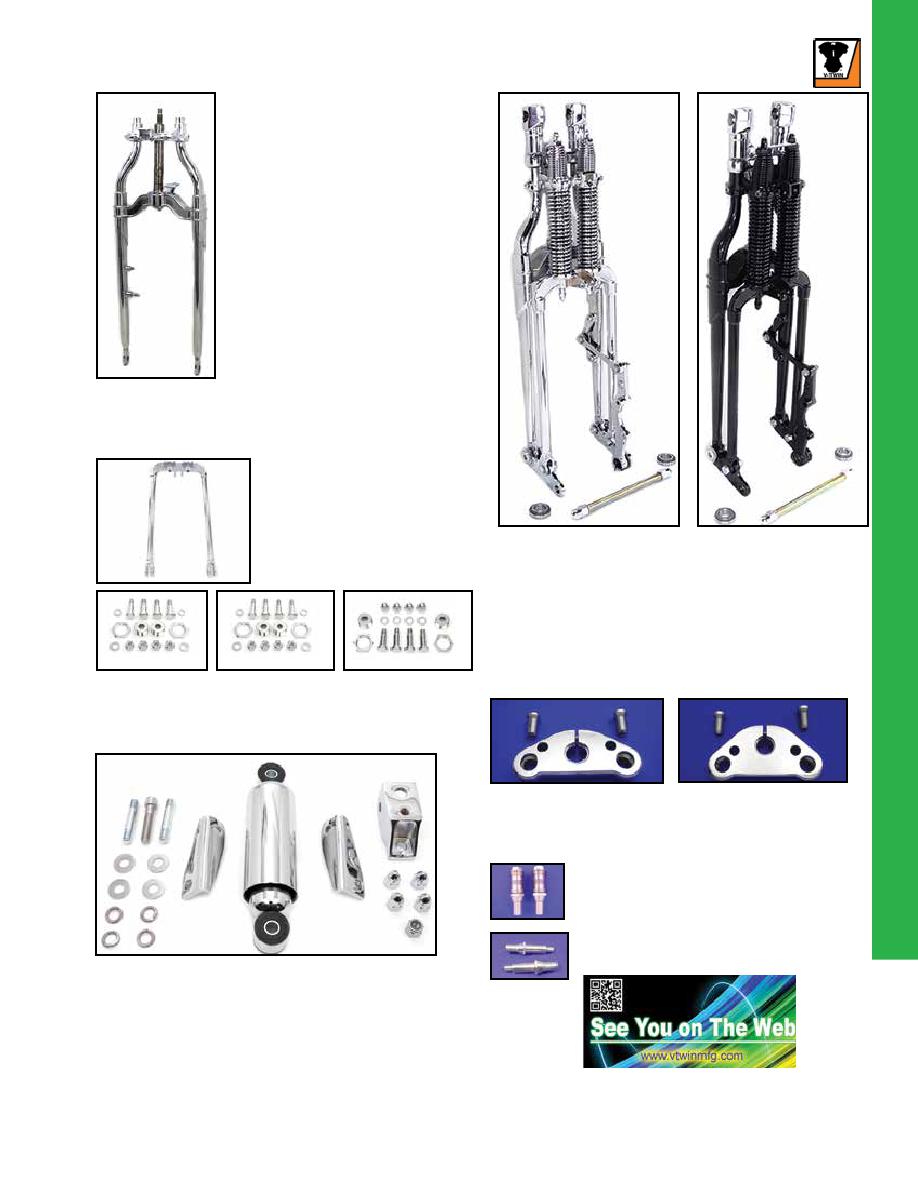 1217
MULTI FIT/CHOPPER
Bolt On Shock Assembly with brackets. This chrome shock
includes mounting hardware and brackets. The shock bolts
onto the Spring Fork acting as a dampener absorbing some
of that "bounce" for a smoother ride on custom Spring Forks.
Measures 6³⁄₄" eyelet to eyelet.
VT No. 24-1249
FLST-FXSTS Springer
Complete Spring Fork *Note: Includes chrome springs and
rockers. Fork is stock length and includes risers, neck stem
bearings, races, dust shields, top tree and caliper mount.
Forks include axle with acorn nuts, caliper bracket and stabi-
lizer.
Chrome Black Fits
49-0843 49-0839 FLSTS
24-1591 — FXSTS
24-1651 —
49-0843
49-0839
Billet Top Tree fits 1988-up FXSTS models to allow risers or
one piece bars with 3.5" center distance to be installed.
VT No. Year
Model
24-0994 1988-2006 FXSTS
24-0995 1997-2003 FLSTS
24-0994
24-0995
Riser Stud Kit fits 1988-2006 FXSTS models
with stock risers. Kit includes studs and poly Iso
bushing set for a more firmer riser mount.
VT No. 28-0289
Replica Riser Stud Set fits 1988-06 FXSTS.
VT No. 28-0879
FLSTS Front Spring Fork Leg.
Chrome Black Model Leg
49-0521 49-0523 FLSTS Front
Springer Fork Shock Absorber for 1988-up FXSTS and
1997-up FLSTS.
Black Chrome
54-0547 54-0548
54-0547
54-0548
Axles.
Year/Model
Kit
Spacer Axle MM
OD
44-0615 2032-4 44-0083 —
44-0631 —
44-0358 41
44-0939 —
44-0358 41 1.00
49-2192
FXSTS Spring Fork Rear Legs only fit
1988-2006, OEM # 45669-00.
VT No. Finish
49-2192 Chrome
49-2195 Black
2214-16T
2213-16
2213-16T
Chrome Complete Rocker Bolt Kit includes all components
needed to mount rockers.
VT No. VT No.
Year
Model
2213-16 2213-16T 1997-up FLSTS

2214-16T 1988-2006 FXSTS