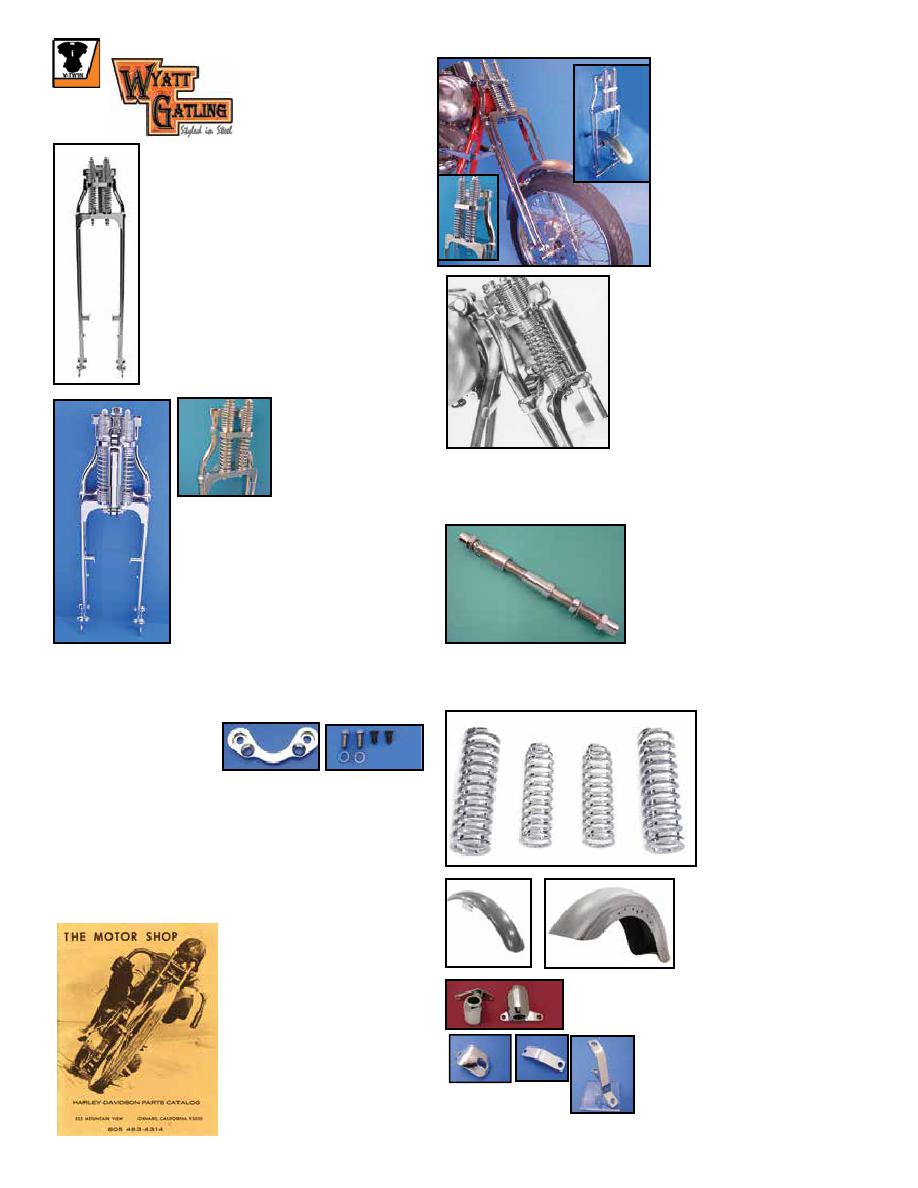 1216
Spring
Fork Kits
Chrome Fender Mount Clamps fit front
³⁄₄
" legs to mount 50-0176 fender.
VT No. 31-0861
44-2016
Axle Kit
Fender Mounts
VT No.
Length
24-0383
24-0723 43.5"
24-0938 46"
Spring Fork Kits include
1" stem for use on BT and
XL model, 1982-03. Order
24-0192 ⁷⁄₈" stem to adapt
kit to 52-77 XL models.
Kit includes: Fork, Caliper
Kit, SS Rotor, Fender, 21"
Wheel, Axle, Riser Studs
and Avon AM20 Tire.
VT No. Length
24-1304 36"
24-1305 38"
50-0176
Without With
Total
Shock Shock Length Length
24-1253
24-1263 +15" 42"
24-1256 24-1264 +18" 45"
Chrome Wide Spring Fork with tapered
oval rear legs. Features 7³⁄₄" inside width,
10" width between rockers, chrome plat-
ed front and rear leg, chrome springs,
neck stem and top tree. Available with or
without shock. Fits all Big Twins except
FLT and FXR models. Rockers fit ³⁄₄"
axles only as noted.
39" Chrome Spring Fork Assembly
by Paughco with shocks is +12" over
stock with a total length of 39". 39" is
measured from top triple tree to rear
rocker stud. Includes neck post, top
nut, crown nut, top for clamp without
ears and 1" stem which fits 1936-up
BT, FL-FX-FXWG (except FXR-FLT).
Outside width is 9.5". Order fender,
axle kit, risers, brake disc, wheel, head-
lamp and mounting bracket separately.
Fork assembly utilizes a 21" wheel
and solid mount fender. This assem-
bly can also be used on 1948-1984 FL, 1971-1984 FX, 1986-1999
FLST, 1984-1999 FXST, 1986-1999 FLST and all rigid frames. Unit is
shipped assembled.
VT No. 24-0878
50-0794
Fender for Spring Fork.
VT No. Type
50-0176 Smooth
50-0794 Vintage
25-0783
25-0782
Spring Fork Headlamp
Brackets to fit Bates bottom
mount lamps.
VT No. Type
31-0586 A
31-0146 B
31-0545 C (Dual)
31-0586
31-0146
31-0545
C
A
B
Square Springs.
OE type springs
wound with square
wire with AEE
chopper style!
VT No. 13-0960
Wide Spring Fork Assembly features fully
chromed tapered style front and rear legs and is
available with or without fender mounts. Forks
include 1" stem, chrome springs, top tree and
bottom rockers. Works with 1984-99 single disc
brake caliper and 21" wheel. Measurement is
from top tree (A) to axle center (B).
Order stem
kit separately to fit 1952-77 chopper model
XL's.
50-0176
Parts List
44-2016
23-4516
23-1099
50-0176 Fender
37-1961
23-8947
23-0319
8794-10
52-0185
37-1009
25-2201
31-3982
33-2155 5³⁄₄" Headlight
"The Motorshop" is
an original aftermar-
ket supplier, founded
by Bill York in 1968.
This is Bill's favorite
catalog November
2017.
T-Bar Clamp is used in mounting handlebars with built in
risers to custom Paughco or Wyatt Gatling springers. Use on
top of existing top clamp. For replica forks use with top tree
49-0371.
VT No. Item
25-0782 T-Bar Clamp

25-0835 T-Bar Camp w/hardware
25-0783 Mounting Hardware Kit for 25-0782