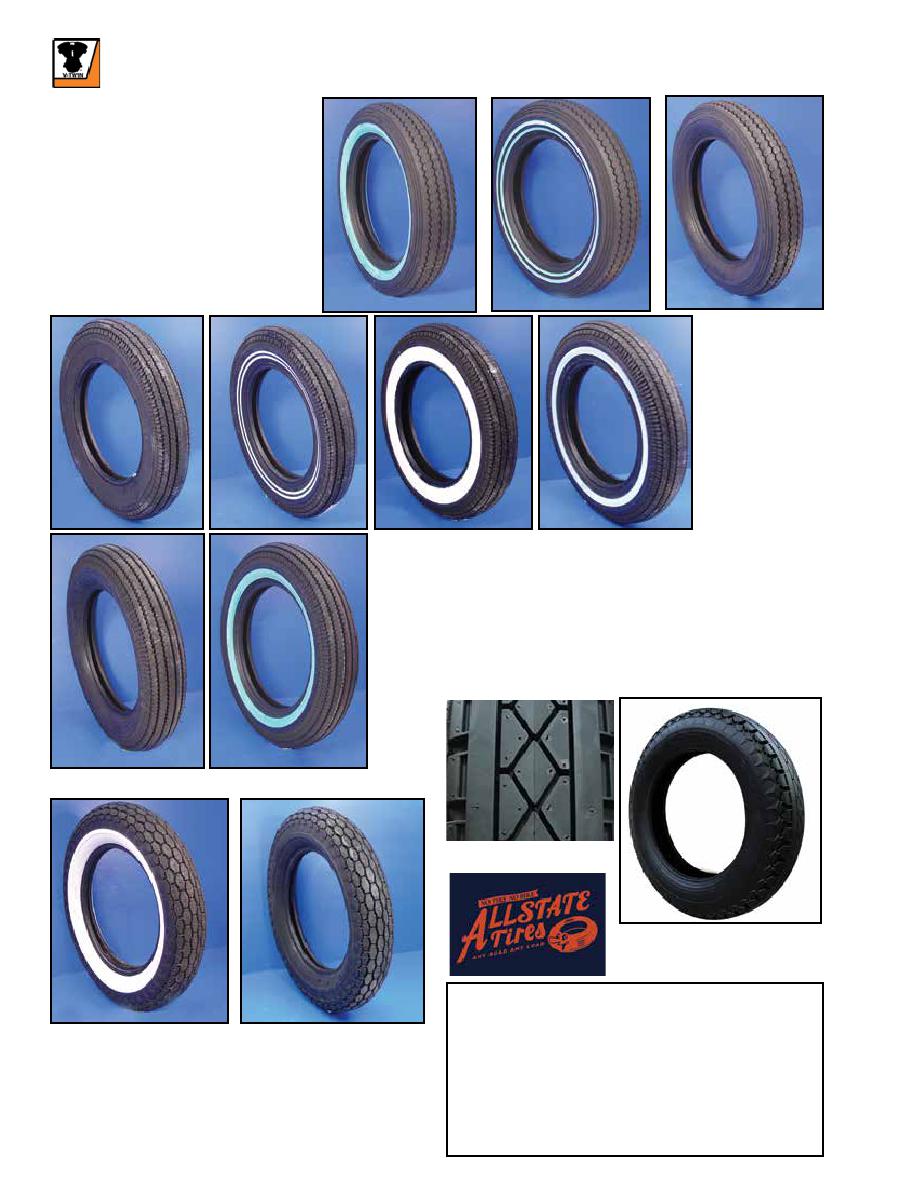 1212
Replica Tire
Super Eagle Replica Tires feature classic Goodyear style of the 1960's.
Available in black, wide and pinstripe whitewall, full 5.00 x 16" height and
profile for the needed ground clearance on full dress models. Choose
Coker or Shinko HD 270.
Coker HD270 Type
46-0304 46-0322 Blackwall
46-0305 —
46-0306 — 1³⁄₄" Wide Whitewall
46-0307 — 1" Narrow Whitewall

— 46-0323 1¹⁄₄" Narrow Whitewall
H.D. 240 Classic Tires are replicas "Speed
Grip" designs of the 1960's, 510 x 16 (MT-
90-16) by Shinko.
VT No.
Item
46-0300 Wide Whitewall, 1.20"
46-0301 Dual White Stripe
46-0302 Blackwall
46-0306
46-0307
46-0322
46-0300
46-0323
46-0301
46-0302
16" Coker Tire is available 2" wide whitewall or blackwall.
Full height is 5.00" x 16" profile. V-Twin was the first to use
the term
GANGSTER WHITEWALL for motorcycle tires in
1985.
VT No.
Type
46-0255 2" Wide Whitewall
46-0037 Blackwall
46-0037
46-0255
46-0304
46-0305
**WARNING: Newly fitted
tires should not be subject-
ed to sudden acceleration,
hard cornering, or maximum
power or braking for at
least 100 dry miles. Loss of
control and serious injury
or death may be a result in
doing so. By waiting till the
100 mile break in the rider
will become accustomed to
the feel of the new tires or
tire combination. You should
check and adjust inflation
pressure to recommended
levels after tires cool for
at least 3 hours following
run in.
The original "Gangster" since 1985!
All State Tires.
VT No. Size/Style
46-0002 5.00" x 16" Diamond Tire
Diamond 46-0002
Tire Width Equivalence Chart
Permissible Rim
Metric
Alpha
Standard
Low Profile
Widths
Inch Inch
46-0002