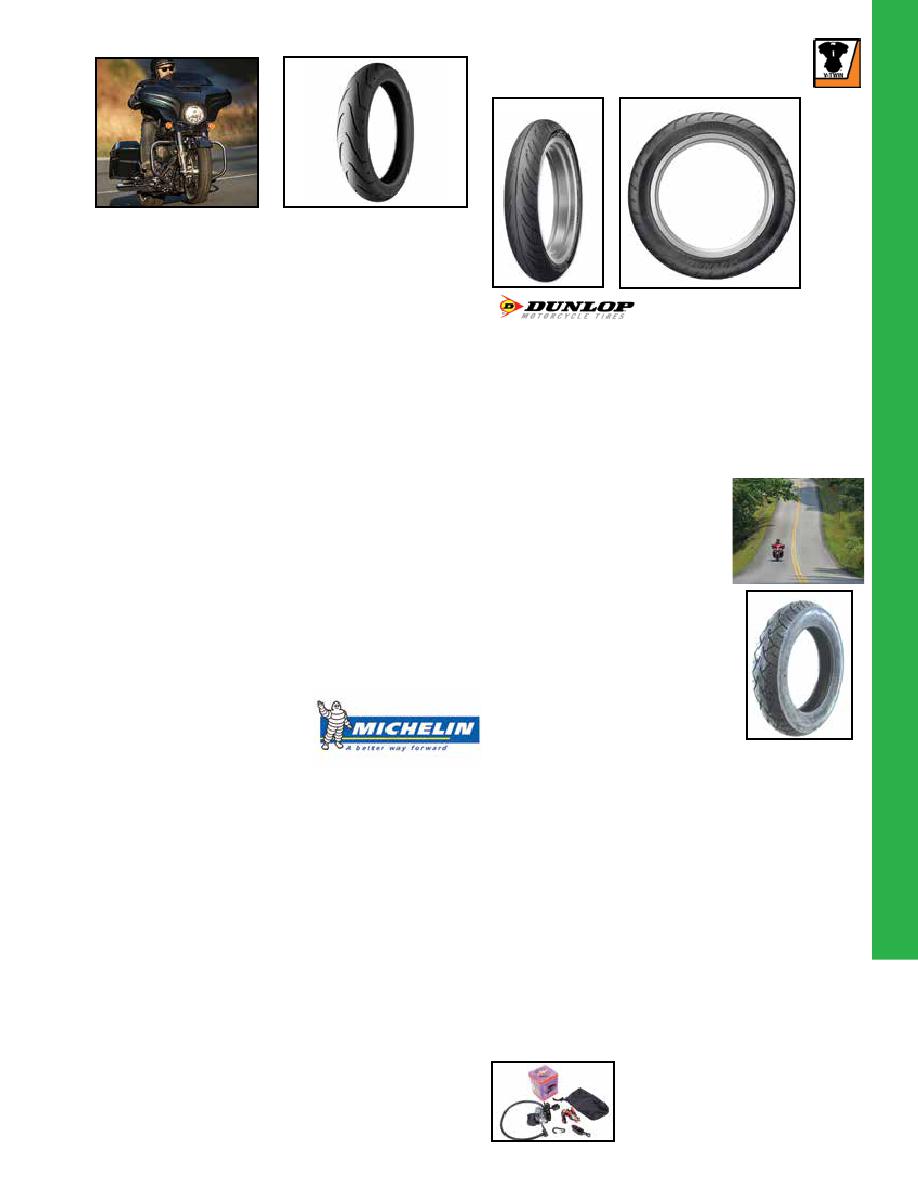 1209
MULTI FIT/CHOPPER
46-0900
Michelin Blackwall Commander II are designed for extended
mileage and feature aramid tread plied to resist centrifugal
growth and provides excellent stability. Also features a square
bead wire that improves casing rigidity and ease of installa-
tion. Tubeless construction and available in H rated (up to 130
MPH) and V rated (up to 149 MPH).
Front
VT No. Size
Speed
46-0900 MT90 B16
46-0901 130/80 B17
46-0902 100/90 B19
46-0903 MH90-21
Rear
46-0904 130/90 B16 (MT90-16)
46-0905 140/90 B16
46-0906 150/80 B16
46-0907 180/65 B16
46-0908 160/70 B17
46-0909* 200/55 R17
*Note: Radial
Mini Air Compressor powered by ciga-
rette lighter socket or connects to battery
with cables supplied. Features a compact
design to fit inside a saddlebag.
VT No. 16-1634
Michelin Scorcher Series Tires
• Michelin co-branded tires for Harley-Davidson motorcycles
• Exceptional combination of durability, comfort and handle
• Bold "Harley-Davidson" script on the sidewall
• Factory installed on many current "Harley-Davidson" motorcy-
cles and can be installed on other specified "Harley-Davidson"
models
Scorcher 11
• Outstanding grip: semi slick tread pattern maximizes the con-
tact patch for excel adhesion on dry roads
• Optimized tread groove design efficiently evacuates water for
dependable wet drip
Excellent tread life: derived from Michelin's championship win-
ning race tires, newly developed rubber compounds combine
durability and high performance
• Precise handling and the latest generation of Michelin radial
technology allows for easy maneuverability and impressive
agility
Scorcher 31
• Supplied as original equipment on Super Glide Custom,
Street Bob, Wide Glide, Xl 12 Custom, Nightster, 1200 Low,
Forty-Eigtht and Iron 883
• Innovative rubber compounds, incorporation know-how
derived from Michelin's decades of road-racing experience,
provide remarkable grip on both wet and dry roads
• Exceptional comfort and handling: the supple casing design
and profile promote nimble handling on winding roads
• Long mileage: carbon black-enriched rubber compounds pro-
mote excellent durability without compromising performance
Scorcher 11
Front Radial
VT No.
Size
46-0800
46-08011
46-08022
Note 1: Fits XL 1200T 2014-up
Note 2 Fits XL 883L 2011 up XR/1200x 2008-13
Rear Radial
VT No.
Size
46-0803
46-08041
46-08052
46-0806
46-0807
Scorcher 31
Front Bias
VT No.
Size
46-0808 130/80B17
46-0809
46-0810
46-0811
46-0816
Rear Bias
46-0812
46-0813
46-0814
46-0815
Dunlop Elite 4 Cruiser/Touring Tire
• Multi-Tread (MT)Tires have long wearing compounds in the
center of the tread and lateral-grip in each shoulder to maxi-
mize cornering performance.
• Tire is tubeless
• H-rated for speeds up to 130 mph.
• Offers significantly higher mileage when compared with
current single compound tires. Bold new tread pattern offers
excellent grip in wet and dry conditions, with a particular focus
on even wear and lower road noise.
• Blackwall
Front Bias
VT No.
Size
46-0566 130/90B16
46-0567 130/70-18
46-0568 100/90-19
46-0569 110/90-19
46-0570 80/90-21
Front Radial
46-0591 130/70R18
Rear Bias
46-0572
46-0574 130/90B16
Tire