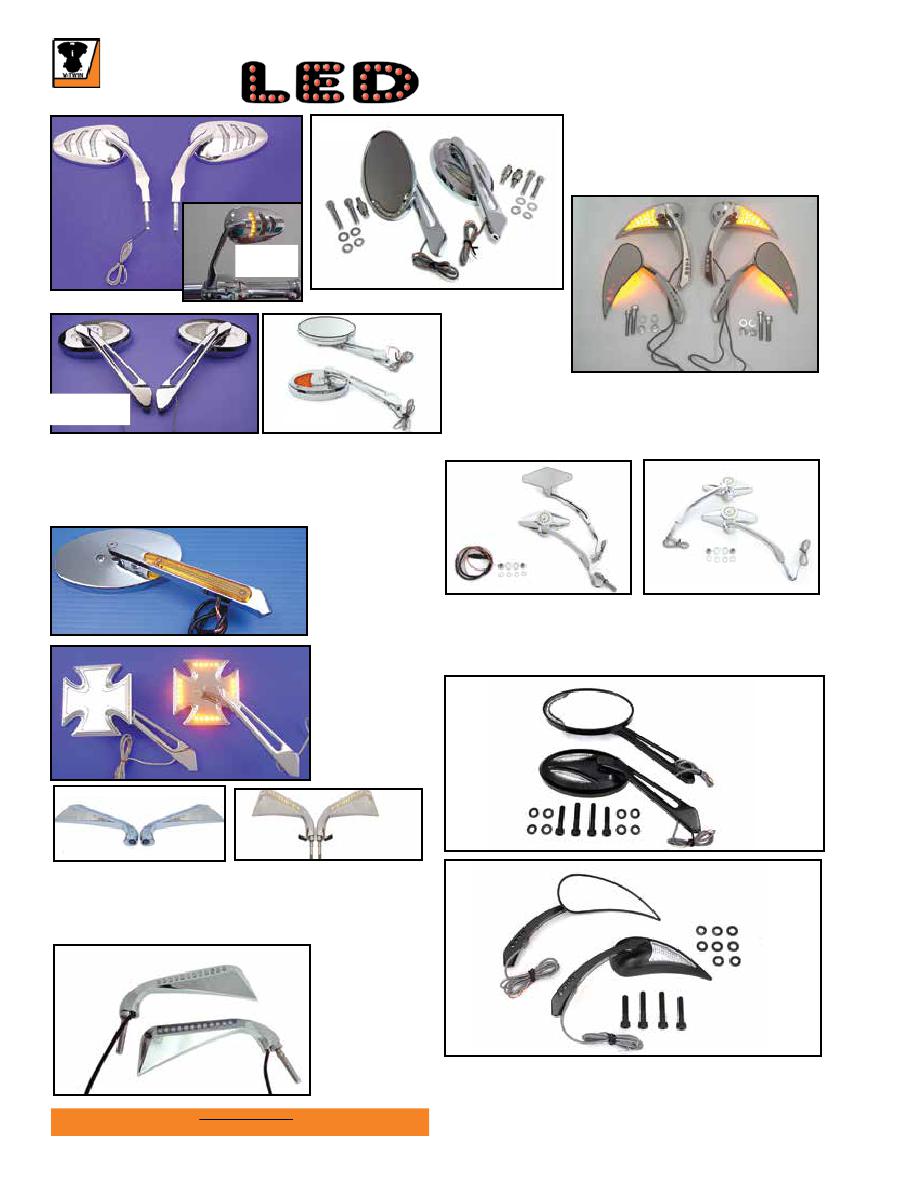 1180
Lighted Mirror
Ellipse Chrome Mirror Set features built in LED turn signal.
Mirror measures 5" x 2³⁄₄", with 7" long stem.
VT No. Lens
LED
34-0293 Clear Amber
34-6019 Amber Clear
• Black = Ground
• Red = Turn Signal
• White = Brake Light
All Mirrors are covered under "Replacement Only" Provision. No credit will be
issued for these items as they are exchange only.
Round Mirror has
lighted turn signal
strip in stem. Stem
is die cast. Fits
right or left side.
Sold Each.
VT No. 34-0387
Billet Mirror Sets features drilled stems with teardrop shape
head with built in LED in back side.
VT No. Type
34-8219 Set with LED
34-8220 Set with LED on both sides
Chrome Billet
Maltese Mirror
Set features built
in LED turn signal
matrix on back
side
VT No. 34-0681
Billet Mirror Set features sequential LED
turn signal on back side.
VT No. Style
34-9157 Slotted
34-9163 Oval
34-9157
34-0293
Billet Mirror Set features amber lens with full LED for use as
turn signals.
VT No. Type
34-1378 Flash
34-1353 Rotating
All custom turn signal/lights require load equalizer.
34-6019
34-8219
34-9163
34-9157
Installed
34-8220
34-1378
34-1353
34-1950
34-1951
Black LED Billet Mirror Set.
VT No. Style
34-1950 LED Round
34-1951 LED Tear Drop
Evil Eye Mirror Set is chrome plated die cast mirror, right and
left, available with or without LED turn signals.
VT No. Type
34-0021 Without LED
34-0022 With LED Turn Signals
34-0021
34-0022
34-1832
Evil Eye Shaped
Chrome Mirror set
features amber LED
turn signals built
into the stems.
VT No. 34-1832