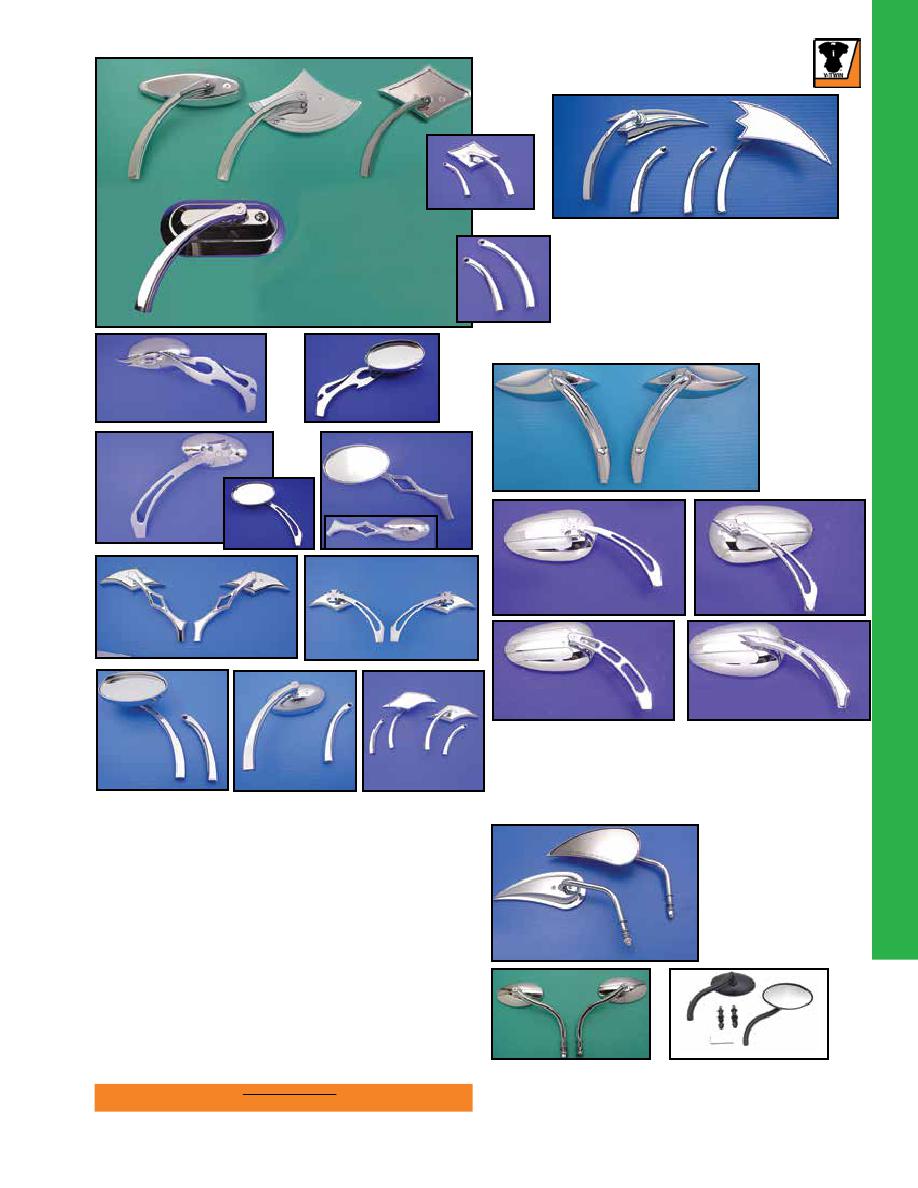 1175
MULTI FIT/CHOPPER
Mirror
Chrome Slim Line Mirrors include 2 stem sets, 5"
and 3³⁄₄" long with complete mount hardware to fit
right or left side. Sold each unless noted.
VT No.
Style
34-0342 Smooth
34-0343 Axe
34-0344 Diamond
34-0356 Oval
34-0143
Chrome Snake
Eye Mirror Set
features billet
stems.
VT No. 34-0369
Smooth
34-0342
34-0343
34-0344
34-0356
Axe
Oval
34-0143
All Mirrors are covered under "Replacement Only" Provision. No credit will be
issued for these items as they are exchange only.
2 Stems
Included
with
mirrors!
Oval Mirrors fit right or left, sold each.
VT No.
Stem Style
34-8011
34-8012
34-8014
34-8015
34-8012
34-8015
34-8014
34-8011
Wyatt Gatling Mirror Set
measures 7" long and 3"
wide at widest point.
VT No. 34-0785
Chrome Billet Mirrors.
VT No. Style
U/M
34-0122 Oval, Right/Left
34-0123 Oval, Right/Left
34-0124 Oval, Right/Left
34-0125 Diamond Right and Left
34-0127 Diamond, Right and Left Set
34-0128 Oval, Right and Left,
34-0129 Diamond, Right and Left Set
34-0124
34-0123
34-0123
34-0128
34-0128
34-0125
34-0122
34-0122
34-0129
34-0127
Diamond
Wyatt Gatling Oval Mirror Set features contour round stem
with oval face. Hardware included. Sold in pairs.
Chrome Black
34-0331 34-1965
34-1965
34-0331