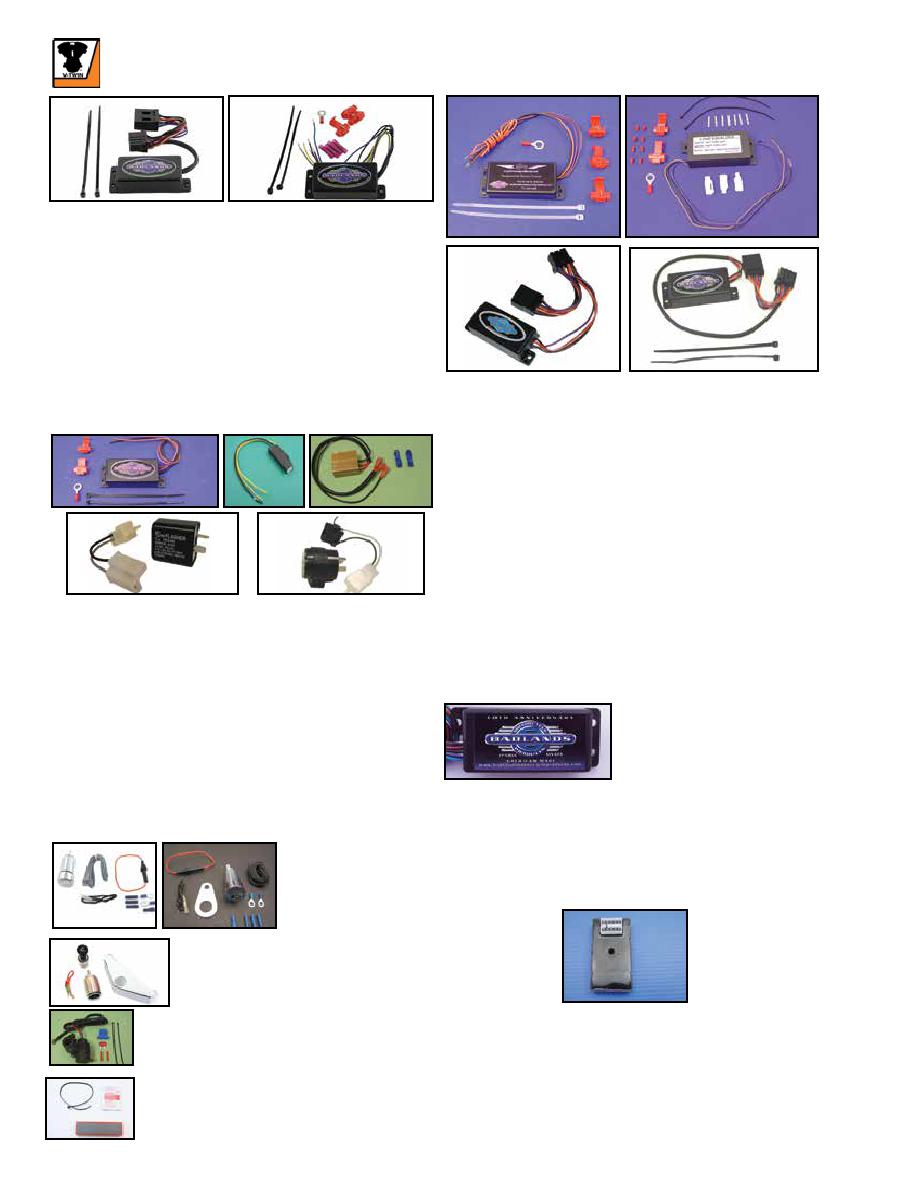 1164
Turn Signal Canceller replaces stock units as equipped on
the following model years.
VT No. OEM
Fits
32-1523 68537-89G 1991-95 FXST-FXD-FLST

32-7516 68570-94B
32-7517 68540-96
1996-00 FXST-FLST-FLT-FXD
Turn Signal Load Equalizer returns amperage draw to cor-
rect factory specifications when aftermarket marker lamps are
used to replace stock turn signals in bikes with self-canceling
Note: For all 2000-up models and 1991-99
models using LED signals use load equalizer III only.
VT No. Brand
33-2137 Badland LE-01
32-1558* Volt Tech
32-0874 Volt Tech
32-2142 Badlands LE-02 for models with 4 way flashers
32-2148 2 Pin for LED turn signals on bikes
32-2149 3 Pin for use with 7 amp batteries or higher
*Note: Black wire is ground and two yellow wires.
Turn Signal Load Equalizer III designed to specifically
work on all Twins with OEM Alarm System or self cancelling
turn signal module. Solid state design works with Halogen
or LED signals and eliminates erratic blinking of signals.
All
Equalizers are Plug and Play except 33-2138 and 33-2014
VT No. Brand Fits
33-2138 Badlands 1988-13 FLT, 1991-10 FXST,
32-2014 Volt Tech As Above
33-2213 Badlands 1997-13 FLH, 1996-10 FXST, FLST
33-2214 Badlands 2004-13 XL
32-2143 Badlands 2010-13 FLTR only
(Street Glides & Road Glides only)
32-2144* Badlands 2011-up FXST, FLST, 2012-up
32-2145* Badlands 2012-up FXSTB, 2011-up FLST only
32-2146* Badlands 2014 FLT
32-2147* Badlands 2014- up XL
*NOTE: The ONLY time a load equlaizer is needed is when you install aftermarket turn
signals on a 2011-UP FXST, 2012-UP Dyna or ANY 2014-UP model and you have rapid
flashing turn signal indicator lights. The bike will also throw a trouble code. Unlike earlier
equalizer modules, CAN/Bus bikes require (1) module for front and (1) module for the rear
32-2014
Illuminator Pro Module. This
module control features automatic
cancelling of signals. Front running
lights and turn signals on single
filament halogen on incandescent
bulbs and LED's. Rear running lights, brake light function and
turn signals on single filament halogen or incandescent bulbs
as well as LED's. Built in load equalizer runs LED's up to 50
watts per lamp and emergency flasher mode that does not
build up heat. Use on all Twins without self canceller.
VT No 33-2207
33-2137
32-1558
32-0874
32-1523
Intensifier Hi-Low Modules convert single function LEDs,
Halogen or Incandescent bulbs to high and low dual functions
(run & stop, run & turn or high and low). Works for tail lamps, sig-
nals, marker lamps, rear fender tip, neon accent lighting or driving
lights.
VT No. Application
33-2215 Single Input/Single Output will run single or multiple

driving lights for high and low, single or multiple
marker lights for run and stop. Also can do run and
turn on a pair of turn signals but 2 units are required.
Will run up to 50 watts total for driving lights.
33-2216 Dual Inputs/Dual Outputs does run and stop or high

& low. Does run & turn for a pair of turn signals with
one module. Runs up to 100 watts total for driving lights.
33-2215
33-2216
Turn Signal Equalizer
Traffic Light Sensor will trigger stoplight from
motorcycle when on traffic light pad.
VT No. 32-1352
33-2138
33-2213
33-2214
Universal Cigarette
Lighter available for
panel mounting.
VT No. Type
33-0561 Without bracket
33-0562 With bracket
33-0562
12V Receptacle for cell phone, MP3 player or
lighter.
VT No. Item
32-0845 12V
32-1632 Charger
Power Outlets/Lighter
33-0561
Canceller
32-2148
32-2149
Cigarette Lighter for Glide models fits
1949-59 FL stock riser top cap studs.
VT No. 32-1725