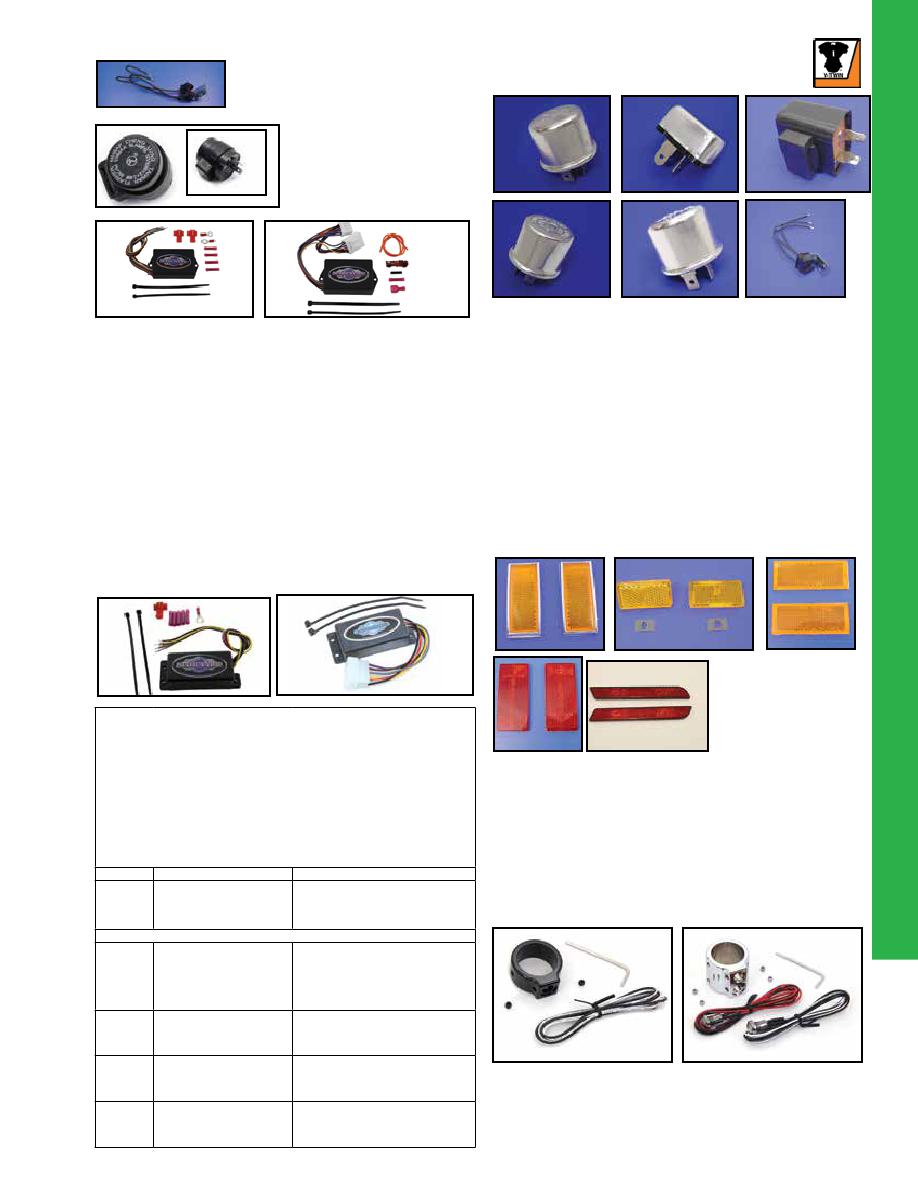 1163
MULTI FIT/CHOPPER
Signal Flasher
Flashers for turn indicator lamps.
VT No. OEM
Item
Volt U/M
33-0399 68543-64A Round
33-0848 68543-64A Round
33-0916 68543-64C 12V, Round Solid State
33-2198 As Above
33-2173 As Above
33-0398 68543-61A
Flasher for hazard or four flashing lights.
33-0397 68541-64
33-0399
33-0398
33-0397
33-2198
33-2173
33-8925
Illuminator Module allows turn signals to be used as run-
ning and brake lights, without losing their turn signal abilities.
Features built in load equalizer and works with stock or cus-
tom turn signals. Security system compatible.
VT No. Module Type Fits
33-0713 Hardwire
1973-96 All FL, FX; 1973-98 XL
and all custom wiring applications
without self cancelling turn signals
33-0815 Plug & Play
1986-96 FXST, FXR, FXD, 1986-90
33-0816 Plug & Play
1997-10 FXST, 1997-13 FLT &
33-1192 Plug & Play
33-1193 Plug & Play
33-1194 Plug & Play
2011-up FXST, FLST, 2012-up FXD
33-1195 Plug & Play
33-1196 Plug & Play
33-0713
33-0816
Turn Signal Flasher for use
with LED turn signals. 2 pin
type attaches by tie wrap.
VT No. 33-0938
Wiring Flasher Connector is 3 prong
type with mounting bracket riveted on.
Flasher connector includes bracket and
plug.
VT No. 32-0570
Reflectors are adhesive backed OE type, DOT approved.
Sold in pairs.
VT No. Type
33-0033 Front, Amber 1972-up FX-FL

33-0039 Rear Red
33-0035 Front, Amber 1969-71 FL
33-2097 Rear Amber, XL-FX-FL
33-0016 Rear Red 1990-91 XL
33-0221 Rear Red 1992-up XL, FXR

33-0035
33-2097
33-0016
33-0221
33-0033
Mini Push Button Switch Kits include 25" colored wires.
Black Chrome Button
32-1541 32-1543
32-1542 32-1544 Single
32-1543
32-1542
Flasher Connector and Mount.
VT No. 32-8925
12 Volt 2 Pin Flasher Units with built in bulb failure indicator.
33-2350 10 Watts
33-2351 21-23 Watts
Badlands ATS-03 Self Canceling Modules are designed
to provide a less expensive alternative to the factory flasher
module. The ATS-03 module not only has a built in 11-second
flasher but it also is a Load Equalizer which allows you to use
small incandescent bulbs, halogen bulbs or LED's without any
rapid-flashing issues. The ATS-03 also has a 4-way flasher
feature for safety or parade mode just like the factory flasher
unit. Note: Be sure to identify which connector is on the bike
before purchasing as the factory was not consistent during
1994-2000 with connector.
VT No. Description
Fits
33-2071 Hand-Wire
Universal on 1973-90 mod-
els without self cancelling
module on custom bikes
Plug & Play Self Cancelling Modules
33-2276 Amp Style
1987-93 FLT, 1990-93
FXST, 1990-93 FLST,
1990-93 FXD, 1990-93
FXR, 1992-93 XL
33-2277

8 Postion Male
Deutsch Connector
without Delphi TSM
1994-00 FLT, FXST, FLST,
FXD;1997-00 XL
33-2278 8 Postion Female
Deutsch Connector
without Delphi TSM
33-2279 12 pin Deutsch Plug
Plug without Delphi
TSM
33-2276
33-2071