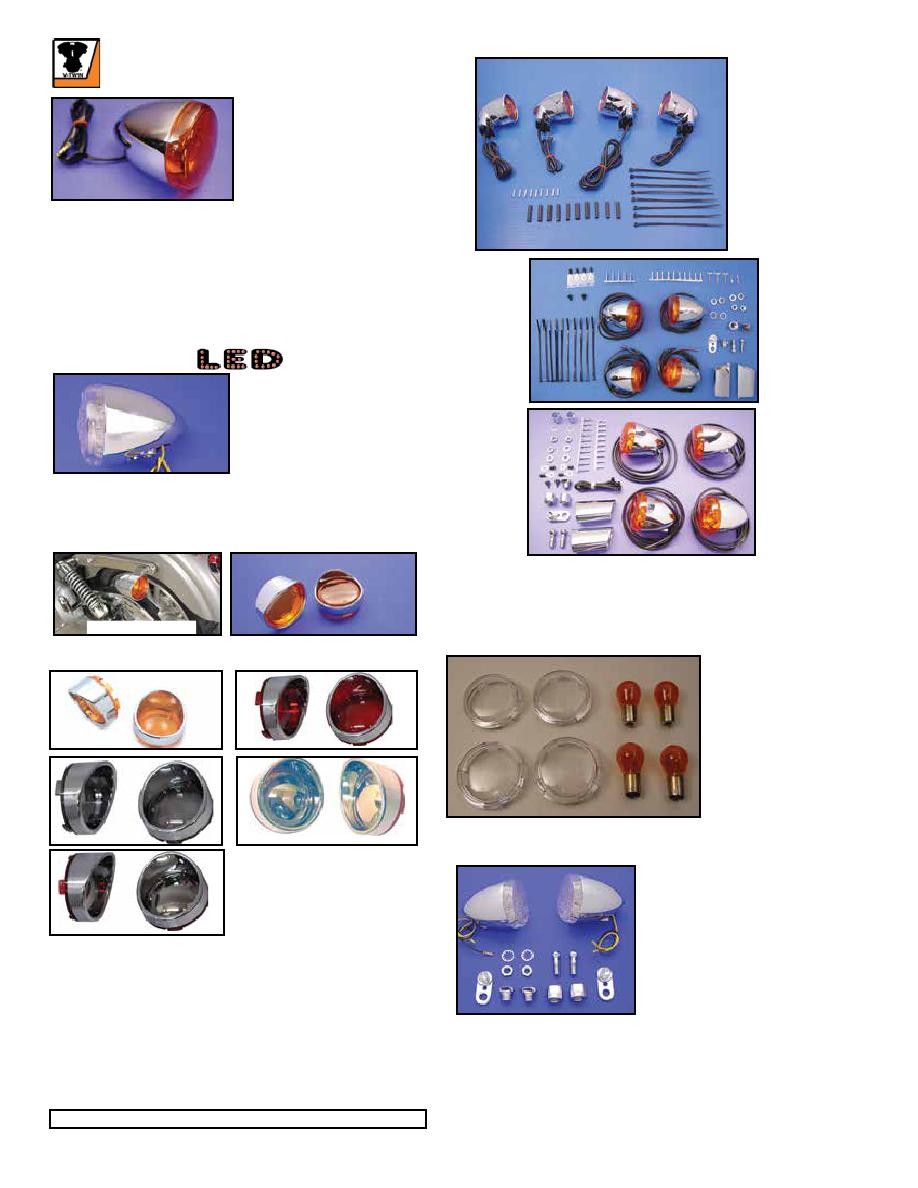 1158
Bullet Turn Signal Kit
Smoked Lens
Kits include trans-
lucent smoked
lens and amber
turn signal bulbs
which will show
amber through
lens. Set of 4
lens and 4 amber
bulbs. Fits 2000-
up dome bullet
type.
VT No. 33-0615
33-0590
Bullet Style LED Turn Signal Lamps fit VRSC models, 2002-
up.
VT No. Item
Type
Wire
33-0875 Front
31-0717 Rear Mounts Chrome
33-0875
Amber Torpedo FXSTD Style Bullet Signal Lamp.
VT No. Item
Item
U/M
33-0592 Bullet
33-0608 Bullet LED
33-0598 With Stem
33-3061 Clear
33-3062 Amber
33-3063 Red
LED Bullet Style Turn Signal
Kits.
VT No. Fits
Lens
LED
33-0107 Front Amber Amber
33-0091 Rear Clear Red
33-0107
Lamps listed are for show or decorative use only and not D.O.T. approved.
Bullet Style Visor Set.
VT No. 33-0718
33-0718 Installed
Turn Signal Ring with side view lens fits FXSTD torpedo sig-
nal lamps.
VT No. Color
33-1270 Amber
33-1272 Red
33-1273 Smoke
33-1274 Amber Chrome Mirror
33-1276 Red Chrome Mirror
33-1270
33-1273
33-1276
Bullet Style Turn Signal Kit includes housings, lenses and
supports. Stock on most 2002 models.
VT No.
Year
Model
33-0589 2000-up Softail

33-0590
33-0589
33-0590
Turn Signal
Lamp Kits fit
1994-up FLHT
and 1996-up
FLST.
Features an
amber lens and a
clear bulb.
VT No. 33-0465
33-1272
33-1274