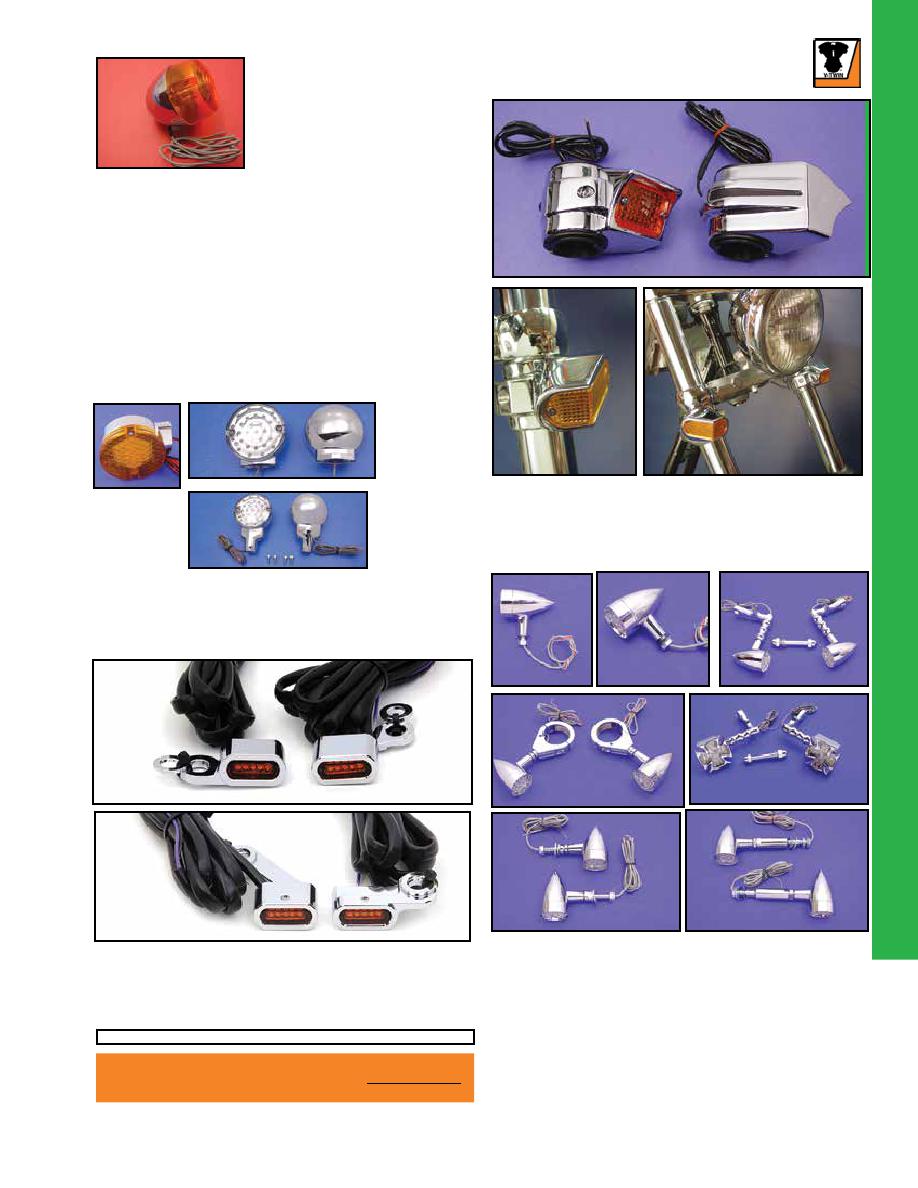 1157
MULTI FIT/CHOPPER
Front
VT No.
Filament
Use
33-0412
33-1215 Dual
33-1216 Dual
33-0431
33-0046 Dual
33-1318 Dual
33-1319 Single
Rear
33-0432
Note: 33-0412, 33-1216 have threaded body, 33-1214 and
33-1215 are unthreaded at mount hole.
Chrome Turn Signal Assemblies
are an amber replacement turn sig-
nal unit. Check factory parts books
for the application. Single or dual
contacts.
Chrome Fork Mount Turn Marker Lamp Set is a die cast two
piece housing with 12 volt bulb, to attach to 35, 39 and 41 mm
fork tubes.
VT No.
Type
Bulb
Type
33-0581
33-0047
33-0047
33-0581
Turn Signal
Warranty
All Lighting (Headlamp, Tail Lamp, Signal, Spotlamp and Marker) sold as indi-
vidual pieces or in kits are covered under our warranty "Replacement Only"
Provision. All lighting related items part numbers begin with a 33 prefix. No
credit will be issued for these items as they are exchange only.
Lamps listed are for show or decorative use only, and not D.O.T. approved.
LED Turn Signal Set.
VT No. Style
33-1075 Bullet, Amber, each
33-1076 Bullet, Red, each
33-1077 Maltese Amber
33-1070 Bullet, Amber with light mount
33-1071 Bullet Amber with mount base
33-1072 Bullet with 41mm clamp
33-1074 Bullet Red with stud
33-1073 Bullet, Red with long stud
33-1075
33-1076
33-1070
33-1074
33-1077
33-1073
LED Rear Turn Signal Set fits FLT, FLST models.
VT No. Type
LED
33-0760 Amber Lens
33-1279 Clear Lens
33-1280 Clear Lens
33-0760
33-1279
Chrome LED Turn Signal Set mounts to mirror stem.
Features an amber lenses.
VT No. Fits
33-1562 1996-2014 FXST, FLST and 1996-03 XL models
33-1563 2014-up XL
33-1563
33-1562
33-1280
33-1072