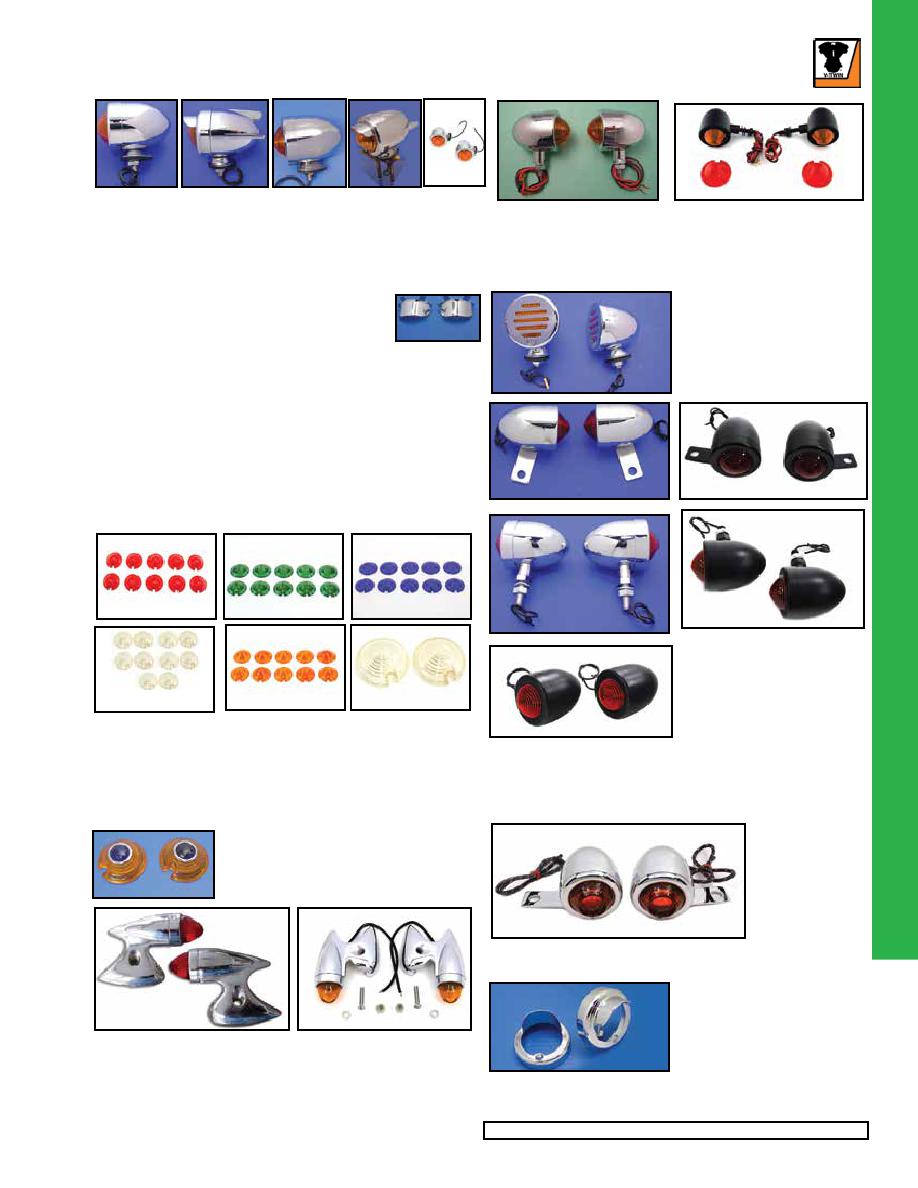 1149
MULTI FIT/CHOPPER
Bullet Lamps feature red
lenses, chrome or black body
and rim. Type (B) is replica
style with brackets riveted on,
68566-50 left, 68567-50 right.
Sold in pairs.
33-1976
33-0424
Shielded Chrome Bullet Lamp
Set. 12 volt.
VT No. Color
33-0752 Amber
33-0753 Red
33-0752
A
B
Amber Marker Lamp Lens Set with blue
dot bullet style. Sold as pair
VT No. 33-1975
Bullet Lamps
Chrome Bullet Lamp Visor
features rim with built in visor to
fit standard bullet lamps. Pair.
VT No. 42-0218
D 42-0204
Plastic Bullet Lamp Lens sold in pairs or 10 pack.
10 Pack Pair
Color
33-0510 — Red
33-0514 33-0572 Green
33-0513 — Blue
33-0512 33-0574 Clear
33-0511 33-0575 Amber
Lamps listed are for show or decorative use only, and not D.O.T. approved.
33-1975
"Egg" Bullet Lamp with Stem. Small shape as Grade 'A'
egg. Includes amber and red lenses dual filament. Pairs.
VT No. Finish
33-0677 Chrome
33-1413 Black
33-0966
33-2005
Bullet Lamps. The original chromed favorites feature metal con-
struction with single bottom stud mounting. Sold each.
Chrome Black Type Wire
Color
33-0400 33-3049 A 1
33-1431 —
33-0966 —
33-0968 —
33-0967 —
33-0969 —
33-0401 —
33-0433 —
33-0320 33-3043 A 2
33-0413 —
33-2005 —
1 Amber, 2 Fin With visor
42-0204 — D Visors
33-1971 —
33-1291 —
33-1922 —
33-1923 —
33-1970 —
33-1982 —
31-0153 —
Bracket fits Late Plate Mount
33-2050 —
33-1412
33-1411
33-1413
33-1414
33-0511
33-0510
33-0514
33-0513
33-0574
33-0512
33-1431
Chrome Black
Style/Filament
Type
33-1976 33-1412
33-0424 33-1411
33-0425 33-1410
—
33-1414
33-0677
Replica Guide Signal Lamp Set.
VT No. 33-1417
Tail Gunner Light Set Die Cast and Chromed. Exact as origi-
nal. Includes 12 volt 3 watt bulb.
VT No. Lens Color
33-1429 Red
33-1803 Amber
33-1303 Lens Set
33-1429
33-1803