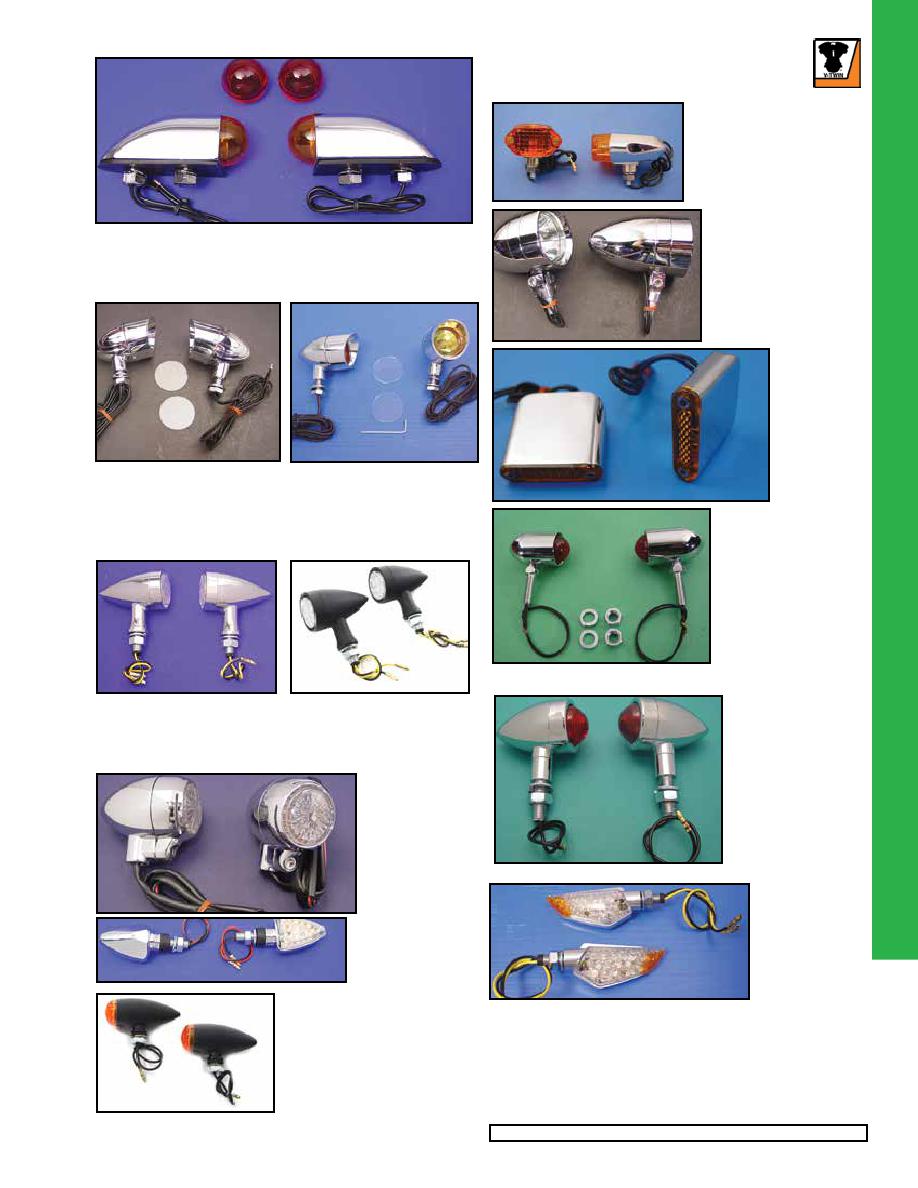 1145
MULTI FIT/CHOPPER
Clear Bullet Lamp
Set features red
LED bulbs. Pair.
Includes turn sig-
nal load equalizer.
VT No. 33-0674
Bullet Lamp features built in 360° turnable visor, with clear
lens and an extra yellow lens, pair, 1⁷⁄₈" diameter.
VT No.
Type
33-0436
33-0437
33-0143
Marker Lamp
33-0437
33-0436
LED Arrow Lamps
include clear lens
with 28 colored
Amber LED units.
VT No. 33-0847
Mini Marker Lamp feature rounded profile and smooth half moon
lenses. They mount to any flat surface single filament lamps.
Comes with both amber and red lenses, mounting hardware and
rubber base gasket. 1" diameter lens, 3¹⁄₄" overall length.
VT No. 33-0819
Lamps listed for show or decorative use only, and not D.O.T. approved.
LED Bullet Lamp Set measures 1.5" OD x 2.75" long with
clear lens and amber LED.
VT No. Finish
33-1003 Chrome
33-1009 Black
Mini-Square
Marker Lamp
Set is 12 volt
set with chrome
body.
VT No.
33-0672
Chrome Marker Lamps
features clear lens,
includes 12 volt 20 watt
halogen bulb. 2¹⁄₄" diame-
ter and 3³⁄₄" long, pairs.
VT No. 33-0580
33-0580
Baby Bullet measure
1
tip to top with a ⁵⁄₁₆" - 18
x 1" long mounting stud
and features a glass lens
with a chrome body. Sold
in pairs.
VT No.
Type
33-0441
33-0442 Blue
Snake Eye Lamps deco
chrome are 1.75 x 2.25 long,
with ¼" stud mount, sold pairs.
VT No.
Color
33-2131 Amber
33-2132 Red
Evil Eye Marker
Lamp Set with
amber LED, and
clear lens.
VT No. 33-1130
Mini Speeder Bullet
Lamp Set includes a
red lens.
VT No. Filament
33-0629 Single
33-0665 Dual
33-0728 Amber Lens
33-1003
33-1009
Black Mini Bullet Lite Set
VT No. 33-3045