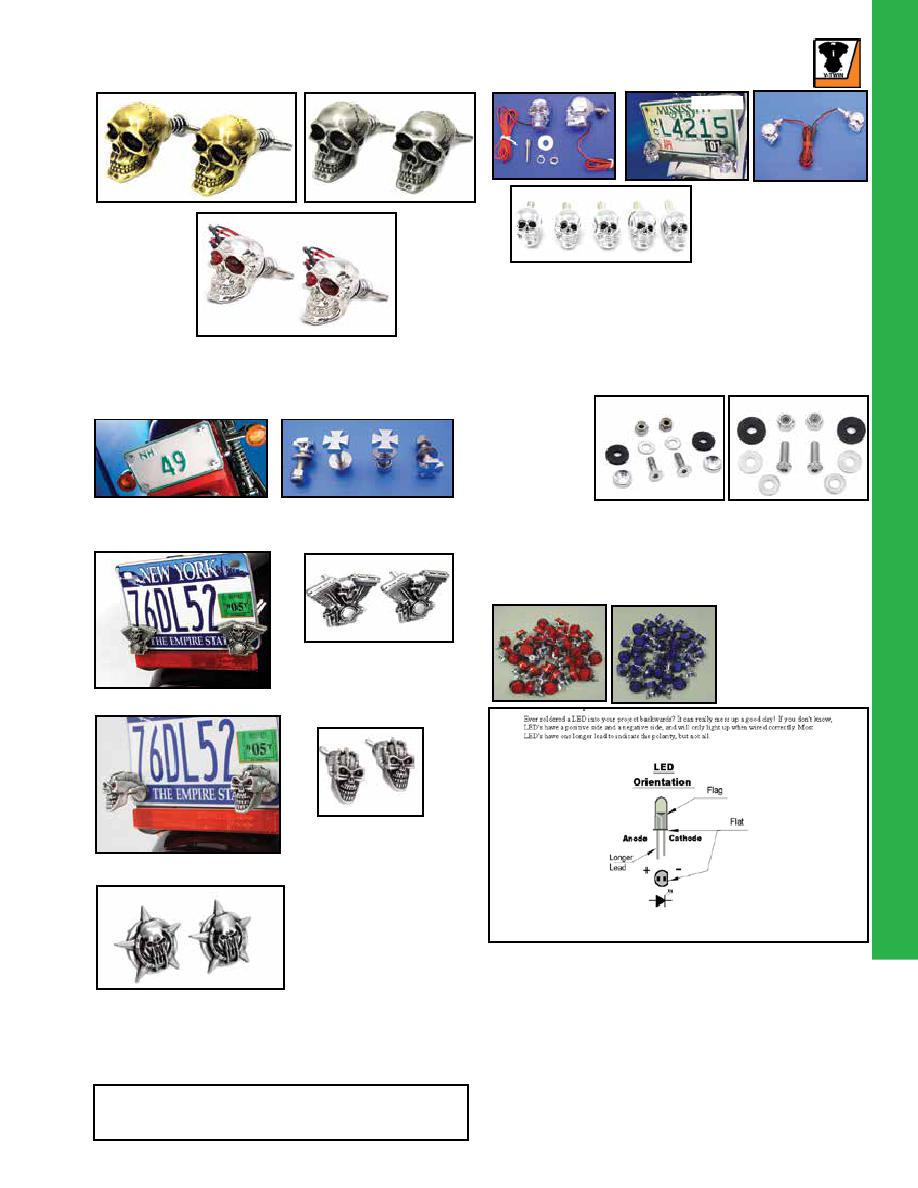 1143
MULTI FIT/CHOPPER
License Plate Mounting Hardware Kit includes chrome plat-
ed rubber insulators to reduce vibration.
VT No. Item
9871-10 Custom
9872-10 Button Allen
Chrome Maltese License Plate Mount Bolt Set features ¹⁄₄ x
20 Nyloc nuts.
VT No. 37-1958
Skull Krommets feature LED eyes, pair.
VT No.
Color
33-0856 Amber
33-0857 Red
33-0975 Red
Without LED
37-9076 Chrome
License Bolt Set.
VT No. Style
48-1624 Skull Brass
48-1625 Skull Polished
48-1629 Skull LED
License Plate Reflectors
for attaching license plate.
Available in red or blue.
VT No.
Color Qty
37-0014 Red 40
37-0015 Blue 40
37-0014
37-0015
License Plate Bolt
33-0975
37-0857
37-0856
Large Krommet Sets
VT No. Type
48-1622 Skull/Motor
48-1620 Skull
48-1621 Skull/Star
48-1620
48-1621
48-1622
48-1624
48-1625
37-9076
48-1629
48-1622 Installed
48-1620 Installed
9871-10
9872-10
This item contains a chemical that is known to cause cancer, or birth defects or other reproductive harm.
Warranty
LED Boards will be warranted only. No credit will be issued on any lamps or
components with the 33 prefix. Lamps will either be exchanged or repaired and
Did you know?
LED lights are polarity sensitive. It is a smart idea to test LED
assemblies, is not color coded prior to assembly.
LED Polarity
Ever soldered a LED into your project backward it can really
mess up a good day! If you don't know, LED's have a positive
and a negative side, and will only light when wired correctly.
Most LED's have one longer lead to indicate the polarity, but
not all.