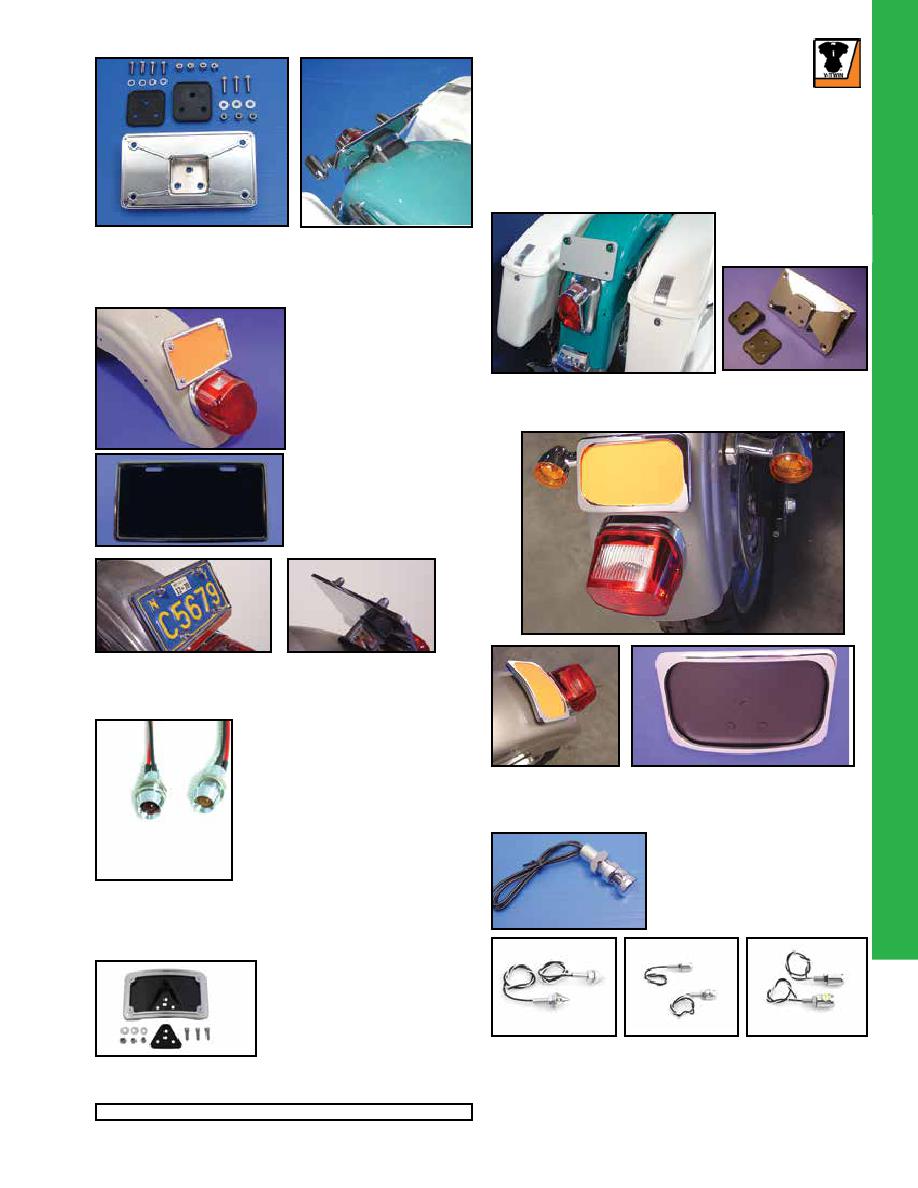 1141
MULTI FIT/CHOPPER
Lay Down
License Plate
Holder
Chrome Fender Mount License Plate Bracket Kit. Includes
a rubber anti-vibration block to cushion it against fender.
Replaces stock three piece unit, bolts to same three holes,
and uses light from stock tail lamp.
VT No. 31-3943
Black License Plate Blank
is 4" x 7". Topper sold sepa-
rately.
VT No. 42-0019
Installed
Deco Style Lay Down Tail
Lamp and License Plate
Mount Kit includes complete
lamp and die cast plate hold-
er with rubber mount block
mounts to 1973-98 FX-FXD
models.
VT No. 33-0348
33-0348
Lamps listed are for show or decorative use only, and not D.O.T. approved
.
Chrome Lay Down License Plate Bracket features faceted
back shape to allow for countersunk mount holes.
VT No. 31-0627
Curved Billet License Plate Mounts mount to stock with hid-
den screws. Mounts to 3 hole tag mount on stock fenders. Billet
style with surface screws.
VT No. 31-0773
31-0773
Large tombstone covers
stock tail lamp cutout,
VT No. 33-0333
4" x 7" size unless noted.
Chrome Mini License Lamp is stud
mount style, each.
VT No. Length
33-0978 1³⁄₄"
33-0983 ³⁄₄"
LED Indicator Lamp Sets sold in set of 4. All 2 wire type for
panel mounting.
3 mm
6 mm
Color
33-1812
33-1080 Red
33-1815
33-1083 Orange
33-1080
33-1083
Curved License Plate Bracket
mounts to three hole tag mount on
stock fenders.
VT No. 42-1009
Mini LED Lights with M6-P1.0 threaded stud.
VT No. Type
33-1535 Pointed
33-1536 Domed
33-1537 Socket
33-1535
33-1536
33-1537
Chrome Layback License Plate Mounting Kit bolts to stock
license plate mounting holes on rear fender for models listed.
Fits 7¹⁄₄" x 4¹⁄₄" license plates. Fits 1999-up FXD.
VT No. 31-4077