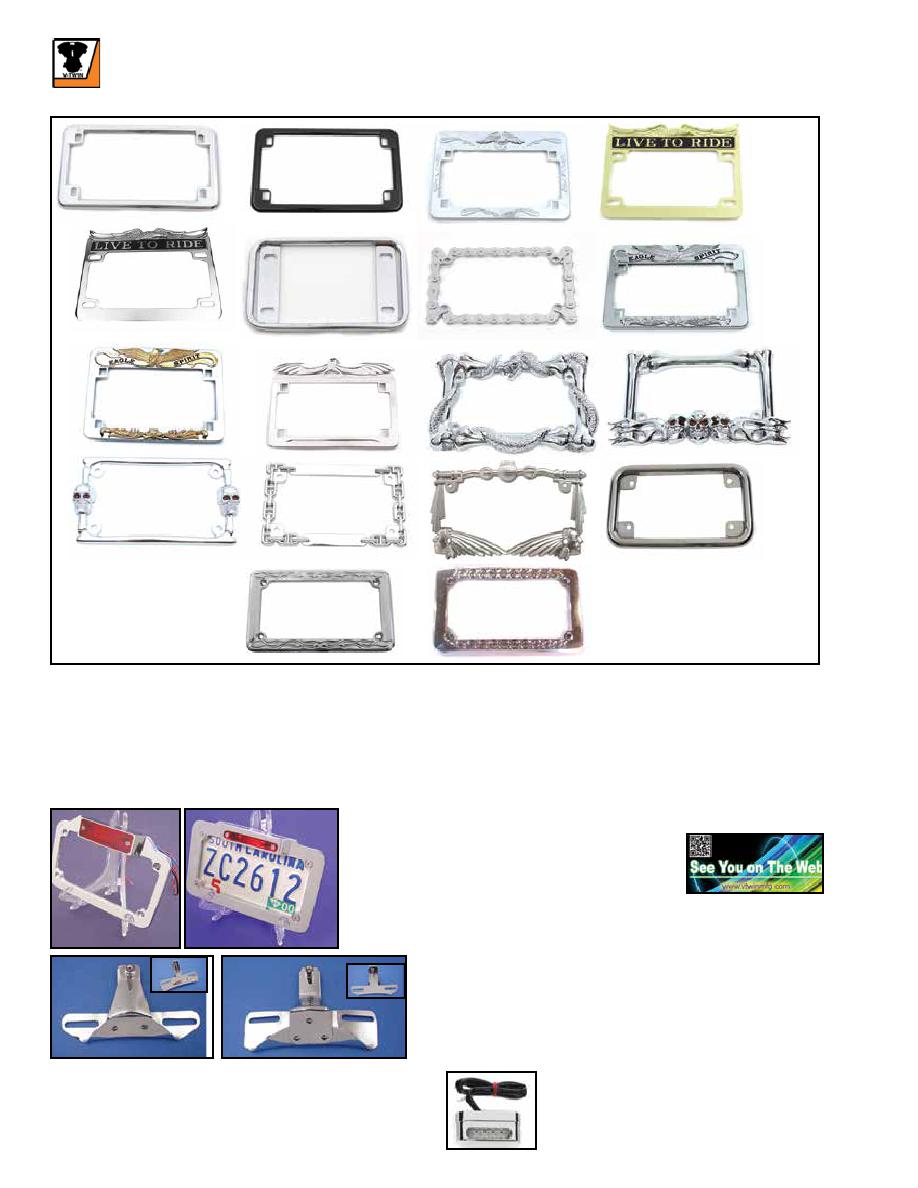 1140
License Plate Frame.
VT No. Finish
Style
42-0210 Chrome
42-0271 Black
42-0211 Chrome
42-0061 Gold Inlay
42-0062 Chrome
42-0063 Chrome
Chrome Billet License Frame with red LED top lamp.
VT No. Type
42-0923 Brake/Tail Lamp Combo with 3 wires
42-0966 Brake/Tail Lamp Combo with 3 wires
License Plate Frame
Chrome License Plate Brackets for fender mounting.
VT No. OEM
Years
Type
31-0157 59995-55A 1955-72
31-0158 59983-75 1973-up
31-0157
31-0158
42-0923
42-0966
42-1037
42-0061
42-0210
42-0211
42-0063
42-1060
42-9971
42-0062
All Frames fit standard 4" x 7" size unless noted.
42-1070
42-9972
42-1071
42-1067
42-1068
VT No. Finish
Style
42-1060 Chrome
42-9971 Chrome
42-9972 Gold Inlay
42-1037 Chrome
42-1067 Chrome
42-1068 Chrome
42-1070 Chrome
VT No. Finish
Style
42-1071 Chrome
42-0163 Chrome
42-5046 Stainless
42-1574 Chrome
42-1575 Chrome
42-0163
42-5046
42-1574
42-1575
License Plate Auxilliary
Lamp. VT No. 33-0086
42-0271
Chrome Curved License Plate Frame with LED lighting
for 2010-up Street Glide and Road Glide models. Frame is
designed to replace the Original Equipment black license
plate bracket and attaches to the underside of the rear turn
signal bar. This curved license plate frame is shaped to hug
the contours of the rear fender. Two vertical LED halo lights
glow while in the run mode and burn brightly when the brakes
are applied. Includes all necessary harnesses and connectors
to enable complete installation, no drilling or wire splicing
required. Fits 2010-up FLHX, FLTRX.
VT No. 33-1494