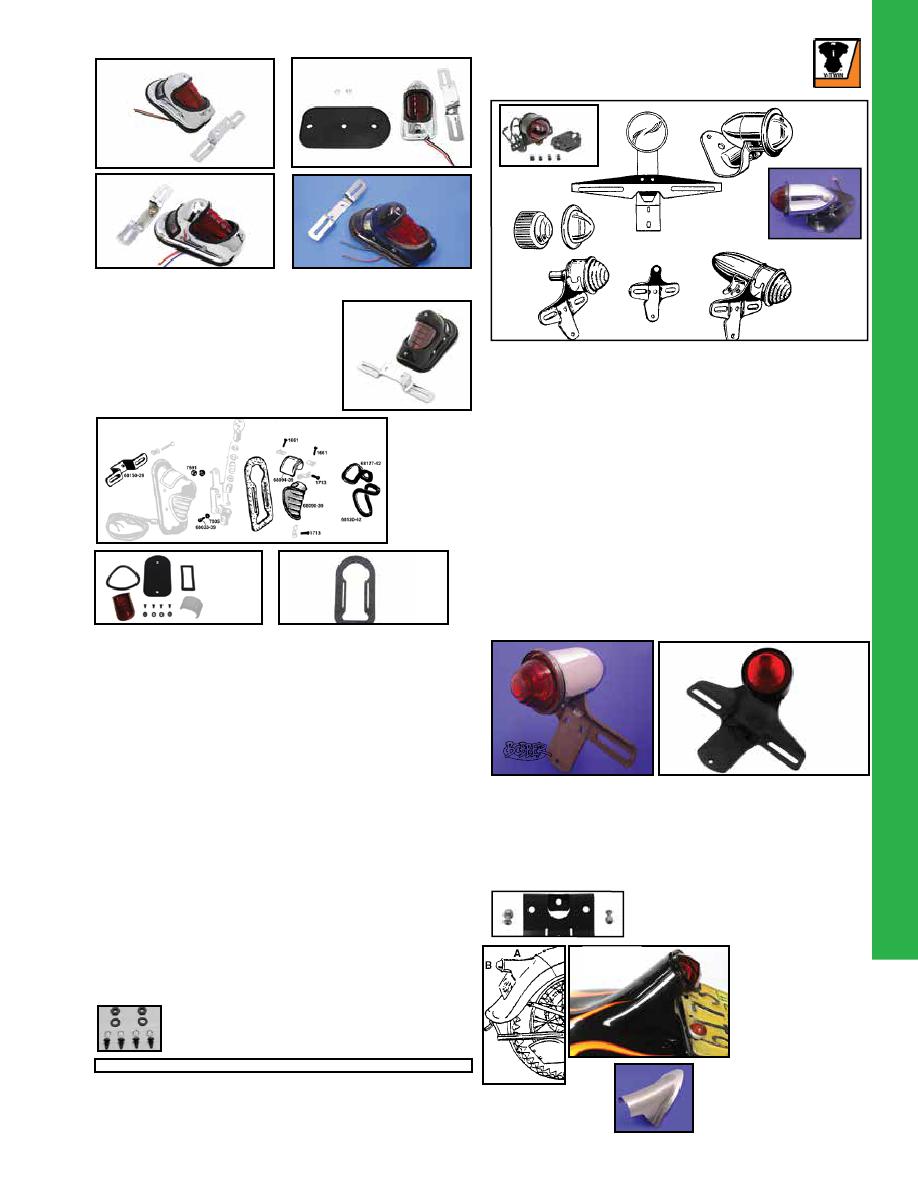 1133
MULTI FIT/CHOPPER
1934-38 Tail Lamp
& Shroud. Shroud
must be welded to
fender, tail lamp bolts
on underneath. Order
separately.
VT No. # Item
49-2589 A Shroud
33-2152 B Complete

49-2589
Parts for 1939-48 Beehive Tail Lamp available separately.
VT No. OEM
Item
Type
33-1987 68094-39 Top Lens
33-1988 68090-39 Red Lens
33-2051 68094-39 Top Lens
33-2052 68090-39 Red Lens
15-0667 68127-42 Top Lens
31-0401 68150-39 Bracket
9813-12 68033-39 Mount Bolt Kit
15-0431 68124-39 Replica Mt. Gasket Felt
15-0325 5056-39 Mount Gasket
15-0291 5056-39 Mount Gasket
32-0959
32-9307
33-1336
33-2256 68210-39 Base
33-2260
33-1561
33-1517
13-0544 Retainers Beehive
33-1508 Kit
33-1808 Kit
33-1619 Shell
Beehive Tail Lamp Mounting Kit for 1936-46.
Screws also fit 1936-38 dash cover.
VT No. 9813-12
Lamps listed are for show or decorative use only, not D.O.T. approved.
33-1336
33-2160
Bracket for vintage sconce tail lamp
assembly. Fits 1999-up FXD and XL.
VT No. 31-0594
Bobber Tail Lamp is a replica version of late 1940's black tail
lamp with chrome bullet hood and glass lens. Mounts to fender
and includes license mount plate slots.
VT No. Finish
33-2160 Chrome
33-2152 Black
49-2545 Black Bracket
33-2152
49-2589
Installed
Beehive Tail Lamp bracket included as on 1939-46 models,
for decorative use only, not D.O.T. approved.
VT No. Item
Type
Lens
33-0304 Complete Chrome Plastic
33-0980 Complete Chrome Glass
33-0950 Replica
33-0735 Replica
33-0740 Replica
33-0304
33-0740
33-0735
33-0980
33-0950
15-0431
Early Tail Lamps and Parts. All complete lamps include glass
Note: Lenses are in glass.
VT No. # OEM
Year
33-1521 —
33-3034
Tail Lamp with Glass Lens,1915-33
33-2154 A 68092-25 1935-38
15-0582
1925-38 Gasket Set, Round Style
15-0719 68126-36 Gasket
15-0718 68125-25 Gasket
33-2147 68105-20
33-2150 B Tail Lamp
33-3034 B Tail Lamp
33-2151 C K Tail Lamp 1952-54 Kit with Chrome Hood
31-0237 59991-52
1952-54 K License Plate Bracket
33-2174 D Complete
1934-38 Complete VL, Single
33-2152 D Complete
1934-38 Complete VL, Dual
49-2545 E —
33-2160 F Complete
1947-55 Hummer with Chrome Hood
33-0972
Tail Lamp
33-2151
C
A
B
C
D
E
F
33-1521
68210-39