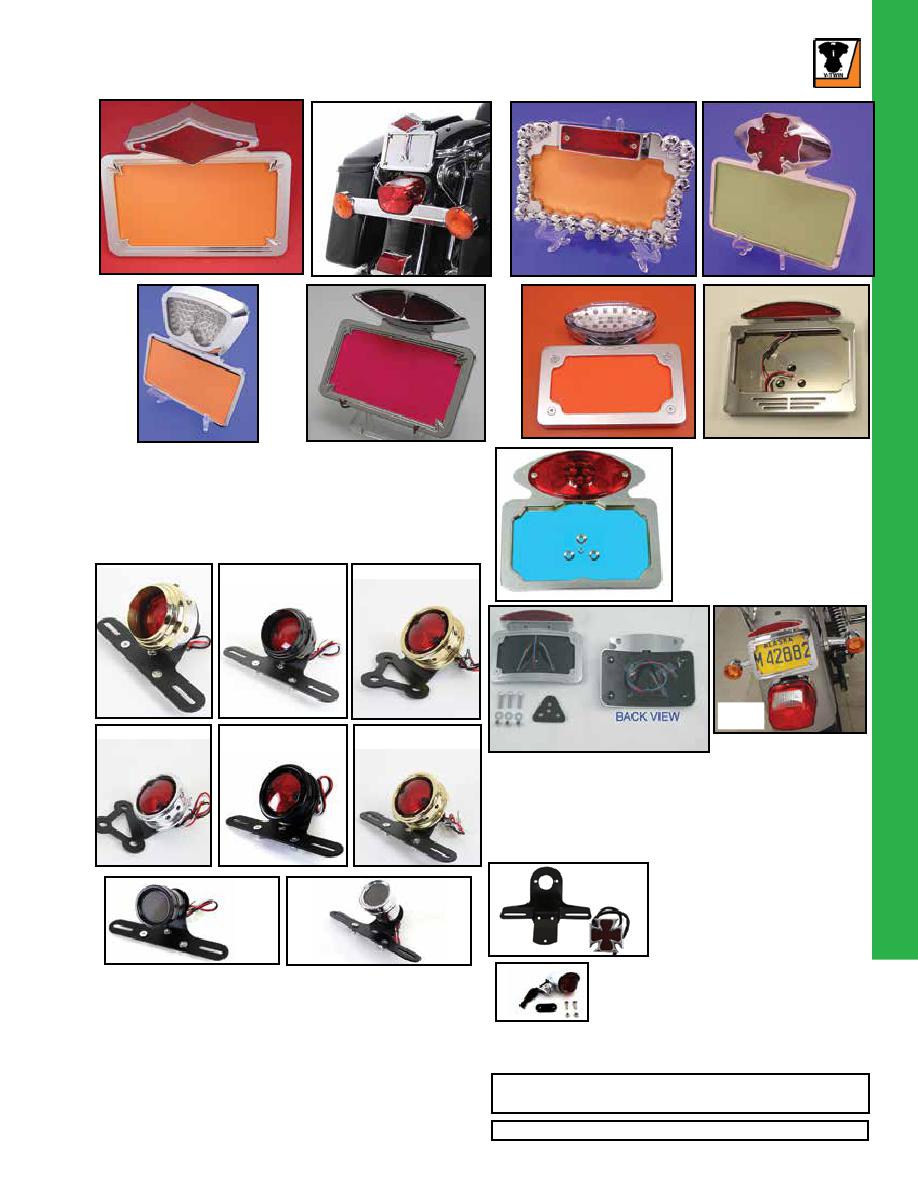 1127
MULTI FIT/CHOPPER
Lamps listed are for show or decorative use only, not D.O.T. approved.
Warranty
LED Boards will be warranted only. No credit will be issued on any Lamps or components
with the 33 prefix. Lamps will either be exchanged or repaired and returned to the dealer.
33-0917
Chrome Billet Fender Mount Tail Lamp features LED slice
tail lamp. Unit bolts in 3 hole license plate bracket location.
VT No. 33-0917
33-0917
Installed
Fender Mount Tail Lamp
33-0216
33-0289
33-0460
33-1904
Chrome Fender Mount Oval
Tail Lamp Assembly mounts
to stock 3 hole style pattern.
VT No. 33-1905
Chrome Billet Fender Mount LED Tail Lamps mount to 3 bolt
position on stock fenders. Rubber pad included.
VT No.
Item
33-0353 Diamond
33-0385 Skull
33-0216
33-0289 Zoid
33-0460 Katzyeyez
33-1919 Clear
33-1904 Slice
33-0385
33-0353
33-1919
33-0353
Installed
Maltese LED Lamp Kit is 2³⁄₈"
square with red lens mounted black
bracket separately.
VT No. Item
33-0824 Kit
31-0866 Bracket
33-0061
Tail Lamp with red bulb with a red lens.
Lamp has swivel 2 hole mounting bracket.
VT No. 33-0061
33-0824
Polished LED Round Tail Lamp Assembly with red lens.
VT No. Ring
Note
33-1656 Brass
33-1657 Black
33-1658 Brass
Triangular License Bracket
33-1659 Chrome
Triangular License Bracket
33-1661 Black
33-1662 Brass
33-1663 Black
Search Tail Lamp Assembly
33-1664 Chrome
Search Tail Lamp Assembly
33-1656
33-1657
33-1658
33-1661
33-1664
33-1663
33-1659
33-1662