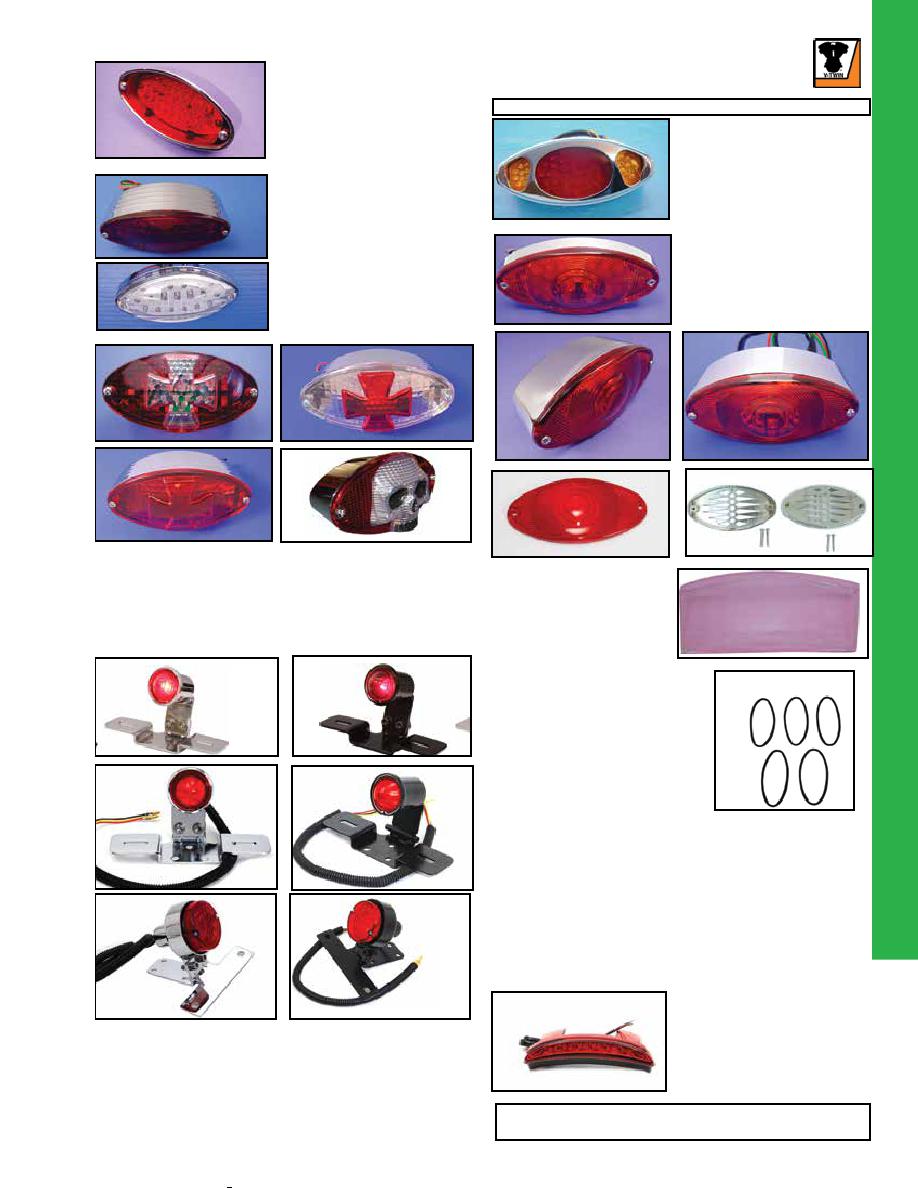 1117
MULTI FIT/CHOPPER
Maltese Inset Oval Tail Lamp.
VT No. Color Type
Style
33-0749 Red With clear Cross
33-0750 Clear With red Cross
33-0751 Red With red Cross
33-0587 Red With bulb Skull
33-0031 Red LED
33-0749
33-0750
33-0587
Tail Lamp
Chrome Cat Eye Tail Lamp made of heavy die cast. Parts
available separately.
VT No. Item Type
33-0306 Light Complete
33-0028 Light Complete, LED
33-1966 Red Lens Plain
33-0286 Grill Arrow
33-1996 Clear Top Lens
15-0665 Gasket, 5 pack
Lamps listed are for show or decorative use only, and not D.O.T. approved.
Chrome Wyatt Gatling Tail
Lamp Assembly features full
LED matrix with amber turn
signal bulb built in. Lamp mea-
sures 6" long by 2¹⁄₂" wide at the
center.
VT No. 33-0605
Thin Cateye Tail Lamp is only
³⁄₄
VT No. 33-0807
Warranty
LED Boards will be warranted only. No credit will be issued on any lamps or components with
the 33 prefix. Lamps will either be exchanged or repaired and returned to the dealer.
Chrome Billet Oval Tail Lamp
features LED array with clear
window. 12 volt.
VT No. 33-0443
Cateye Tail Lamp features
smooth red lens with LED board
installed. Chrome body has
stepped design for updated
look.
VT No. 33-0680
Clear Lens Type.
VT No. 33-0919
33-0680
33-0919
33-0306
33-0028
33-0286
33-1966
33-1996
15-0665
Tail Lamps.
VT No. Item
33-1325 Chrome Round Tail lamp
33-1326 Black Round Tail lamp
33-1093 LED type with bracket red plastic lens & chrome housing
33-1094 LED type with bracket red plastic lens & black housing
33-1096 Chrome Universal Tail lamp
33-1099 Black Universal Tail lamp
33-1325
33-1326
33-1096
33-1094
33-1093
33-1099
Red Slice Style Tail Lamp with
LED running and brake light and
red lens. Features low profile
design to mount to the edge of a
chopped rear fender. Replaces
73420-11.
VT No. 33-1550
33-0751