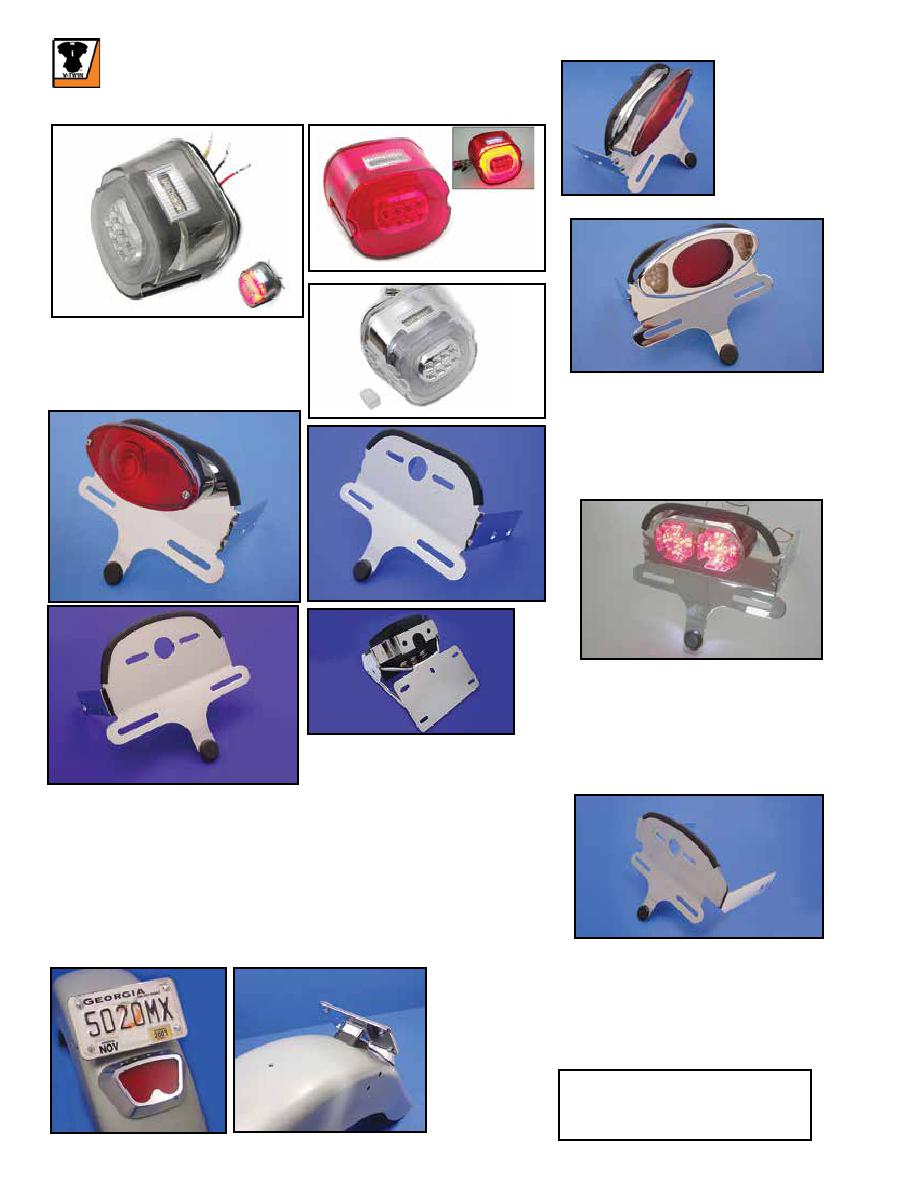 1116
Tail Lamp and Bracket Kit
for Bobbed Fender
1980-99 Softail
Snake Eye
License Plate
and Tail Bracket
Kit.
VT No. Item
33-0438 Kit
33-0439 Tail
Lamp
Only
Wyatt Galing Chrome Oval Tail Lamp
Assembly features chrome bracket with
billet oval tail lamp with LED red lamp and
amber LED directional signals installed.
VT No.
Year
Model
33-0379 1980-99 WG-Softail
33-0380 1993-99 FXDWG
33-0391 2000-up FXDWG
33-0438
Maltese Lamp Kits fit Softail models
1980-99. Units feature clear lens with
red LED units and clear LEDs for license
plate illumination.
VT No. Item
Color
33-0104 Kit
33-0105 Lamp Only
33-0106 Lamp Only
33-0379
Chrome Deco Tail Lamp Mount Bracket
VT No. 31-4012t
31-3192
LED Tail Lamp
Kit fits 1973-99 by
removing stock tail
lamp. Covers existing
lamp cut out.
VT No. 33-0892
Back Side 33-0892 View
Lamps listed on this page are for show or off road use and
not D.O.T. approved.
Warranty
LED Boards will be warranted only. No credit will be issued
on any lamps or components with the 33 prefix. Lamps will
either be exchanged or repaired and returned to the dealer.
LED Conversion fits 1999-up XL, FXD,
FXST, 1996-07 FLT.
VT No. Color
33-0832 Red
33-0833 Smoke
33-0831 Clear
33-0833
33-0832
33-0831
Chrome Deco Tail Lamp Mount is designed to accept Lucas style or Cateye tail
lamp, with license plate. Cleanly mounts under fender. Lamp is included with kit.
VT No.
Item
Model
33-2199
33-0610
31-4012
33-0584
31-3192
31-3194
33-1017
33-0306
33-0302
31-4012
33-2199
Chrome Tail Lamp License Plate
Bracket.
VT No. 31-0670