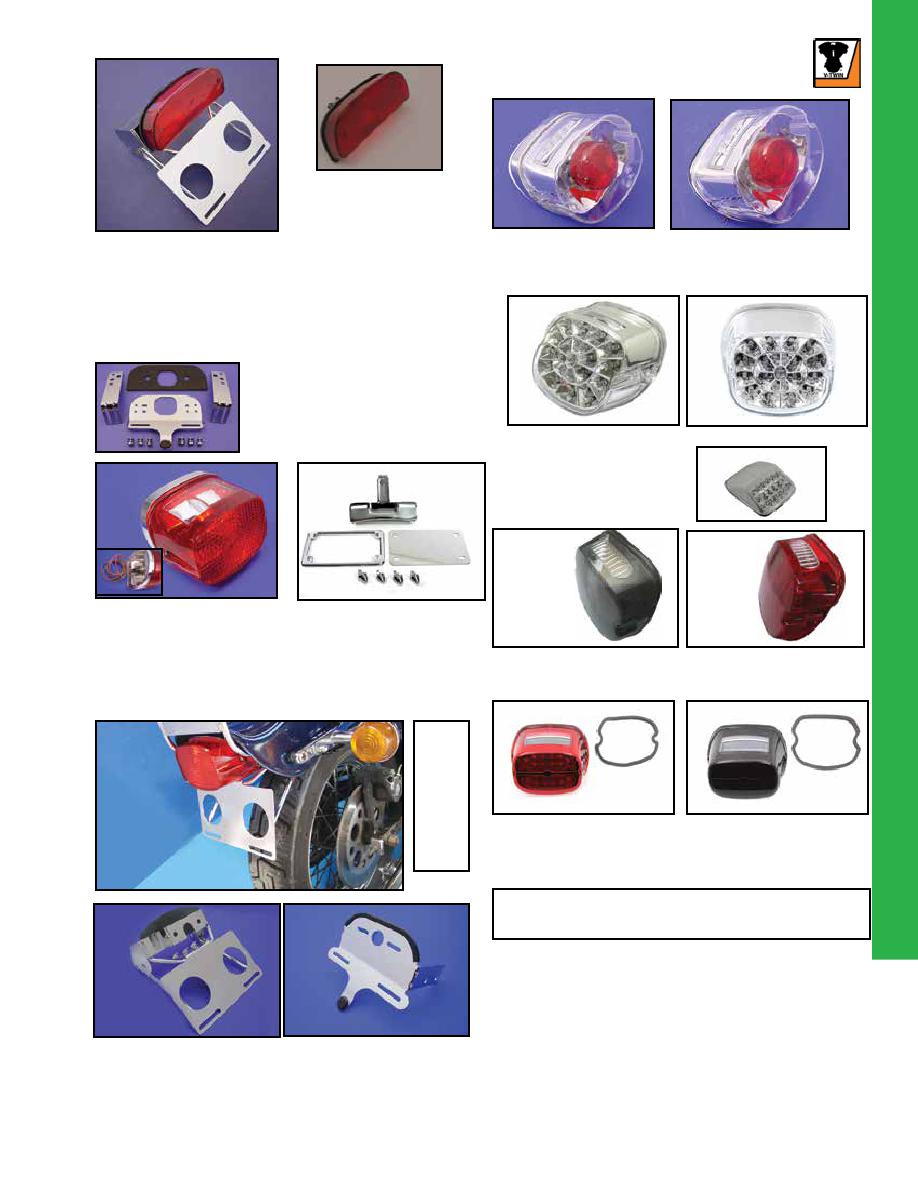 1115
MULTI FIT/CHOPPER
FXWG-FXST Tail Lamp Brackets are chrome plated
unless noted, tail lamp required for 1980-99.
VT No.
Type
31-0160 Stock
31-4012 Accepts Cateye or Diamond
Tail Lamp
Chrome Adjustable Bobbed Tail
Lamp Bracket adjusts 7.5" to 9" wide
to accept cateye or similar tail lamps.
VT No. 31-0097
31-0160
31-4012
Wyatt Gatling Tail Lamp Assemblies feature LED installed.
VT No. Year
Type
Includes
33-0990 1978-98 Complete
33-0991 1999-up Lens/LED Only 36" Wire, no OE plug
33-0990
33-0991
Lamps
Listed On
This Page
Are For
Show Or
Off Road
Use and
not D.O.T.
approved.
The Slice is an assembly for all FXDWG-FXWG-FXST
with Bobbed rear fenders. Can be adapted to other models
equipped with bobbed style fenders. Fills the entire fender
contour.
VT No. Item
Year
Type
33-2018 FXST-FXWG Kit 1980-99
33-0543 Lamp Only
33-0623 Lamp Only
33-2018
33-0543
Warranty
LED Boards will be warranted only. No credit will be issued on any lamps or compo-
nents with the 33 prefix. Lamps will either be exchanged or repaired and returned to the
Chrome License Plate Bracket Kit includes stock style 3-hole
bracket assembly, backing plate, frame and four krommets.
Order tail lamp and blue dot lens separately. Fits 1973-up.
VT No.
Item
31-0271 Plate Kit
33-0301 Tail Lamp
33-0507 Blue Dot Lens
31-0271
33-0301
LED Tail Lamp Assembly features webbed design reflector
and clear lens.
VT No. Window
33-1523 Top
33-1524 Bottom
33-1600 FXSTD
33-1523
33-1524
LED Slimline Tail Lamps fit 1989-2010
Smoke Red
Clear Lens
33-0940 33-0939 33-1084
33-0940
33-0939
33-1600
LED Tail Lamp fits 2006-up FXD, 2007-up XL.
VT No. Lens Color
33-1491 Red
33-1492 Black
33-1491
33-1492
31-0160
Installed